USANA Inside Beauty: Top Foods for Healthy Skin
This month's Inside Beauty is all about feeding your skin. There are some pretty tasty options out there that are miracle workers when it comes to a healthy, glowing complexion. Try incorporating these yummy foods into your daily meals.
Almonds + Dark Chocolate
Talk about a match made in heaven! These two not only taste delicious together, they also are a free-radical fighting duo.
Almonds are crunchy, satisfying and packed full of Vitamin E. Vitamin E is a known antioxidant and can be very beneficial for repairing damaged cells, helping your skin look and feel amazing.
A delicious partner, dark chocolate is also rich in antioxidants, called flavonoids, which gobble up free radicals to protect your skin from visible damage. Combine these two for a tasty and useful snack.
Tomatoes
Delicious red, juicy tomatoes are known for their high amounts of Lycopene, a carotenoid recognized for its antioxidant power. Studies have shown that consuming tomatoes or tomato paste on a regular basis can help reduce the appearance of sunburn.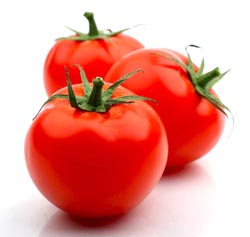 Similar studies also show a boost in collagen attributed to the large amounts of lycopene in tomatoes which helps fight the look of aging. Freshly sliced, cooked, or pureed, tomatoes are your skin's best friend.
Sweet Potatoes
How sweet it is — sweet potatoes are a wonderful source for Vitamin C, a known wrinkle-fighter, as well as beta-carotene. Vitamin C has long proven its effectiveness in protecting our skin from visible damage caused by the sun.
Vitamin C, a natural skin-lightener, also plays in a role in keeping a clear, even-toned complexion. Sweet potatoes are a perfect addition for holiday meals. Mash them or bake them for a yummy side dish to compliment any feast.
Salmon
Salmon is a fresh, mild-tasting fish that also happens to be a miracle food for skin. Add rich luster to your skin with omega-3 fatty acids by lightly sautéing the fish in olive oil on low to medium heat.
Omega-3 fatty acids are essential healthy fats that help nourish the skin and regulate oil production for a beautiful glow.
Remember to Supplement
It's important to note that a diet rich in these foods can help you look and feel better, but supplements will provide you with guaranteed amounts of vital nutrients. Try the MyHealthPak Beauty Edition for a synergistic blend of nutrients known to help your complexion.
Well there's the scoop!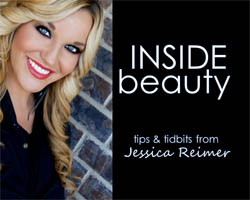 Wishing you all beauty and health.
Jessica Reimer is a Senior Marketing Manager at USANA Health Sciences. If you have any stories, comments, or questions that you would like to see addressed in this feature, please send them to [email protected].
To learn more about Sensé skin-care products, please visit www.beautifulscience.com and like us on Facebook! Previous Inside Beauty posts can be found here. Some USANA products are available only in select markets.
We're proud to bring you the freshest content on the web! Follow USANA on Twitter, like our USANA Facebook page and enjoy the latest videos on the official USANA YouTube channel.

Learn what USANA is doing to make the world a better place.
The future of personalized health and nutrition is now available with USANA's True Health Assessment.
https://whatsupusana.com/wp-content/uploads/2012/11/USANA-Inside-Beauty-Featured.jpg
374
640
Jessica Reimer
http://whatsupusana.com/wp-content/uploads/2019/11/USANA_Logo_Black.png
Jessica Reimer
2012-11-28 08:01:20
2015-03-30 13:18:44
USANA Inside Beauty: Top Foods for Healthy Skin