Infographic: $2.5 Billion and Growing Strong
Here at USANA, we know our Associates have made this company what it is today — a health and wellness powerhouse.
That's why we make sure our Associates receive a generous amount of commissions.
In fact, we've just passed a pretty big milestone — $2.5 billion US in commissions paid.
That number represents the accumulation of our Associates' hard work, from all around the world, for the past 22 years.
But maybe you're thinking, sure, that's a ton of money, but how many people are really benefiting from that amount? In answer to that, I have another stat for you: USANA has had more than nine million check earners so far.
You see, USANA is changing lives. And you know it's true, because the numbers don't lie.
To get the stats, check out the infographic below, designed by USANA's own Chris Bambrough. It shows a rundown of some of our most impressive stats, including the big $2.5 billion US payout.
If you enjoyed this infographic, be sure to share it on Twitter, Facebook, and Pinterest.
Oh, and be sure to use the hashtag #GrowingStrong, so people can keep track of the conversation about USANA's huge payout amount — and all our other impressive numbers.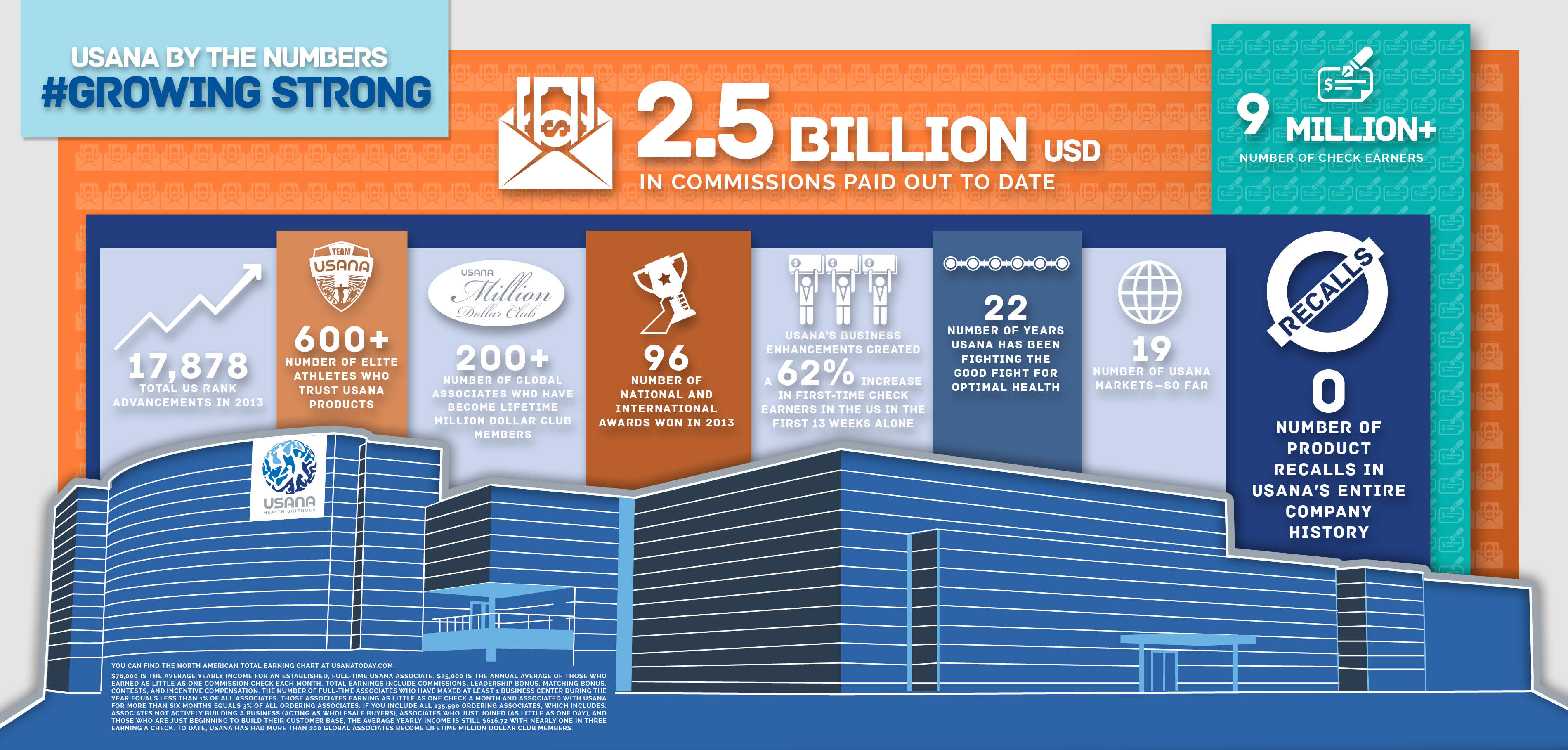 Click the image for a larger view.
* $76,000 is the average yearly income for an established, full-time USANA Associate. $25,000 is the annual average of those who earned as little as one commission check each month. Total earnings include commissions, Leadership Bonus, Matching Bonus, contests, and incentive compensation. The number of full-time Associates who have maxed at least 1 Business Center during the year equals less than 1% of all Associates. Those Associates earning as little as one check a month and associated with USANA for more than six months equals 3% of all ordering Associates. If you include all 135,590 ordering Associates, which includes: Associates not actively building a business (acting as wholesale buyers), Associates who just joined (as little as one day), and those who are just beginning to build their customer base, the average yearly income is still $616.72 with nearly one in three earning a check. To date, USANA has had more than 200 global Associates become lifetime Million Dollar Club members.
We're proud to bring you the freshest content on the web! Follow USANA on Twitter, like our USANA Facebook page and enjoy the latest videos on the official USANA YouTube channel.

Learn what USANA is doing to make the world a better place.
The future of personalized health and nutrition is now available with USANA's True Health Assessment.
https://whatsupusana.com/wp-content/uploads/2014/05/2.5-Billion-Featured.jpg.jpeg
900
1600
Emily Alaniz
http://whatsupusana.com/wp-content/uploads/2019/11/USANA_Logo_Black.png
Emily Alaniz
2014-05-08 07:15:42
2014-05-08 07:12:38
Infographic: $2.5 Billion and Growing Strong