Breast Cancer Awareness Infographic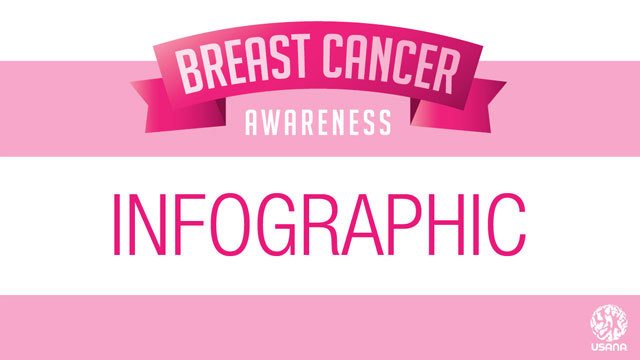 October is National Breast Cancer Awareness Month. This Breast Cancer Awareness Infographic will give you some quick statistics about breast cancer. We've also included more detailed information below.
Lifetime Risk
Approximately 12.4 percent of women (or one in eight) will be diagnosed with breast cancer at some point in their lifetime. This number is based on the presumption that a woman will live 90 years. It's called a lifetime risk. It's important to understand that that number changes based on a woman's age. So if a woman is 70 years old, her risk of developing breast cancer is actually one in 26. The one in eight statistic is important for understanding overall incidence of breast cancer, but individual risk is going to vary immensely. It doesn't necessarily mean that if eight adult women are gathered in a room, that one of you is going to develop breast cancer.
The website of the National Cancer Institute has a Breast Cancer Risk Assessment Tool that can help you determine your own relative risk, but always make sure you talk to a doctor to determine what factors put you at risk.

Mortality Rates
Breast cancer is the fourth leading cause of cancer death in the United States and the most diagnosed cancer in women.
The 1/37 statistic is based on data from breast cancer deaths between 2009-2013. The number of deaths was 21.5 per 100,000 women. This comes out to about .02%, or 1/37. Of those deaths, the majority occurred in women ages 55-64 and then 65-74.
It's important to remember that the mortality risk increases as age increases.
The rate of survival is dependent on what breast cancer stage a person is in. Non-invasive (stage 0) and early stage invasive breast cancers (stages I and II) are going to have a higher survival rate than stages III and IV.
Breast cancer mortality decreased by 37 percent (about 249,000 deaths) between 1990 and 2013. This could be due to earlier detection, improved diagnosis, and better treatment.
Risk Factors
Extensive research has been done to determine the actual factors that increase risk. For more information on that research, see Factors That Affect Breast Cancer Risk at Susan G. Komen®. Some of the risk factors that have been studied include: weight gain, race and ethnicity, inherited gene mutations, menopausal hormone therapy, and exercise.
Relative Risk & Absolute Risk
It's important to understand the difference between relative risks and absolute risks. Absolute risk is an individual's chance at developing a certain disease over a period of time. Relative risk looks at those who have the risk factor and compares it to those of the same age that do not.
Say you compare inactive 34-year olds with active 34-year olds and you find that 5 out of 100,000 women who were inactive developed breast cancer, and 4 out of 100,000 that were active developed breast cancer. Your relative risk would be 1.25. Then take the same example for 70-year old women, only this time 500 inactive women out of 100,000 developed breast cancer and 400 active women developed breast cancer. The relative risk would also be 1.25 but the number of cases of breast cancer is much more. So it can appear that your relative risk associated with exercise as a 34-year old woman is the same as that of a 70-year old woman, when in fact it is not. It's important to remember this when you see statistics about risk.
Take Action
Most importantly, talk to a health care provider about your personal risk of breast cancer including family history and get regular mammograms (here's some good information if it's your first time), yearly clinical breast exams and perform a self-breast exam every month. Pay attention to changes within your body, and make healthy lifestyle choices. Share this information with your friends and family to spread the message of breast cancer awareness.
Infographic Design by Parrin Habibpour
Sources:
American Cancer Society. Breast Cancer Facts and Figures 2015-2016. Atlanta, GA: American Cancer Society, 2015.
Howlader N, Noone AM, Krapcho M, et al., editors. SEER Cancer Statistics Review, 1975-2013: Fast Stats. Bethesda, MD: National Cancer Institute. http://seer.cancer.gov/csr/1975_2013/, 2016.
Susan G. Komen® http://ww5.komen.org/
White, N. 1 in 8 Women? Understanding Breast Cancer Statistics. (2014, October 1). Retrieved from http://www.cityofhope.org/blog/breast-cancer-statistics-explained
We're proud to bring you the freshest content on the web! Follow USANA on Twitter, like our USANA Facebook page and enjoy the latest videos on the official USANA YouTube channel.

Learn what USANA is doing to make the world a better place.
The future of personalized health and nutrition is now available with USANA's True Health Assessment.
https://whatsupusana.com/wp-content/uploads/2016/10/Infographic_Breast_Cancer_Feature_Image_w.jpg
360
640
Erica Shaw
http://whatsupusana.com/wp-content/uploads/2019/11/USANA_Logo_Black.png
Erica Shaw
2016-10-21 04:00:47
2017-02-23 08:07:58
Breast Cancer Awareness Infographic