Inside Beauty: Holiday Makeover on a Budget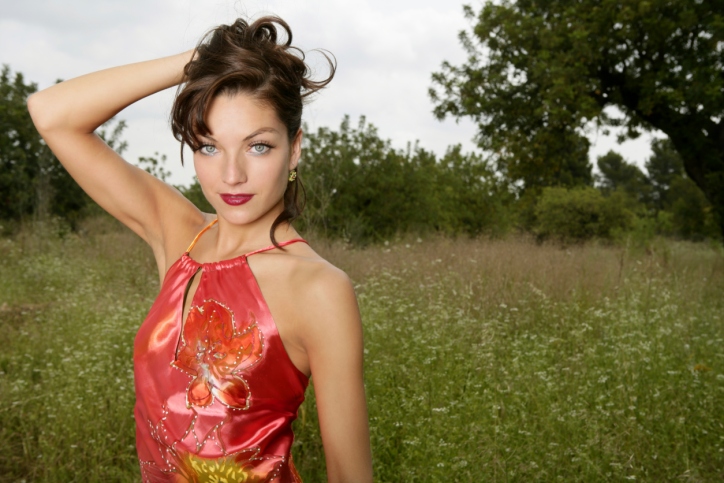 Want an alluring holiday makeover but don't have the cash to do it? Being a single mom, I know how hard it is to look your best when you're on a budget. But you'll be surprised what you can do with just a little creativity and ingenuity.
Here are some hints to get a glamorous holiday look without the price tag.
1. Go from ordinary to extraordinary.
Clothing. By adding just one piece of glitzy clothing, you can dramatically change your look. I love wearing my black sequin cardigan with a skirt or even jeans. It's classy and elegant, but provides just enough pizazz to get noticed. And best of all? I found it at my local secondhand store.
Jewelry. It's easy to add a little bling to your appearance by starting with a plain piece of jewelry and bedazzling it with jewels from your local craft store.
Nails. There are tons of inexpensive polish available with glitter to give you a more festive flair (see image above).
2. Just wing it.
To add boldness to your eyes, try a dramatic winged look with a liquid eyeliner. (Our Sensé expert, Jessica Reimer, prefers Tarte—as pictured below—because it is free of parabens and phthalates and is dermatologist and ophthalmoligist approved.) But first, be sure to apply Sense's Eye Nourisher each night to reduce the appearance of fine lines and wrinkles around your eyes.
Steps to a winged eye:
Draw a straight line across top of eyelid with liquid eyeliner.
From outside corner of eye, continue drawing liner out straight, then curve up slightly.
Bring eyeliner brush across straight from curve back to top corner of eye and fill in completely.
Add mascara.
Now you've got a gorgeous, new look which is sure to get lots of attention.
3. Updo your competition.
For a festive style to your hair, try an updo. There are lots of great ideas you can find online, or try this one—it's easy, but creates an exhilarating, yet beautiful look perfect for the season—in just a few steps:
Steps to a messy bun:
Curl strands of hair using a curling wand.
Gather hair into a low ponytail.
Starting at the top of the ponytail, take a small strand of hair, using one hand to hold and the other to pull down (like a tease) into a clump.
Bobby pin clump to head in a loop.
Continue with clumping, looping, and pinning until top and middle of ponytail is complete.
Split the bottom of ponytail into two large strands.
Wrap the two strands around the top of the clumped bun. Criss cross the two strands at top of bun, then criss cross bobby pins to secure.
Place a bow, flowers or other festive accessory to add some zest to your final look.
4. Have fun!
As you see, with just a few easy enhancements, you'll have a look that is inexpensive, yet sophisticated and elegant. Go have some fun with these ideas and turn some heads this season!!
We're proud to bring you the freshest content on the web! Follow USANA on Twitter, like our USANA Facebook page and enjoy the latest videos on the official USANA YouTube channel.

Learn what USANA is doing to make the world a better place.
The future of personalized health and nutrition is now available with USANA's True Health Assessment.
https://whatsupusana.com/wp-content/uploads/2014/12/makeover-featured.jpg
398
709
Misty Dangel
http://whatsupusana.com/wp-content/uploads/2019/11/USANA_Logo_Black.png
Misty Dangel
2014-12-15 08:00:19
2014-12-10 10:41:07
Inside Beauty: Holiday Makeover on a Budget