Pumpkin Soup with Cranberry Apple Relish Recipe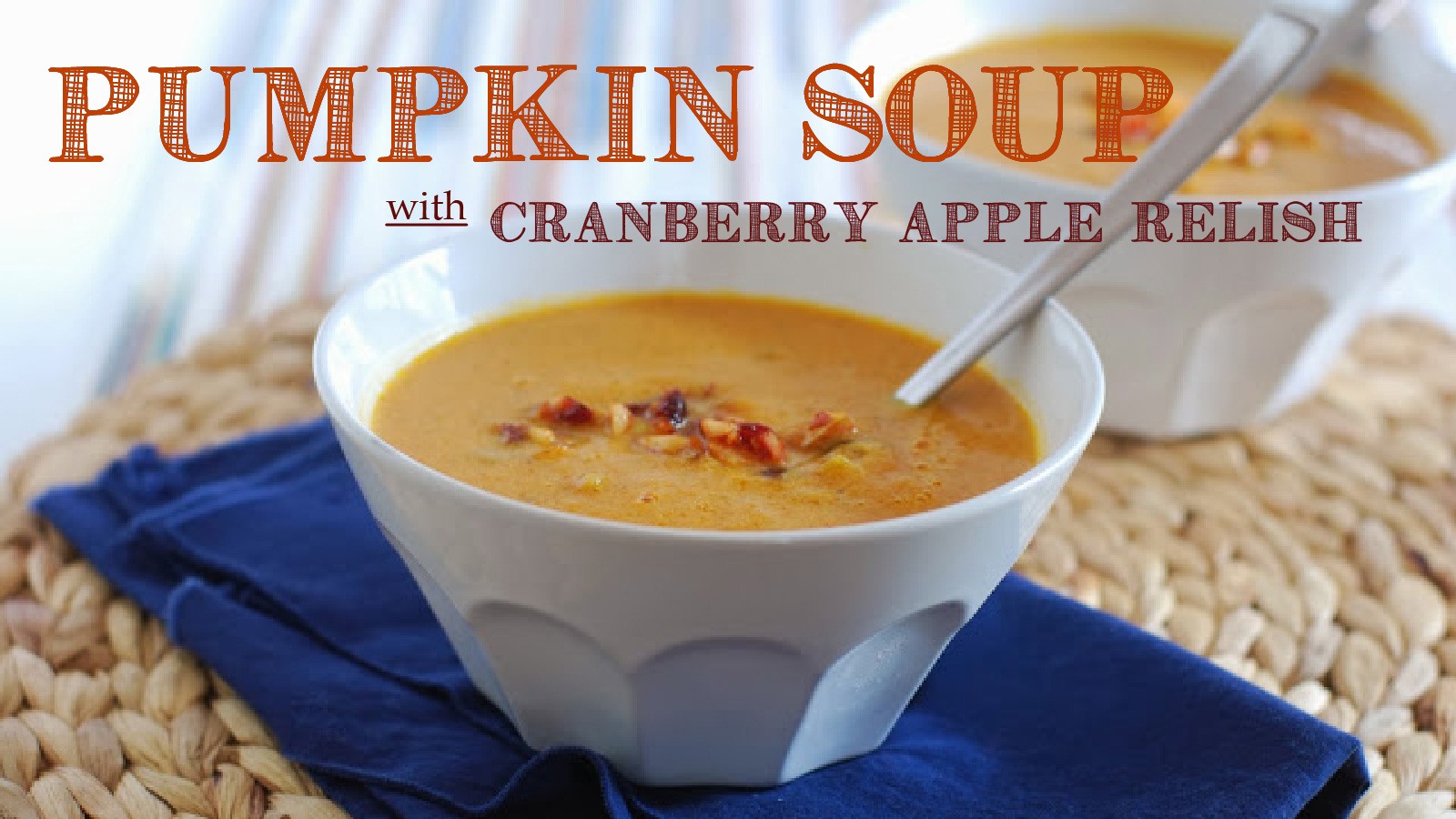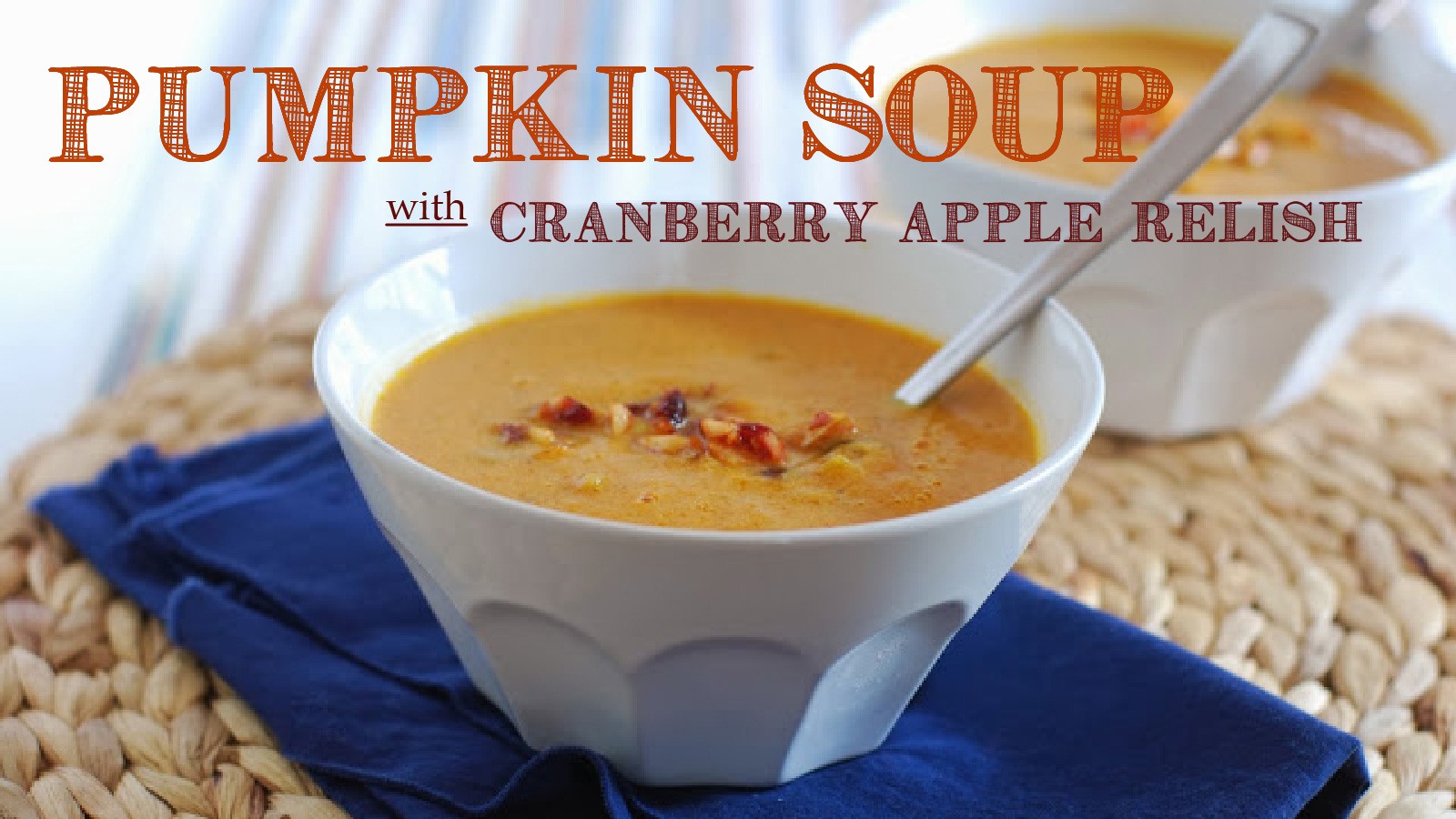 Who else is excited for winter?
Oh ok, just me.
Maybe I'm excited because I've been watching ski movies constantly, or maybe it's because I've always been obsessed with Christmas music or maybe it's because I'm tired and ready to slow down. Whatever the motivation for my excitement, I'm looking forward to the shorter, snowy days so I can relax at home after work.
I've spent my spring, summer and fall playing hard. I've been traveling almost every weekend. I've been hiking and biking and climbing most nights after work. It's not that I regret that at all. It's just that I'm ready for a break. I'm ready to eat soup for dinner and sip on mugs of tea. I'm ready to build fires and watch movies.

This mini hibernation is only going to last for a couple weeks though. After that, I'll get anxious again. That's where the winter sports come into play. Until then, soup's on.
This pumpkin soup is creamy and warm and comforting just like you want it to be.  But it's really the cranberry apple relish that sets it apart from just another soup. You get a little bit of crunch in there, some sweetness from the dried cranberries, tartness from the apples, and just a tiny hint of spice from the chili powder. It's all there.
Pumpkin Soup with Cranberry Apple Relish

(serves 8 as a starter, 4 as a meal)
Ingredients
1 Tbsp. olive oil
2 Tbsp. butter
1 bay leaf
2 celery stalks, finely chopped
1 onion, finely chopped
salt & pepper
3 Tbsp. flour
2 tsp. poultry seasoning
2 tsp. hot sauce
6 c. chicken stock
28 oz. pumpkin puree
2 c. heavy cream
1/2 tsp. nutmeg (fresh grated, if you have it)
For the Relish:
1 apple, finely chopped
1/4 red onion, finely chopped
2 Tbsp. lemon juice
1/2 c. dried cranberries, chopped
1 tsp. chili powder
2 tsp. honey
1/2 tsp. cinnamon
Directions
1.  Heat olive oil and butter in a heavy stock pot. Add in bay leaf, celery, onion, salt & pepper. Cook until tender (about 6 or 7 minutes).
2.  Sprinkle the flour, poultry seasoning and hot sauce over the top. Stir and cook for a minute longer. Whisk in the chicken stock and bring to a low boil.
3.  Whisk in the pumpkin. Simmer for at least 10 minutes to thicken.
4.  While the soup cooks, prepare the relish. In a bowl, combine the apple, onion, lemon juice, craisins, chili powder, honey and cinnamon.
5.  Stir the cream and nutmeg into the soup. Reduce the heat to low until you are ready to serve it up.
6.  Top each bowl of soup with a big spoonful of relish before serving.

We're proud to bring you the freshest content on the web! Follow USANA on Twitter, like our USANA Facebook page and enjoy the latest videos on the official USANA YouTube channel.

Learn what USANA is doing to make the world a better place.
The future of personalized health and nutrition is now available with USANA's True Health Assessment.
https://whatsupusana.com/wp-content/uploads/2015/11/Pumpkin-Soup_featured-img.jpg
900
1600
Sarah Flinn
http://whatsupusana.com/wp-content/uploads/2019/11/USANA_Logo_Black.png
Sarah Flinn
2015-11-09 04:00:38
2015-11-30 08:49:53
Pumpkin Soup with Cranberry Apple Relish Recipe