Family Focus: End the Bullying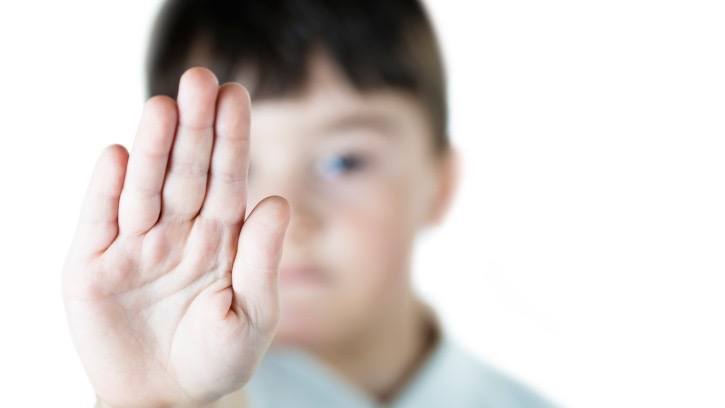 Is your child a victim of bullying? Chances are high they are or they may even be bullying someone else. The National Center for Educational Statistics said in 2015 that one in four children were being bullied. And that number is most likely much higher because 64 percent of cases are never reported.
There are several types of bullies. Could your child be a victim of one?
Physical
Social
Verbal
Cyber (the newest and most prominent type)
When I was in sixth grade, a new girl moved in. She was what you would consider "cool." She was also what you would consider a social bully. She pitted all my friends against me and made fun of me for not having a an acid-washed jean jacket, name-brand jeans, and a slew of other things she felt weren't good enough. She made it her mission for me not to have friends that entire year.
Yep, this all happened in the '80s, and nope, I'm still not over it.
And now, the bullying phenomenon has increased dramatically with the age of social media.
Cyberbullying
It's all too easy to be a bully in 2016 because you can hide behind your computer and say whatever you want without any consequences (supposedly). Look at any comments posted on social media and you'll see very quickly what I'm talking about.
Would you ever tell someone they're ugly, fat, disgusting, stupid, etc. right to their face? Most of us wouldn't, but many people have no problem telling someone horrible things online.
Let's look at the stats (TRUE Insights & McAfee, May 2012):
25 percent of teens claim to be targets of cyberbullying
2/3 of all teens have witnessed cruel behavior online
Only 10 percent of parents are aware of their teens being targets
How Do We Stop It?
Intervene
One way to stop bullying is through intervention. Parents, teachers, and even peers need to step in. According to the National Bullying Prevention Center, "More than half of bullying situations stop when a peer intervenes on behalf of the student being bullied." Even bystanders can have a huge impact. By standing up for a child, a bully loses their power.
Monitor Your Teens
There are several apps out there that can review your child's text messages, contacts, apps, and mobile images so you know what's going on in your child's social world. uKnowKids, Net Nanny, and Phone Sheriff apps are great ways to keep your child's online interactions safe from inappropriate content. Just do a simple search and you'll find many apps and online programs that are powerful and affordable.
Check Trending Terms
Go to internetslang.com to find out what these terms mean. If you see them in a post, it could mean your teen is being bullied or is bullying someone else. (I've included some examples below, but I'll refrain from spelling out what they actually mean.)
RDH
JBH
LBH
TBBH
IMO
WAW
ASLP
FYEO
CD9
POS
Reduce Time on Devices
It's too easy for cyberbullying to occur because over 80 percent of teens use a cell phone regularly. "Hypernetworking teens—those spending more than three hours a day on social networks—are 110 percent more likely to be a victim of cyberbullying," according to nobullying.com. So, lose the devices or, at least, reduce your teen's time on them and cut that percentage down dramatically.
Consequences of Bullying
Don't be naive of what could be going on in your child's life. Do something now, because the effects of bullying are long-term and even deadly. Here are just some of its consequences:
Depression/anxiety
Sadness/loneliness
Health issues
Increased use of tobacco, alcohol, and drugs
Missed or skipped school
Suicide
Cyberbullying victims are two to nine times more likely to consider committing suicide, says bullyingstatistics.org.
We can't stand idly by allowing bullying to happen, so let's help each other and put an end to these horrifying consequences and statistics. Stop bullying today.
We're proud to bring you the freshest content on the web! Follow USANA on Twitter, like our USANA Facebook page and enjoy the latest videos on the official USANA YouTube channel.

Learn what USANA is doing to make the world a better place.
The future of personalized health and nutrition is now available with USANA's True Health Assessment.
https://whatsupusana.com/wp-content/uploads/2016/05/ThinkstockPhotos-480059679-1.jpg
408
725
Misty Dangel
http://whatsupusana.com/wp-content/uploads/2019/11/USANA_Logo_Black.png
Misty Dangel
2016-05-11 04:00:13
2016-05-10 14:20:52
Family Focus: End the Bullying