"It doesn't matter what happens to you in life, it's how you deal with it." — Kevin Guest
Long before Kevin Guest became president of the Americas and Europe for USANA, he wanted to be a musician. He did pretty well, too, not only recording his own music but producing the national hit Turn Up the Volume, featuring Ozzy Osbourne, Jon Bon Jovi, and KISS, and playing in Collin Raye's band.
That life seems a far cry from his current title, but Kevin says working in the music industry prepared him for the life he now leads.
"They are separate worlds, and when I get on stage and play the guitar, I am a different person … but when I was in a band, when I was playing music, it was still a business," he says.
Kevin's name has been synonymous with USANA for 19 years. As owner and operator of FMG Productions, he oversaw all of USANA's audio, video, and event productions, and when he joined USANA full time in April 2003, it was as executive director of media and events.
Following USANA's acquisition of FMG in 2004, he was promoted to vice president of media and events. Since then, he has served as USANA's executive vice president of marketing (2006–08) and chief marketing officer (2008–11). Finally, in May last year, he was appointed president of North America.
Celebrating You
Kevin understands the hard work it takes to become a successful entrepreneur. He can relate because he was once in the same position as USANA Associates who are just starting out.
"All of our Associates are self-employed," Kevin says. "They own their own businesses, so I have the unique perspective that they have, having started my own business (FMG) in my home, watching the business grow. My wife kept the books. I went out and sold. I started from nothing and had to sell to put food on the table to feed my family. But we grew it into a million dollar business. That experience helps me in directing USANA now."
Remembering where he came from is key to Kevin's success. He says his belief system and family are what drive him, and that's why USANA is such a great fit. "There isn't anything I wouldn't do for my family, and that extends to our USANA family," he says.
[youtube]IyApTm68p58[/youtube]
If you're unable to view the above video, please visit the USANA YouTube channel.
According to…
"I have worked closely with Kevin Guest for over 16 years now, and it's hard to find a better man. Kevin's primary concern is the welfare of others — his family, his friends, his co-workers, shareholders, employees, Associates — always. That's probably what has kept him so close to USANA for almost two decades, since it's the same principle the company is built on. I consider him a great friend — and I've noticed that everyone he meets walks away with the same feeling."
— Shawn McLelland, USANA Vice President of Media and Events
You Might Not Know…
Would you believe that Kevin was once an Associate? It's true. When he first started with the company, he was also allowed to sign up as an Associate, a job that he admits is not easy. "It's hard. And those Associates who are successful — I have great respect for them," he says of the experience.
It Happened in '95…
In 1995 USANA unveiled its new corporate headquarters in Salt Lake City, Utah, complete with labs and manufacturing facilities.
——————–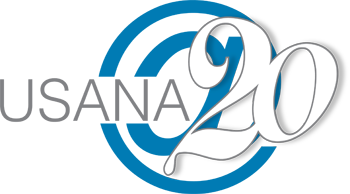 About the Series: We're celebrating USANA's 20th anniversary with USANA @ 20, a series featuring difference-makers — not only individuals, but departments, products, and more — who have had a significant impact on USANA and are poised to propel us into the future. We hope you enjoy learning more about just a few of the reasons USANA is, and will continue to be, a world-class company. To learn more about this series and to read previous installments, please visit USANA @ 20.
https://whatsupusana.com/wp-content/uploads/2012/04/Kevin_Guest_Banner-e1336236924267.jpg
319
432
Jessica Whiting
http://whatsupusana.com/wp-content/uploads/2019/11/USANA_Logo_Black.png
Jessica Whiting
2012-04-23 08:18:54
2012-05-05 10:55:59
USANA @ 20: Kevin Guest