USANA12: A Slam Dunk Day in Salt Lake
You're probably aware that we have a few elite athletes — more than 600, actually. You already know they dominate in everything from boxing and swimming to speedskating and ski jumping.
What you didn't know — and I didn't until about 7 this morning — is that several of them can handle their business on the court, too. At least enough to hang with hall of famer and gold medalist Jennifer Azzi in a game of horse, one of several competitions televised on KUTV This Morning (Utah's CBS affiliate).
It was WBO Welterweight Champion Timothy "Desert Storm" Bradley, rising light heavyweight boxer Mike Lee, London gold medal swimmer Conor Dwyer, speedskating legend Derek Parra — who had the burden of trying to follow Jennifer — and Azzi having a little fun in between TV spots this morning.
If you weren't paying attention to the participants, it was a pretty standard game of horse. You have the people that go deep. You have the people who throw up trick shots — Bradley was a victim of a wicked shot by Lee from behind the backboard. Then you have the people who just make shots and put the pressure on.
The very unstandard part, of course, was the incredible display of athletic achievement shooting baskets on an adjustable hoop closer to 9 feet than 10. The sheer amount of gold won by the people playing was staggering — all the medals and that shiny part of Bradley's big WBO belt.
Why should I have expected anything different? It is #USANA12, after all, where everything is bigger and better and brighter.
Game On
Come to think of it, a game of horse is actually a pretty good metaphor for how the athlete segment went this morning. You had the USANA Studios team going deep with the best athlete video yet — those guys are great, and they just keep outdoing themselves. It was a difficult shot, but everyone that took the stage afterwards was up to the task.
First was a stage filled up with top athletes from some of the organizations who trust their records and reputations to USANA.
Then Adam Korzun, head nutrition honcho for US Ski and Snowboard Association, followed admirably with a strong recommendation of the USANA products. He knows a thing or two about how to properly fuel the body for huge success.
Jose Rivera countered, just like you'd expect from a multiple world title holder. Swimmer Matt Lowe, Sarah Hendrickson — women's ski jumping's first World Cup winner — windsurfer Nikola Girke, and decorated speedskater Katherine Reutter, who had some nice medals hanging from her neck, each hit nothing but net.
And there was never any doubt Azzi — now the head women's basketball coach at the University of San Fransisco — was going to tickle the twine. She's been with USANA for 10 years now, and she said it's the "greatest gift" she's received.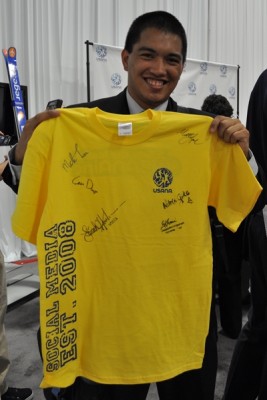 Even in the segment, Parra had to follow Azzi. He faired better onstage than on the court, drawing huge cheers from the EnergySolutions crowd. Dwyer — his gold medal shinning from his chest — was a slam dunk with the crowd, too.
The man who took it all home is someone familiar with delivering when the spotlight is on him.
From the moment "Desert Storm" emerged from a smoky stage entrance, the crowd was his. Bradley owned the stage like he owns the ring, making good use of the runway and finishing up with a call for everyone to continue improving lives around the world.
Every member of Team USANA was money, and the crowd was going crazy for almost 20 solid minutes. It was great to be there. What was equally as cool for me was seeing athletes at the top of their respective sports coming together and talking shop backstage.
It was great to get to talk to so many of them, too. They're world-class on and off the playing surface.
Other Highlights From Friday at #USANA12
— Hip circles with Dr. Christiane Northrup.
— Dr. John McDonald acknowledged upon his retirement.
— Going a little nuts — sorry — over two great new products: BiOmega Jr. and the Go Nuts 'n' Berries bar.
— A revolution for you and your business — True Health Assessment and True Health Companion. Also a little something for you to do with that new iPad in the next few months.
— More personalization with MyHealthPak™ going worldwide November 19.
— Speakers like Dr. Libby Weaver, Jen Groover, and Jason Ryan Dorsey.
— One of my personal favorites, Edna Northrup, who is more awesome at 86 than I can ever hope to be, gracing the stage.
See You Saturday
Tomorrow's the last day, so let's end this party in epic fashion. What do you say, USANA family?
We're proud to bring you the freshest content on the web! Follow USANA on Twitter, like our USANA Facebook page and enjoy the latest videos on the official USANA YouTube channel.

Learn what USANA is doing to make the world a better place.
Discover what USANA products can do to boost your health today by taking this brief online Health Assessment.
https://whatsupusana.com/wp-content/uploads/2012/08/Athlete-Group-Stage-2-Featured.jpg
368
640
David Baker
http://whatsupusana.com/wp-content/uploads/2019/11/USANA_Logo_Black.png
David Baker
2012-08-17 21:54:43
2017-02-22 11:19:17
USANA12: A Slam Dunk Day in Salt Lake