USANA12: First-Class Social Media Ticket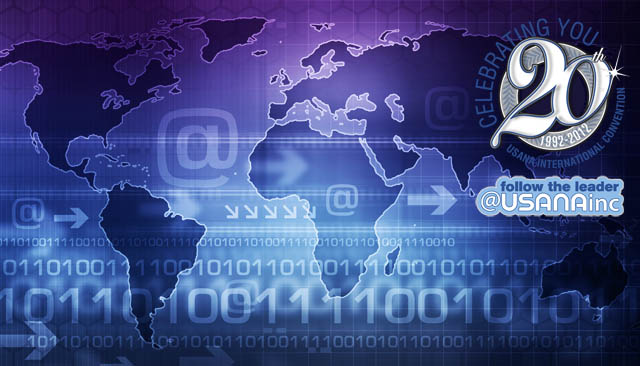 T-minus 1 week until we welcome thousands of health- and entrepreneurial-minded individuals to Salt Lake City for USANA's 20th Annual International Convention.
This year it's all about Celebrating You (check out the theme song, if you haven't already)! It promises to be the biggest, best, and most exciting event in the company's history. We hope you're planning to join us to see for yourself what we have planned.
But if, for one reason or another, you aren't able to make it, we've got you covered.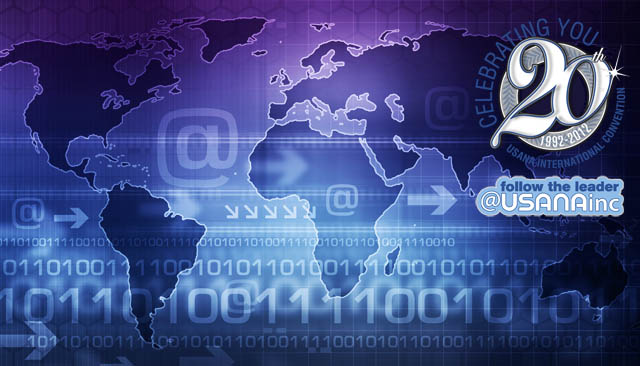 Keep an eye on USANA's social media throughout Convention — #USANA12 — and we'll do our best to help you feel like you're there with us (well, almost; you'll miss out on receiving a super-cool, exclusive USANA Social Media T-shirt and other outstanding giveaways I can't reveal here).
That said, it's not too late to register (and there's always on-site registration).
And before you embark on this unforgettable journey, take a look at Gold Director Kathleen Rockney's Convention Travel Tips.
[polldaddy poll=6454625]
Welcome to USANA12!
We like to call what we do during Convention the USANA Social Media Experience. Sure, we've got a detailed spreadsheet outlining all the big announcements, can't-miss speakers, and convention-only events. You'll read about many of these "on-the-agenda" items in real-time (or close to it) on this blog, as well as in our Facebook posts, and through our tweets (don't forget to use the #USANA12 hashtag).
But what I'm even more excited about is our plan to offer blog readers, Facebook fans, and Twitter followers a fast-paced, behind-the-scenes tour unlike any other. We can't wait for you to be part of The Experience — 2012 style.
As in previous years, we encourage you to be part of the USANA conversation taking place in Salt Lake City and throughout the world. That means commenting on blog posts, sharing your thoughts on Facebook, and expressing your excitement throughout the twitterverse!
Learn from Social Media Experts
The Social Media Training Stages were among the best-attended last year, and this year should be no different.
Whether you're just learning about Facebook and Twitter or are searching for ways to optimize your time spent online, look no further. USANA Ruby Director Kate Northrup Moller will be sharing her vast knowledge with you!
Make plans to attend one of the trainings (to be held on the Technology Stage):
Wednesday, Aug. 15, 1 p.m.
Thursday, Aug. 16, 2:45 p.m.
In addition, members of USANA's corporate social media team will be conducting 15-minute mini-trainings on the USANA Store Stage throughout Convention. We hope to see you at one or all of the following (please be sure to verify times on site):
Facebook Basics: Wednesday, Aug. 15, 12:15 p.m.
Twitter Basics: Friday, Aug. 17, 1:30 p.m.
Pinterest Basics: Saturday, Aug. 18, 2 p.m.
Get Your Tweet On
We had so much fun with our informal Tweet-Up last year (shout-out to Christa Realba for organizing it!), that we've decided to do it again.
This time, we'll be gathering on Wednesday, Aug. 15, at the USANA Amphitheatre at 6 p.m. — just before the bands take the stage for USANAfest.
Check out the Facebook Event for all the details, and feel free to download this flyer (PDF) to share on your own social networks.
If you're a tweeting fool, a casual tweeter, or simply want to network with some cool tweeps, be sure to stop by the North Plaza at the Amphitheatre to get to know fellow Twitter aficionados.
By the way, one more reminder: If you're tweeting from Convention, don't forget to include the #USANA12 hashtag!
Follow the Action Online
The following sites are must-visits whether or not you're at Convention (for a complete list of our sites, check out this page):
Interactive Social Media Station
In addition to running from one end of Convention to the other, we will also have a Social Media Station set up in the store to answer your social media-related questions. Please stop by and say hi.
It's also a great opportunity to get signed up for Facebook and Twitter and to connect with the USANA Family. You never know, you might even be featured in a Twitpic or a future blog post.
Other Aspects of The Experience
Be sure to stop by the Social Media Station to talk to our awesome team, as well as learn how to get your hands on some sweet Convention-only swag:
Exclusive Social Media T-shirt: Or rather, Tweet-shirt. USANA's

Chris Bambrough

created this shirt especially for our social media fans. Pay close attention…we'll be giving these away at certain times throughout Convention. Last year's shirt was extremely popular.

Exclusive Social Media Pin:

Pins are such an important part of USANA, and we're back for Year 3 of the Social Media Pin. This one's pretty sweet. Again, stay tuned to learn where/how you can get your hands on one of these collectibles during Convention.

Digital Download Pack:

For the first time we will be creating all-electronic documents for you to maximize your social media presence. The pack — completely free and easily downloadable — will include USANA-themed backgrounds, Facebook Cover Photos, a Beginner's Guide to Social Media, and more!

Social Media Online Resources:

Finally, if you're a USANA Associate, be sure to visit the Social Networking page on USANAtoday.com to unlock a wealth of resources.
We Want YOU!
There's going to be something really cool for the General Sessions this year. For the first time, there will be a "Celebration Zone!" About 120 seats will be available on a first-come basis right up front at EnergySolutions Arena for each session.
HIGH ENERGY and BIG ENTHUSIASM are required. We want our social media fans there cheering loudly and tweeting fervently! So plan to get to the sessions early to take advantage of this special seating!
But Don't Take Our Word For It…
[youtube]rT13fM84T8w[/youtube]
If you're unable to view the video, please visit the USANA YouTube channel
[youtube]tkUnugy7jt0[/youtube]
If you're unable to view the video, please visit the USANA YouTube channel
[youtube]J5LCU_qp_-o[/youtube]
If you're unable to view the video, please visit the USANA YouTube channel
Questions?
Please feel free to e-mail us if you have any questions about the USANA Convention Social Media Experience. Or send us a tweet. We'll get back to you as soon as possible.
Most of All: Thank You
It's no secret we couldn't do what we do without you — our readers, fans, and followers. You have helped us create an amazing social media community. It's proving to be a valuable tool for connecting and interacting with USANA Associates and others interested in maintaining their health and taking control of their financial future.
A big thank you to everyone who has joined us. Please introduce yourself or re-connect with us at Convention. We're excited to see all of you!
We're proud to bring you the freshest content on the web! Follow USANA on Twitter, like our USANA Facebook page and enjoy the latest videos on the official USANA YouTube channel.

Learn what USANA is doing to make the world a better place.
Discover what USANA products can do to boost your health today by taking this brief online Health Assessment.
https://whatsupusana.com/wp-content/uploads/2012/08/Connnecting-at-Convention2012.jpg
366
640
Tim Haran
http://whatsupusana.com/wp-content/uploads/2019/11/USANA_Logo_Black.png
Tim Haran
2012-08-08 00:01:03
2017-09-11 08:50:29
USANA12: First-Class Social Media Ticket