USANA12: Get the Party Started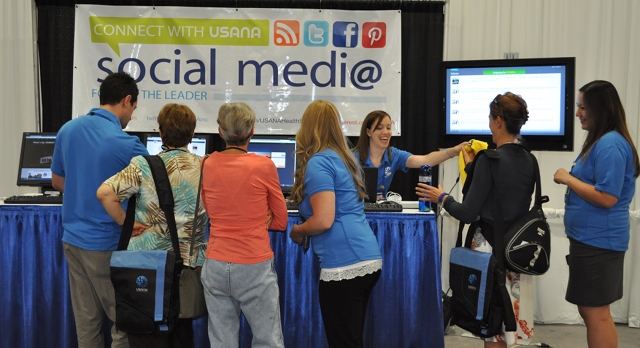 I don't get invited to a lot of parties. There are reasons:
I don't look good in pointy hats.
I can't properly operate noisemakers.
I haven't figured out the share function in my brain when it comes to cake.
What I'm saying is, I'm lucky to be here. After all, this is USANA's 20th anniversary, a celebration of you, a party two decades in the making. They very well could've stopped me at the door and said, "Nope."
I do remember — from my more popular, socially accepted days — that the flow of a party rarely changes, and it's beyond important. I never mastered it, but the circadian rhythm that governs the greater body politic of a party is vaguely familiar. (Reason No. 4: I talk like that.)
Even the greatest parties reach the pantheon of legend by standing on a solid foundation of shuffling small talk and endless, "How've you been's." Everything great starts somewhere. And I'll go to bat for catching up, for once-a-year hello hugs, and that moment when it's like, "Yeah, I absolutely remember you."
Day 1 at #USANA12
That was my day at #USANA12 — Reason No. 5: #Hashtags in real life. I feel a part of something, something substantial and awesome and exciting and big — very big. Hopefully, after today, you feel a part of it, too.
It all starts with a few smiles and friendly faces. Then there's the nods of recognition. The floods of memories. The rekindling of friendships from almost too long ago. The handshakes. The hugs. The questions. The catching up.
Finally there's the pictures — Reason No. 6: I'm not a good at pictures, so even one photo of me will ruin a perfectly good Facebook album.
And there's a lot of energy created from all these particles colliding, rubbing together, bonding for four amazing days in downtown Salt Lake City. That's an essential part of the party buildup, too. All of these new connections create a collective spark that ignites the explosive stuff that's to come.
High Energy, Big Enthusiasm
That energy was palpable, today. You had Team NEX — in traditional fashion — blowing up the Salt Palace with an entrance that could've registered on the Richter Scale. Hopefully you didn't miss their sound-activated, light-up shirts. They were glowing bright blue as they headed in unison to registration.
[youtube]8EMseWMp3tc[/youtube]
If you're unable to view the video, please visit the USANA YouTube channel
Not to be outdone, Team ERA turned up the volume when they came bursting through the Salt Palace doors. The future is exciting, guys. And it's a whole lot of fun.
People were also snatching up new logo gear — with this totally different look you'll find out more about tomorrow — and Convention-only product specials. They were also treated to presentations on the store stage from some of USANA's all-star team of scientists, and someone named Tim Haran — he's a pretty big deal, and he'll probably edit that part out, but it's true.
If everyone didn't get enough information in the store, there were plenty of great training stages, including the social media session with the awesome @katenorthrup (follow her).
Kate talked about "being authentically you" on social media. But that's true about this Convention, too. Everyone — each unique, authentic you — is exactly what makes this such an incredible event.
Much More to Come
We took today to stitch all those individual fibers together, and now we have a beautiful tapestry that we hopefully don't ruin with all the raucous partying we'll doing the next few days — Reason No. 7: I make a mess.
We did good work today. We built the foundation. We fulfilled our responsibility to the party. Now we just have to rock the next few days. It won't be hard with all the announcements and festivities coming up.
I think someone just turned the music on over at USANAFest. It's going to be a heck of a party. I'm glad I was invited.
[youtube]4PsJSgzpavg[/youtube]
If you're unable to view the video, please visit the USANA YouTube channel
We're proud to bring you the freshest content on the web! Follow USANA on Twitter, like our USANA Facebook page and enjoy the latest videos on the official USANA YouTube channel.

Learn what USANA is doing to make the world a better place.
Discover what USANA products can do to boost your health today by taking this brief online Health Assessment.
https://whatsupusana.com/wp-content/uploads/2012/08/SocialMedia-Blog-Featured2.jpg
348
640
David Baker
http://whatsupusana.com/wp-content/uploads/2019/11/USANA_Logo_Black.png
David Baker
2012-08-15 21:51:08
2017-02-22 11:19:25
USANA12: Get the Party Started