Join the Club, Get Moving: From Couch to 5K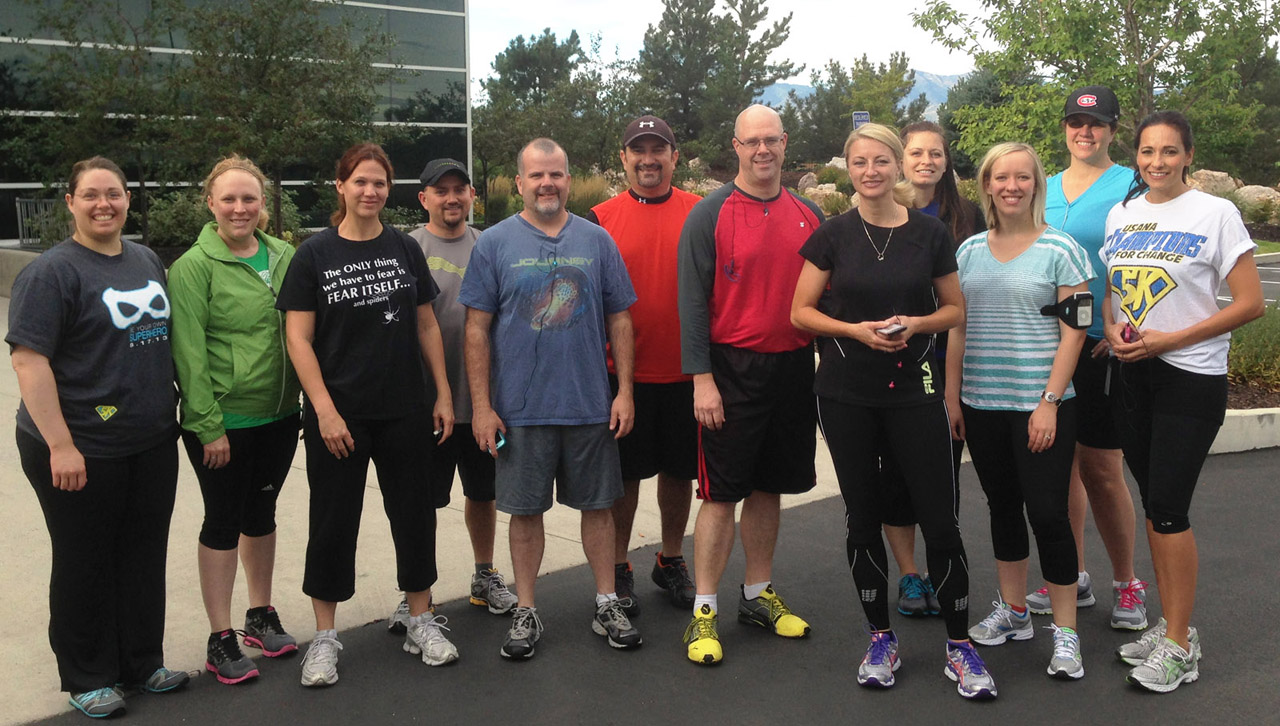 USANA is first and foremost a health company. Always has been. In fact, campaigns were created trumpeting health as our middle name (a fun play on the full USANA Health Sciences moniker).
Combine a health-first culture with innovative and ambitious employees, and you have a recipe for some cool initiatives.
One such initiative is the 4-month-old USANA Couch to 5K Club.
Annette Frehner, a VIP distributor services representative who's worked at USANA for 10 years, founded the club in June and is in the midst of leading her second training program.
Essentially, the club aims to encourage employees to get off the couch and become more active. Members of the club train — stretching, walking, jogging, running — twice a week over a nine-week period. At the end of nine weeks, the goal is to complete a 5K.
After talking with Annette for a few minutes, it's obvious she's passionate about helping others. Take a look at this video to learn more about her story and hear why she believes so strongly in helping her fellow employees get off the couch.
[youtube]http://www.youtube.com/watch?v=dys4SlIahoU[/youtube]
If you're unable to view the above video, please visit the USANA YouTube channel
Annette, who also was honored recently as the company's CEO Wellness Award winner, encourages employees to get involved by emailing her directly for additional information (or send an email to What's Up, USANA? and we'll pass it along). She's also is starting a "Couch to Walking" club for individuals who either can't or don't like running and need a little extra push to start exercising.
If you're not fortunate enough to work at the Home Office, Annette suggests starting a Couch to 5K club in your own community or at your own workplace. It's as easy as scheduling a time to meet to walk around the block. You can even decide the club specifics (i.e. when to meet, how long to train, etc.) during that first leisurely stroll.
"This has definitely been a life change," says Annette, who's in the process of becoming a certified USA Track & Field coach. "I truly believe one of the biggest reasons I am here on earth is to help people feel better about themselves."
We're proud to bring you the freshest content on the web! Follow USANA on Twitter, like our USANA Facebook page and enjoy the latest videos on the official USANA YouTube channel.

Learn what USANA is doing to make the world a better place.
The future of personalized health and nutrition is now available with USANA's True Health Assessment.
View Tim Haran's profile
https://whatsupusana.com/wp-content/uploads/2013/09/Couch-to-5K-USANA-Blog-Featured.jpg
726
1280
Tim Haran
http://whatsupusana.com/wp-content/uploads/2019/11/USANA_Logo_Black.png
Tim Haran
2013-10-02 08:00:02
2017-09-11 08:38:11
Join the Club, Get Moving: From Couch to 5K