From the USANA Test Kitchen: USANA Eggnog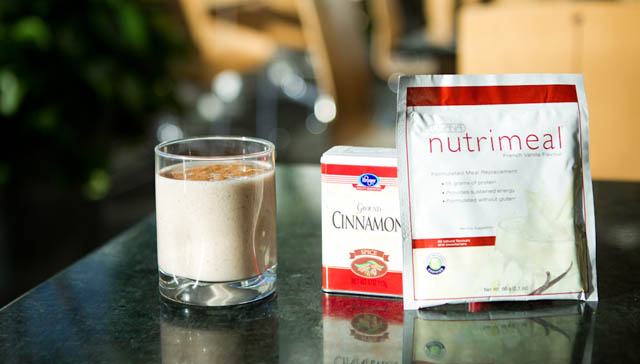 When you're trying to eat healthy, the holidays can seem like torture. But not this year! Why? You've got this spectacular, super duper, totally yummy, (healthy!) eggnog recipe!
Now I'll be honest — when I first had the idea for a healthy eggnog, I didn't think it would work out too well. I mean, traditional eggnog is not so great for you. Eggs, heavy cream, whole milk, sugar, and sometimes alcohol. Not exactly a recipe for good health.
Luckily, I found a solution, and its main ingredient is almond milk. That's right. One cup (eight ounces) of vanilla-flavored, unsweetened almond milk only sets you back 30 calories. To get a cup of anything for 30 calories is nothing short of a miracle. And that's just the start. Almond milk is also high in magnesium, potassium, and vitamin E, and it's a great "milk" for those who are lactose intolerant. You can find almond milk in most grocery stores along with the dairy and soy drinks in the refrigerated aisle.
Here's the rest of the recipe, which includes USANA's tasty French Vanilla Nutrimeal™.
USANA Eggnog
(serves one…two if you feel like sharing, but you won't)
Ingredients
1 cup vanilla-flavored unsweetened almond milk
3 tablespoons French Vanilla Nutrimeal
1 tablespoon 100 percent pure maple syrup
½ teaspoon vanilla extract
½ teaspoon nutmeg
½ teaspoon cinnamon
1 cup ice
Directions
Place all ingredients into a blender. Blend until smooth. Serve immediately. And enjoy staying healthy this season!
We're proud to bring you the freshest content on the web! Follow USANA on Twitter, like our USANA Facebook page and enjoy the latest videos on the official USANA YouTube channel.

Learn what USANA is doing to make the world a better place.
The future of personalized health and nutrition is now available with USANA's True Health Assessment.
https://whatsupusana.com/wp-content/uploads/2012/12/Healthy-Eggnog-003-USANA-Featured.jpg
364
640
Teresa Elias
http://whatsupusana.com/wp-content/uploads/2019/11/USANA_Logo_Black.png
Teresa Elias
2012-12-10 07:40:37
2014-04-24 17:01:42
From the USANA Test Kitchen: USANA Eggnog