Try This Gluten-Free PB&C USANA Nutrimeal Shake
Whether you're participating in USANA's RESET Challenge: Destination Transformation or you just like to "shake it up," keep reading….
The only thing better than peanut butter is its seductive counterpart — chocolate.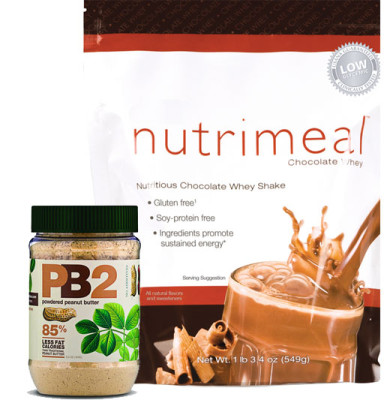 Two great things about Nutrimeal: (1) The variety of protein mixes and flavors available; and (2) The shake is a complete meal replacement.
You can choose between a variety of protein mixes available as well as getting them in different flavors, even creating your own flavor to personalize the USANA shakes for your needs.
Sometimes I like to mix it up a bit, adding skim milk instead of water. When I make a Nutrimeal with milk, I like to cut the scoops back from three to two to watch calorie intake. Adding in a little Fibergy Plus gives you the extra boost of helping you feel fuller longer.
I love peanut butter and chocolate — they're two ingredients destined to be together. So, when combining these delicious flavor options to please my palate, I use peanut butter powder instead of peanut butter — instantly cutting out 145 calories.
Give this recipe a try whether or not you're participating in the RESET Challenge!
Ingredients
8-10 oz skim milk
2 scoops Chocolate Whey Nutrimeal
2 teaspoons Fibergy Plus (optional)
2 tablespoons of powdered peanut butter (PB2)
Directions
For a chocolaty, filling peanut butter surprise, combine all ingredients and blend in your BlenderBottle® for 45 seconds. Enjoy!
How About You?
Do you have a favorite Nutrimeal recipe? Let us know in the comments! And don't forget to check out the From the USANA Test Kitchen posts on What's Up, USANA? or this downloadable recipe flyer (PDF) on USANAToday.com.
We're proud to bring you the freshest content on the web! Follow USANA on Twitter, like our USANA Facebook page and enjoy the latest videos on the official USANA YouTube channel.

Learn what USANA is doing to make the world a better place.
The future of personalized health and nutrition is now available with USANA's True Health Assessment.
https://whatsupusana.com/wp-content/uploads/2013/02/PBCSlider.jpg
720
1280
Melissa Fields
http://whatsupusana.com/wp-content/uploads/2019/11/USANA_Logo_Black.png
Melissa Fields
2013-02-05 08:00:30
2013-02-05 14:49:29
Try This Gluten-Free PB&C USANA Nutrimeal Shake