Weight Loss Success Story: Mother-Daughter Duo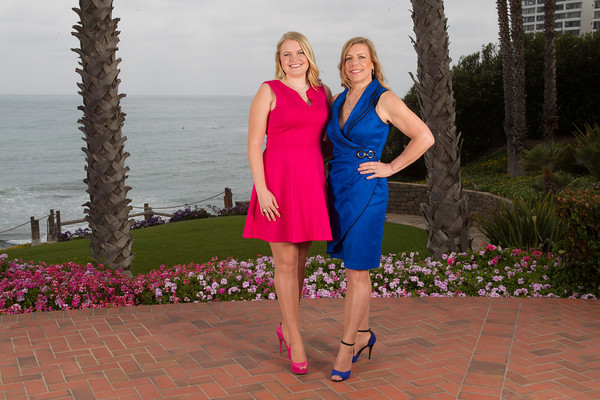 During my time at Sanoviv, I was dead set on getting everyone's transformation story. With 33 grand prize winners, it was a daunting task, but I knew I could handle the job. What I didn't know was that there would be a language barrier between me and a few of the winners. (Believe it or not, I actually don't speak French.) Was that going to stop me though? Of course not!
Luckily, I had the awesome John Schneider from USANA's field development team on hand to translate. And I say "luckily" because I was able to get an amazing story from the mother/daughter duo Louise Blondeau and Caroline Bergeron.
Even before speaking with them, I could see this team was a true success story. They'd spent their days at Sanoviv fully immersed in all that the medical facility had to offer, and the whole time, they had a glowing sense of accomplishment radiating from them.
It was our last day at Sanoviv when I finally snagged John and approached the two for an interview. I was ready to hear their story.
A Motivational Relationship
Living in Québec, Louise had been an Associate for more than two years when the RESET™ Challenge was announced. It was a no-brainer for her to enter the competition.
She'd been looking to make a change for quite some time, and the trip to Sanoviv was something she had always dreamed of. In fact, she taped a Sanoviv pamphlet on the front of her calendar to give her a daily reminder of what she was working toward during the 90-day Challenge.
The motivation for Caroline came from a different place — one of self-assurance.
At 18 years old, Caroline was sick of being overweight, and she knew in her heart that she could lose the weight and become a healthier person. The competition was just what she needed to set the wheels in motion and start a new life. So she told Louise that she wanted to join her on her RESET journey, and the two entered the Challenge in the partners category.
"This started as a journey for myself," Caroline says. "My mom was excited about the opportunity to go to Sanoviv, but that wasn't a concern of mine. Then, as we got more into the competition and I started seeing our names appear on the leaderboard, I started to get really competitive. That helped push me to the end."
Crossing the Finish Line
As you know by now, Louise achieved her dream of getting to Sanoviv, and she had Caroline with her every step of the way. Together, they lost a total of 69 pounds, shedding almost 20 percent of their body weight. And I can tell you from seeing them at Sanoviv that they looked incredible.
It didn't take a before photo to see the transformation this mother and daughter had made. They were happier individuals ready to continue their journey and help others back home who were struggling to reach their own weight-loss goals.
*Individual results may vary. RESET weight-management system lowers your daily caloric intake and recommends moderate exercise for best results. Average results are 4.5 lbs. in five days.
We're proud to bring you the freshest content on the web! Follow USANA on Twitter, like our USANA Facebook page and enjoy the latest videos on the official USANA YouTube channel.

Learn what USANA is doing to make the world a better place.
The future of personalized health and nutrition is now available with USANA's True Health Assessment.
https://whatsupusana.com/wp-content/uploads/2013/06/reset-challenge-winner-134-M.jpg
400
600
Nick Peterson
http://whatsupusana.com/wp-content/uploads/2019/11/USANA_Logo_Black.png
Nick Peterson
2013-06-18 07:55:08
2017-03-10 10:24:17
Weight Loss Success Story: Mother-Daughter Duo