So You Want to be Like … Grand Slam Winner Sam Stosur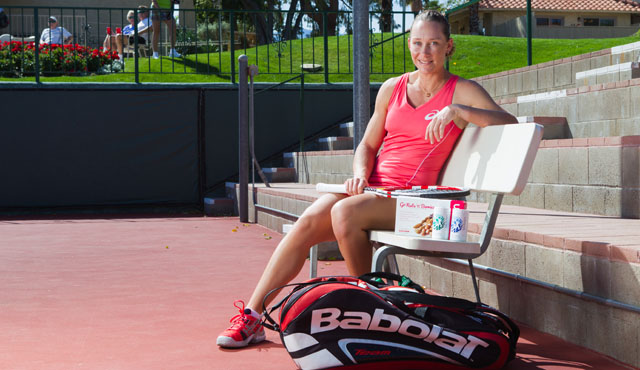 Sam Stosur was born in Brisbane, Australia, and started playing tennis when she was just 8 years old. She is now the No. 13-ranked singles player in the world and has been a WTA USANA Brand Ambassador since 2011.
Being a former World No. 1 in doubles and a former World No. 4 singles, Sam has reached amazing heights in her career. Did you also know that Sam is just the second Australian woman to win the U.S. Open?
You often know pretty quickly when you meet someone whether they are friendly and nice — not because they have to be, but because that is who they are. I have had the privilege to meet Sam and she is in fact friendly and nice because, I believe, that is who she is.
And I bet all of you will want to know how to be just like Sam. Here's how.
What's Up, USANA?: What is a typical day for you?
Sam Stosur: A typical would be doing a bit of off court training, usually. Sometimes it is a bit of cardio work, sometimes it is weights in the gym, sometimes it is shoulder rehab, whatever I am up to as far as that goes.
Obviously whatever practice I can get on court. Usually during a tournament it is hard to get in more than one session sometimes. So you might get an hour or an hour and half on the court and you have go to try to make the most that time. If you can manage to have a second practice, than that is a bonus.
WUU: How important is health when it comes to being a professional athlete?
Sam: Health is probably the first and foremost, the most important thing. To be out here and not healthy you're certainly not going to be out here for very long, that's for sure. I have certainly learned that as the years have gone on I have done this for a long time and spent 10 months out of the game because of a health issue. That has certainly made me realize how important that is.
WUU: In your career as an athlete, did you ever have to overcome an obstacle, like an injury? How did you overcome it?
Sam: I had Lyme disease and was out of the game for 10 months and that was a really tough period because one, I did not know what Lyme disease was until I got it and two, I was in America where I did not have any family and just a couple of friends around during that period in time.
Through that I was not allowed to fly home for quite a while. That was a tough period but I think the motivation to get back out on the court and to get back to doing what I love doing was a big reason of why I overcame it.
There are always little injuries that have been stop-start throughout the year. Again, that is all part of being a professional athlete. It happens sometimes and you just got to deal with it the best you can and get back to 100 percent health as quickly as possible.
WUU: How do you set yourself apart from other athletes that you compete against?
Sam: I guess everybody has their thing and uniqueness about who they are, how they play, or what they do to play the way they play. I certainly take my fitness and my strength as big part of my game to be able to play as well as I can. That is actually a side of the sport I enjoy. I certainly don't mind going into the gym and doing all my training off the court. I think that is one way that I can set myself apart from some of the others. So one, I quite like doing it, and two, I can see the benefits in it from my tennis.
WUU: What's your definition of happiness?
Sam: Keep doing something that you like doing and I certainly am able to do that with my career.
WUU: What is one thing that may surprise people about you or your sport?
Sam: I think it is how friendly and how well everybody seems to get along quite well. I think at the moment there is a real good morale between all the players, even though we are competing against each other every single day. There are a bunch of players you have a laugh with or joke with and really converse well with. I think that is something that is good about our sport.
WUU: What's your one piece of advice for someone who wants to be an elite athlete such as yourself?
Sam: If you enjoy what you are doing, you are probably going to be more successful at it.
[youtube]http://www.youtube.com/watch?v=TAsOYTCcBuM[/youtube]
If you're unable to view the video, please visit the USANA YouTube channel
Quick Answers
Q: PC or Mac?
A: Mac.
Q: Pizza or hamburgers?
A: Depends on if you are in Italy. If you are in Italy, pizza.
Q: Friends or Seinfield?
A: Seinfield
Q: Werewolves or vampires?
A: Not a fan of either.
Q: Flip flops or high heels?
A: Flip flops.
Q: Running or swimming?
A: Running.
Q: Oatmeal or granola?
A: Oatmeal.
Q: Soup or salad?
A: Depends what soup of the day, probably soup
*The mentioned celebrity is either a distributor or dedicated user who has received compensation for his/her partnership and/or complimentary USANA products.
We're proud to bring you the freshest content on the web! Follow USANA on Twitter, like our USANA Facebook page and enjoy the latest videos on the official USANA YouTube channel.

Learn what USANA is doing to make the world a better place.
The future of personalized health and nutrition is now available with USANA's True Health Assessment.
https://whatsupusana.com/wp-content/uploads/2013/07/Sam-Stosur-2013-Featured.jpg
370
640
Dan Bennett
http://whatsupusana.com/wp-content/uploads/2019/11/USANA_Logo_Black.png
Dan Bennett
2013-07-27 07:55:43
2017-02-24 09:41:51
So You Want to be Like … Grand Slam Winner Sam Stosur