Success on the High Seas: One Small Contribution Makes a Big Difference
There's something about the look in a child's eyes when they witness a completely selfless act. It's the kind of look that makes you want to be a better person. It's the kind of look that reminds you any kind deed, no matter how small, has the power to make a difference.
And it's the kind of look USANA's management team, 1-Star Diamond Directors Tom and Lorie Mulhern, and countless other Associates saw when they arrived in Labadee, Haiti, on Tuesday morning, surrounded by children from the Foyer de Sion orphanage.
Before setting sail for Success on the High Seas, Associates were asked to bring regular, everyday items — toothpaste, soap, USANA® Nutritionals — and donate them as a way to help preserve and nurture the health of Haiti's children. And in true USANA fashion, they didn't disappoint. The contributions came flooding in at an incredible rate and before the captain could even give the order to shove off port, countless boxes of clothing, diapers, and other supplies had been collected.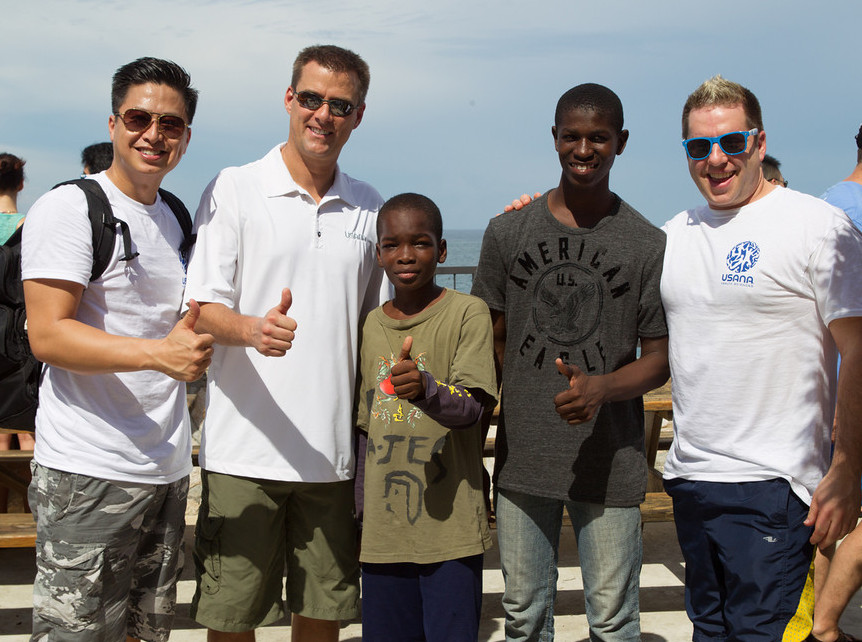 And the look in the children's eyes when they arrived to amass their donations was a look you never forget.
"I know I shouldn't be surprised at this point, but the generosity of the entire USANA family never fails to amaze me," said CEO Dave Wentz, addressing the numerous Associates who took the time to contribute to the cause. "I can't thank you enough for all that you've done and I'm sure each and every child at the Foyer de Sion orphanage thanks you as well."
With that — a few generous donations and a few kind words — a difference was made in the lives of many. And the look in the children's eyes that bright morning was a testament to that fact.
[wp-imageflow2]
More Photos!
Be sure to check out all the photos from Success on the High Seas. This album will be updated daily throughout the cruise.
We're proud to bring you the freshest content on the web! Follow USANA on Twitter, like our USANA Facebook page and enjoy the latest videos on the official USANA YouTube channel.

Learn what USANA is doing to make the world a better place.
The future of personalized health and nutrition is now available with USANA's True Health Assessment.
https://whatsupusana.com/wp-content/uploads/2013/11/Growth-25-Day-4-044-XL-e1383769686754.jpg
576
1024
Aaron Adams
http://whatsupusana.com/wp-content/uploads/2019/11/USANA_Logo_Black.png
Aaron Adams
2013-11-07 06:00:24
2017-02-22 12:55:54
Success on the High Seas: One Small Contribution Makes a Big Difference