USANA Fortune 25: 900 Times the Decadence
For the Fortune 25, USANA spares no expense. The nicest hotels, the most well-respected and well-known restaurants, the most interesting cities and resorts.
But today, the Fortune 25 met their match with the Palace of Versailles. The palace — in the city of Versailles, just outside of Paris — has 900 rooms, and each and every one can only be described as opulent.
Louis XIII began the building as a hunting lodge, and his successor, Louis XIV, had it expanded into an enormous display of power and wealth that has since been turned into a major tourist attraction. The floors and walls were built with various colors and types of marble; gold, delicately handcrafted velvet, and beautiful tapestries cover the walls; ornately painted ceilings tell stories of gods and goddesses; and large, commissioned pieces of artwork give a look into the lives of kings and queens of the past.
With so much to see and so many people visiting the palace, it's a good thing USANA gave the Fortune 25 members some red logo gear jackets as a gift the night before — they definitely helped us stay together!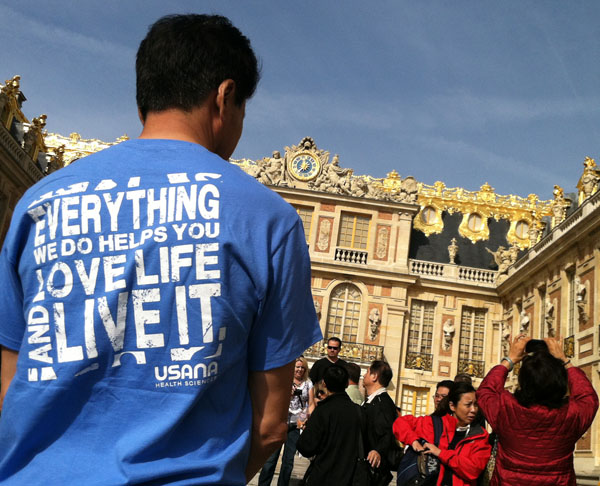 Outside, the expansive gardens with incredibly detailed fountains, beautiful blooming flowers, and well-sculpted tree lines offered a stark but complementary contrast to the over-the-top nature of the interior of the palace. Here, the Fortune 25 enjoyed the scenery before heading over to La Flottille, a restaurant just off the gardens but still within the Palace of Versailles.
After a relaxing lunch, the group headed back to the hotel for a few hours of downtime before meeting in the lobby and going to dinner at the Michelin-star rated L'Atelier Maitre Albert in the 5th District of Paris across from Notre Dame. The menu consisted of an artichoke soup with mushrooms brioche, spit-roasted chicken (their specialty) with mashed potatoes, and a lovely dessert of grapefruit terrine with tea sauce — a fine, palate-cleansing, and simple but delicious end to a busy and unbelievably decadent day.
Here's USANA president of Asia Pacific sharing a message in both English and Chinese.
[youtube]Snvl21WRDNs[/youtube]
If you're unable to view the video, please visit the USANA YouTube channel
[youtube]H7-ag-O7Lmc[/youtube]
If you're unable to view the video, please visit the USANA YouTube channel
For many more photos by Kelly Branan, be sure to check out the gallery on Smugmug.
———-
We're proud to bring you the freshest content on the web! Follow USANA on Twitter, like our USANA Facebook page and enjoy the latest videos on the official USANA YouTube channel.

Learn what USANA is doing to make the world a better place.
Discover what USANA products can do to boost your health today by taking this brief online Health Assessment.
https://whatsupusana.com/wp-content/uploads/2012/09/Fortune25-Day3-Featured.jpg
366
640
Teresa Elias
http://whatsupusana.com/wp-content/uploads/2019/11/USANA_Logo_Black.png
Teresa Elias
2012-09-20 19:54:04
2017-02-22 12:56:15
USANA Fortune 25: 900 Times the Decadence