Join Dave Wentz in Signing the Direct Selling Proclamation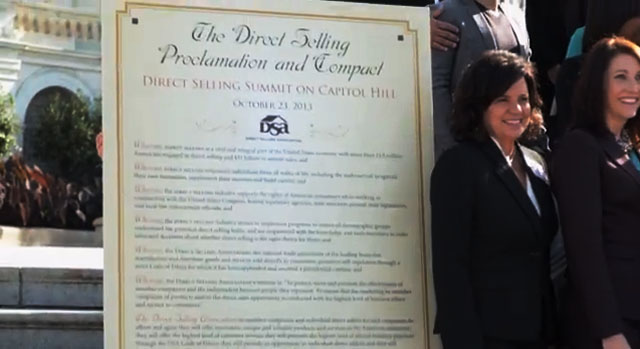 I've been fortunate to be involved with the Direct Selling Association at many levels over the course of my career, and am proud to currently serve on the board of directors.
You, as USANA Independent Associates, can take pride in knowing that USANA belongs to such a great organization, which reflects the importance we place on operating an ethical business.
The DSA looks out for us — its mission, in part, is  "to ensure that the marketing by member companies of products and/or the direct sales opportunity is conducted with the highest level of business ethics and service to consumers." You might not know this, but not every company that applies for membership in the DSA is accepted.
USANA, of course, conducts business with the utmost integrity, and has been a long-standing member of the organization.
Most recently, USANA became a member of the United Kingdom Direct Selling Association. In addition to the UK, USANA now has DSA membership status in Australia, Canada, France, Hong Kong, Japan, Korea, Malaysia, Mexico, New Zealand, Singapore, Taiwan and the United States.
USANA's own 2-Star Diamond Director Dean Chionis and Deputy General Counsel Kevin McMurray recently traveled to Washington D.C. to take part in the 2013 Direct Selling Summit on Capitol Hill.
Independent home-based business owners and corporate executives from throughout the nation gathered on Oct. 23 on the steps of the United States Capitol to sign the Direct Selling Proclamation and Compact and to meet with members of Congress. And now I encourage each of you to sign the Direct Selling Proclamation and Compact.
Let Your Voice be Heard
I'm challenging you to help the DSA obtain 10,000 USANA signatures on a document that certifies you, as a direct seller, promise to uphold the highest standards of customer service and are working to create a better life for yourself, your family and those around you.
The information will help educate lawmakers and regulators as to the many benefits of direct selling.
"These direct sellers want their elected officials to know how their small businesses have helped them create a better life for themselves and their families," says Joseph Mariano, president of the DSA. "With sales increasing year over year since 2009, direct selling has remained strong even in the face of an uncertain economic climate."
Below is a video featuring more than 100 direct sellers and company executives participating in the 2013 Direct Selling Summit on Capitol Hill, which aimed to show members of Congress the many ways direct selling benefits Americans personally, professionally and economically.
"The DSA really wanted to use this event to showcase to Congress the 'best and brightest' of the independent direct sellers," McMurray says, "while also educating members of Congress on what direct selling is all about and what it means to these individuals in terms of financial independence and personal development."
[youtube]http://www.youtube.com/watch?v=gKtMKGxqvsQ[/youtube]
If you're unable to view the above video, please visit the DSA YouTube channel
Share Your Story
Now's your opportunity to sign the compact and have your story heard. We encourage you to read the document, sign it and share your own story as to how direct selling has impacted your life, and the lives of your loved ones.
"Dean Chionis has a great story to tell about his experiences with the USANA opportunity and products," Kevin says. "It was my privilege to accompany him as he met with legislators and their staff members to share that story."
It's important for all of us to share our direct-selling stories with our own legislators and educate them about how we're changing countless lives every day. The first step is signing the Direct Selling Proclamation and Compact.
We're proud to bring you the freshest content on the web! Follow USANA on Twitter, like our USANA Facebook page and enjoy the latest videos on the official USANA YouTube channel.

Learn what USANA is doing to make the world a better place.
The future of personalized health and nutrition is now available with USANA's True Health Assessment.
https://whatsupusana.com/wp-content/uploads/2013/12/Direct-Selling-Proclamation-Featured.jpg
349
640
Dave Wentz
http://whatsupusana.com/wp-content/uploads/2019/11/USANA_Logo_Black.png
Dave Wentz
2013-12-06 08:00:45
2017-03-10 10:26:04
Join Dave Wentz in Signing the Direct Selling Proclamation