Water Cooler Wellness: Healthy Eating On the Go
Guys, we really need to talk. I'm going through a rough patch in life right now that can only be referred to as my "cupcake phase." Don't get me wrong—it's important to indulge every now and then, but this is getting downright destructive. From red velvet and cinnamon to peanut butter and cookie dough, my inner baker is turning into a health nightmare.
Luckily, I can always count on the USANA Wellness program here at the home office to help. I'm not sure if they somehow heard me quietly sobbing in my kitchen last night while I devoured two dark chocolate cupcakes, but they chose the perfect wellness theme for March — and to battle my new addiction.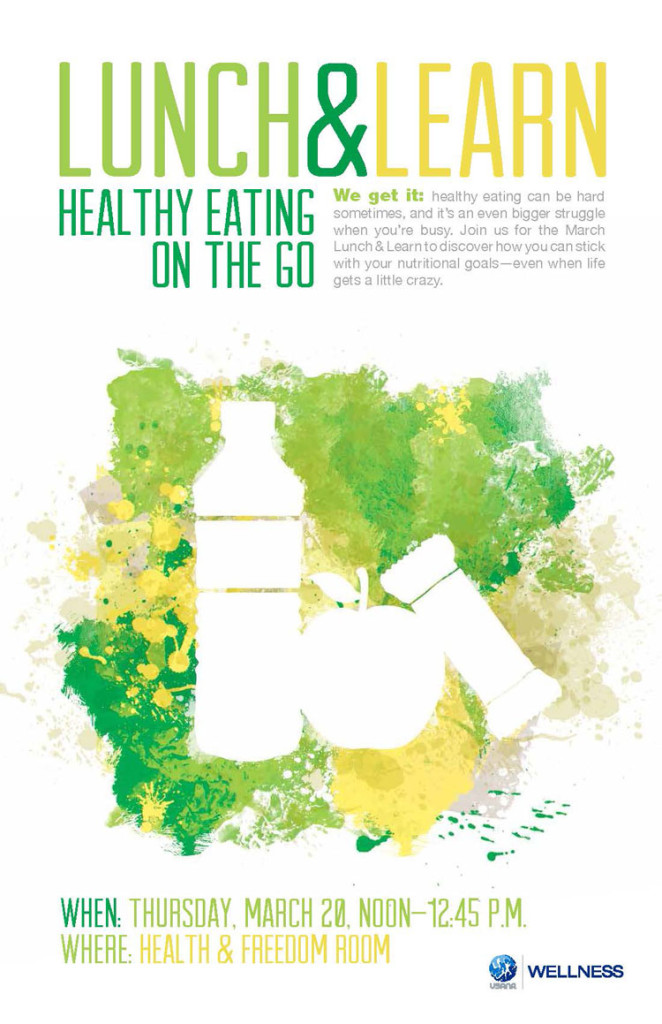 This month, it's all about healthy nutrition and weight management. And since there are endless topics to cover within that theme, we'll stick with just one for this blog post: eating healthy on the go — mainly because I think my coworkers are getting really sick of me showing up late to meetings with frosting-covered fingertips.
You Can Never Be Too Prepared
I never got into the whole Boy Scout thing, but their "Be Prepared" mantra fits perfectly with healthy eating on the go. The key is to have a plan in place before the craziness comes your way. It's the first step in fighting the war against sugary snacks that lead to a glycemic crash shortly afterwards.
Your planning should start at home, before you visit the grocery store. It's in this metropolis of food that the important decision process begins, which is why it's helpful to have a list of pre-made decisions in front of you to avoid temptation.
Now let's talk about your grocery list, because every person has their own preferences. Just because you're eating healthy doesn't mean you have to starve or choose foods that you don't enjoy. We'll cover some of your snacking options here in a second.
The point is to plan out the rest of your week by thinking about how many on-the-go snacks you'll need, what those snacks will be, and what you'll need to prepare them. Write down the foods required for each meal, and don't forget to consider things like expiration dates and convenient ways to carry these snacks with you. Do you need reusable Tupperware or sandwich bags? Is the entire bunch of bananas necessary? Will you need some lemon slices to add a burst of flavor to your water?
Once you're home, buckle down and prep these meals. Do any mixing, slicing, or storing needed to have all your meals ready to go. Taking the extra time to do this might be more work, but it goes a long way toward keeping you on track. When your on-the-go meals are ready at a moment's notice, you can easily grab that bag of dried fruit or cup of hummus dip on your way out the door.
Nom Nom Nom, the Healthy Way
Let's discuss what kinds of food to purchase. Don't worry, it's not rocket science. Stick to what I like to call the "outer edge" of the grocery store. This is where you find the fruits, veggies, dairy products, and more natural ingredients. You can use these foods to create lower-calorie snacks that incorporate an important balance of carbs, protein, and healthy fats—which is key to weight management.
Some healthy examples include:
Mix plain Greek yogurt with your favorite fruits and a small amount of granola. It's an awesome combo of protein and fiber.
Boil some eggs for a quick, low-calorie protein snack you can peel and eat on the go throughout the week.
Buy a normal container of low-fat or fat-free cottage cheese and divide it into smaller-sized containers that you can pair with fruit for a fulfilling snack.
Divide a large container of hummus into individual serving-sized containers and pair them with slices of whole wheat tortilla to dip with. (Toast the tortilla pieces for a nice crunch.)
Fill small containers with a whole wheat cereal that you can mix with raw almonds and dried fruit that has no added sugar.
Take a slice of turkey breast, some hummus (or avocado), and a green, leafy vegetable and wrap it in a thin, whole wheat tortilla for a more filling snack.
U Wanna USANA
No matter how prepared you are, it's inevitable that you'll find yourself in a moment of weakness without one of your pre-made snacks at hand. Don't cave though! You don't need to sacrifice taste and satisfaction for a healthy, go-to treat. Just remember to keep plenty of USANA Foods® on hand.
Our Berry Nutty™ Nutrition Bar is great for snacking on something created with all natural ingredients, and our Protein Snacks are an excellent option for when you feel like indulging in sweet flavors packed with protein. Then there's our selection of Nutrimeal™ shakes, which give you a delicious, nutritious way to replace one of your meals during the day.
And don't forget that all of these foods are low glycemic, gluten free, and designed specifically to help you conveniently manage your weight.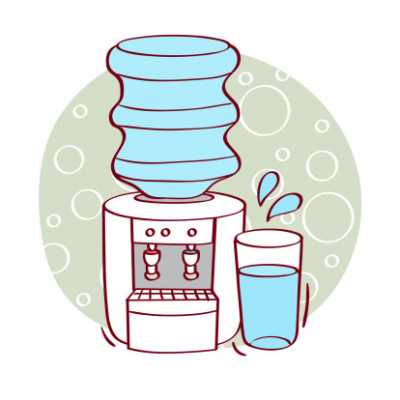 Looks like it's time for me to store away those cupcake liners and toss the powdered sugar. My cupcake phase will, thankfully, come to an end. But what about you? Will you join me? Take these helpful tips to heart and realize that with a little planning and preparation, eating healthy is easily possible — even when life gets a little crazy.
Water Cooler Wellness is a USANA series looking at ways entrepreneurs or everyday folks can get healthy — physically, financially and maybe even emotionally. Next month in Water Cooler Wellness: Technology and fitness.

We're proud to bring you the freshest content on the web! Follow USANA on Twitter, like our USANA Facebook page and enjoy the latest videos on the official USANA YouTube channel.

Learn what USANA is doing to make the world a better place.
The future of personalized health and nutrition is now available with USANA's True Health Assessment.
https://whatsupusana.com/wp-content/uploads/2014/03/Healthy-Eating-Water-Cooler-Wellness-Featured-USANA.jpg
900
1600
Nick Peterson
http://whatsupusana.com/wp-content/uploads/2019/11/USANA_Logo_Black.png
Nick Peterson
2014-03-06 08:00:56
2015-04-17 15:37:21
Water Cooler Wellness: Healthy Eating On the Go