Kathy Kaehler: What?! Exercise Can be Fun?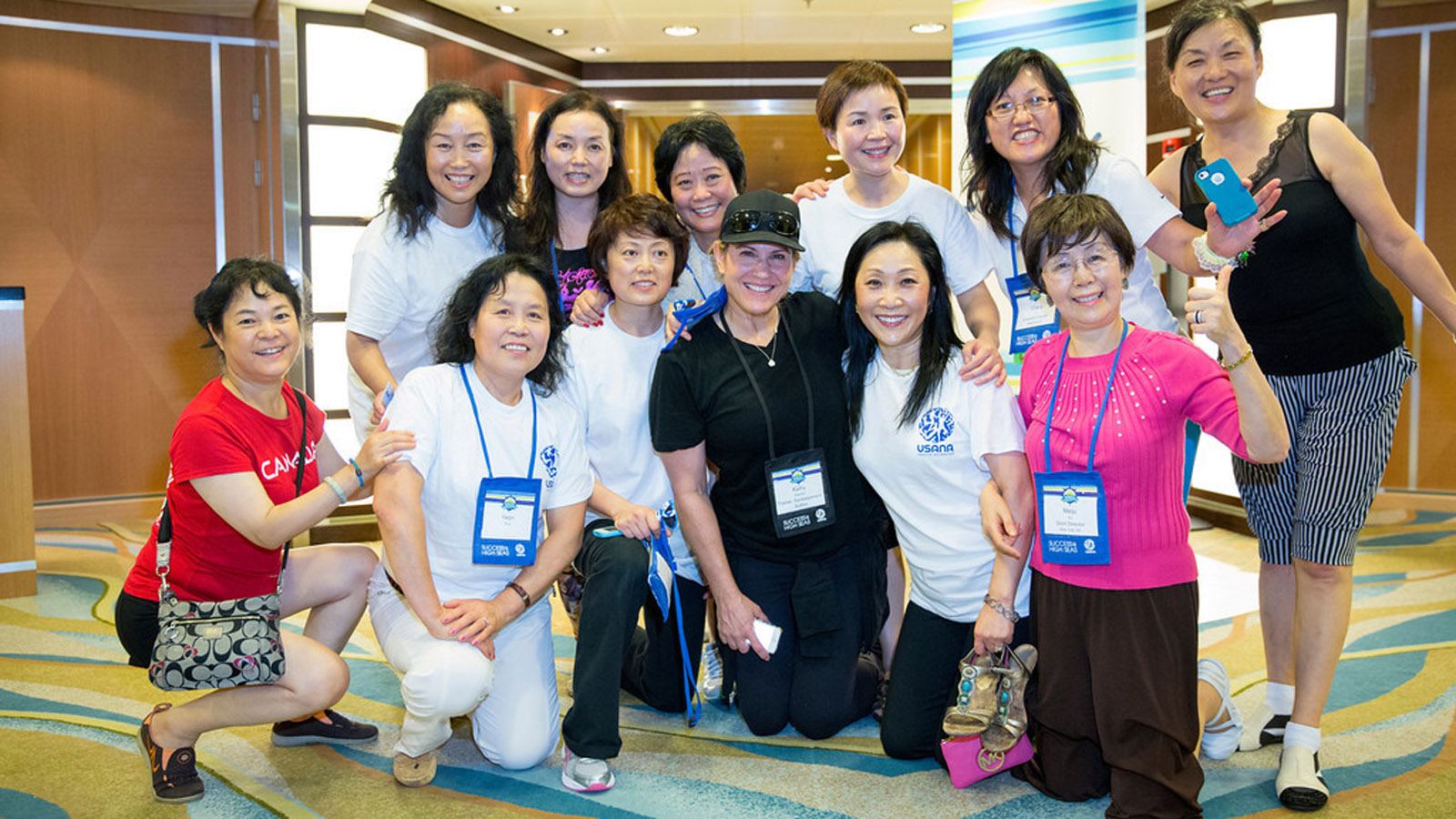 If you were one of the incentive winners/participants who had the unforgettable opportunity of cruising the Caribbean last November as part of Success on the High Seas, you were able to get a great workout education from Kathy Kaehler, celebrity fitness trainer.
She taught our honored guests how to make exercise fun, even while on vacation.
Did you know you are more likely to exercise if you find enjoyable, convenient activities? Kathy says to give some thought to your likes and dislikes and then find an exercise that makes you happy because you'll be more likely to stick with it.
So, just how can exercise not only be achievable, but fun? We asked Kathy to fill us in:
1. Start Simple. If you're not ready to commit to a structured exercise program, think about physical activity as a lifestyle choice rather than a single task to check off your to-do list.
Look at your daily routine and consider ways to sneak in activity here and there. Even very small activities can add up over the course of a day. Take stairs, do housework, wash your car, walk your dog, rearrange your furniture, garden, or even go bowling.
2. Keep On Keepin' On. Even the most dedicated exercisers sometimes go astray. Almost anything can knock you off track: a bad cold, an out-of-town trip, an injury, or a stretch of bad weather.
That's why it's important to learn how to adjust. When you've missed workout sessions, evaluate your current level of fitness and make goals accordingly.
If you've been away from your routine for two weeks or more, don't expect to start where you left off. Cut your workout in half for the first few days to give your body time to readjust.
The bigger challenge may come in getting yourself back in an exercise frame of mind. Gather your confidence instead of expending energy on feeling guilty and defeated; focus on what it takes to get started again.
Put your workouts on a calendar like an appointment. Tell a friend or family member what you are doing so you can be accountable. Once you resume your program, you'll be amazed at how quickly it will begin to feel natural.
3. Have No Regrets. Having trouble getting out of bed? Imagine yourself exercising. Recall the aspects of exercise you enjoy most. Feel the sweat. Notice the stress relief. No one ever regrets working out. Get those feet out of bed and onto the floor and head to your workout. You'll be glad you did.
4. Stay Motivated. There is nothing more gratifying than getting a workout done. A feeling of accomplishment from taking a class, meeting your trainer, reaching a goal or doing my Caribbean Island workout is priceless and motivating.
Another positive way to keep yourself motivated is to come up with a tantalizing reward. Book a massage or a pedicure or sit and sip a cool refreshing glass of Rev3. Nothing better in my book.
5. Grab a Buddy. Working out with a friend is a great way to stick to a plan. Line up walking partners for your next few outings. Schedule a friend or spouse to join you at the gym or to take a class.
You could even move the furniture in the living room to make room for a workout with Kathy and get the whole family involved.
6. Don't Get Overwhelmed. If completing your whole exercise routine seems overwhelming, mentally divide it into smaller chunks, and give yourself the option of stopping at the end of each one.
For example, do a warm-up and then take a sip of water. Make a list of your "go-to" strength exercises like push-ups, lunges, crunches, and planks. Do them all for one minute each with a rest in between.
Give yourself a choice of what cardio workout you are going to do. However, when you reach a checkpoint, encourage yourself to move on to the next one instead of quitting.
Also, remember exercise is cumulative, so if you can't finish it all in one bout, come back to it later on. It all adds up.
7. Stay Positive. Rather than focus on why you DON'T want to exercise, concentrate on how GOOD you will feel when you've finished a workout.
8. Don't Think, Just Do. Over-thinking exercise can zap your motivation.  Schedule your workout time and stick to it. Tell yourself your workout training time is "non-negotiable."
There are so many benefits to exercising. Kathy says a 20-minute fast walk won't sweep away all of life's troubles, but exercising regularly will help you take charge of anxiety and reduce stress.
Aerobic exercise releases hormones that relieve stress and promote a positive attitude. Exercise can even treat mild to moderate depression as effectively as an antidepressant medication, because exercising releases endorphins.
Remember, regular physical activity is an investment in your mind, body, and soul. When it becomes a habit, it can improve your self-worth and make you feel strong and powerful.
And to stay feeling great, increase your heart rate several times a week to give you more of that "get-up-and-go."
[youtube]https://www.youtube.com/watch?v=nLtLSTItDTo[/youtube]
About Kathy Kaehler
For more than two decades, USANA Influencer Kathy Kaehler has been a trusted expert in the national media spotlight, helping everyone from the soccer mom to the celebrity superstar get in shape and adopt a healthy lifestyle.
A working mom who has worked with A-list Hollywood celebrities including Julia Roberts, Michele Pfeiffer, Kim Kardashian and Jennifer Aniston, Kathy is the creator of Sunday Set-Up,™ an online subscription program featuring a signature system for organizing food at the beginning of the week, ensuring healthy snacks and meals make it to the table all week long.
Celebrities including Tiffany Theissen, Melissa Rivers, Nancy O'Dell, Angie Harmon, Lisa Rinna and Rebecca Romijn have embraced Sunday Set-Up, along with thousands of families across the nation, making it a perfect medium for highlighting brands, products and foods that support healthy living.
For more tips from Kathy, go to www.kathykaehler.net.
We're proud to bring you the freshest content on the web! Follow USANA on Twitter, like our USANA Facebook page and enjoy the latest videos on the official USANA YouTube channel.

Learn what USANA is doing to make the world a better place.
The future of personalized health and nutrition is now available with USANA's True Health Assessment.
https://whatsupusana.com/wp-content/uploads/2014/04/Kathy-Kaehler-Exercise-on-Vacation-Featured.jpg
900
1600
Misty Dangel
http://whatsupusana.com/wp-content/uploads/2019/11/USANA_Logo_Black.png
Misty Dangel
2014-04-24 08:00:23
2017-02-22 16:52:21
Kathy Kaehler: What?! Exercise Can be Fun?