The Science Behind Weight Loss
Editor's Note: Dr. Susan Kleiner has been studying weight loss, muscle gain, and sports performance for most of her illustrious career. It's a complicated process—so we asked her to simplify it for the rest of us.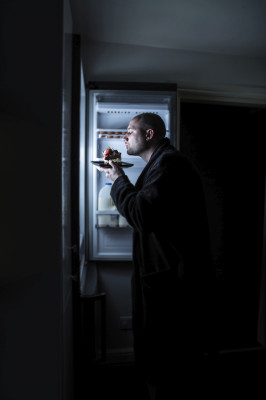 If you think of your body like a car, it's easier to understand. A car needs fuel. However, unlike a car, your body runs differently depending on the timing, the type, and the amount of fuel (or food) it is receiving.
Your body has messengers—hormones and neurotransmitters—communicating between your gut and your brain, telling your body's cells what to do. These messengers answer questions from your brain like: "How much fuel do I have?" "What kind of fuel is available?" "Am I too low on energy?" "Do I need to send extra calories to storage to protect myself from starvation?"
If the messengers tell your brain you don't have enough energy (or carbohydrates) in your body, over time your body's metabolism will slow down, leading to "a sluggish engine." You will burn fewer calories but perceive that you are working harder. Once this happens, your body begins storing fat.
Many of us think the only way to get back on track is to stop fueling altogether and train harder. But that's actually the worst thing you can do.
The truth is, the only way to lose fat and maintain muscle in a sustainable way is to train well and fuel your body all day long. 
Two-thirds of your fuel should come from plants, and the other third can come from animal sources, like lean cuts of meat or fish.
You'll also want to stay active and fuel your body around intense exercise—the exercises that make it difficult to talk. An easy meal for pre- and post- workouts is Nutrimeal™. Consume three to five scoops one and a half to two hours before exercising and within 30 minutes after your workout. Manage the scoops based on your energy needs.
Drinking a Rev3 Energy® Surge Pack also makes a great pre-exercise addition. Exercise maximizes your calorie burn and fueling intense exercise increases the afterburn.
Remember, if you don't properly fuel yourself, your body will repeat the cycle of gaining fat. Eat a variety of veggies, fruits, whole grains, beans, nuts and seeds, as well as plenty of lean proteins. And just as importantly, exercise as hard as you can. This will keep your body running well and will give you the mileage you need to reach your weight loss, fitness and health goals.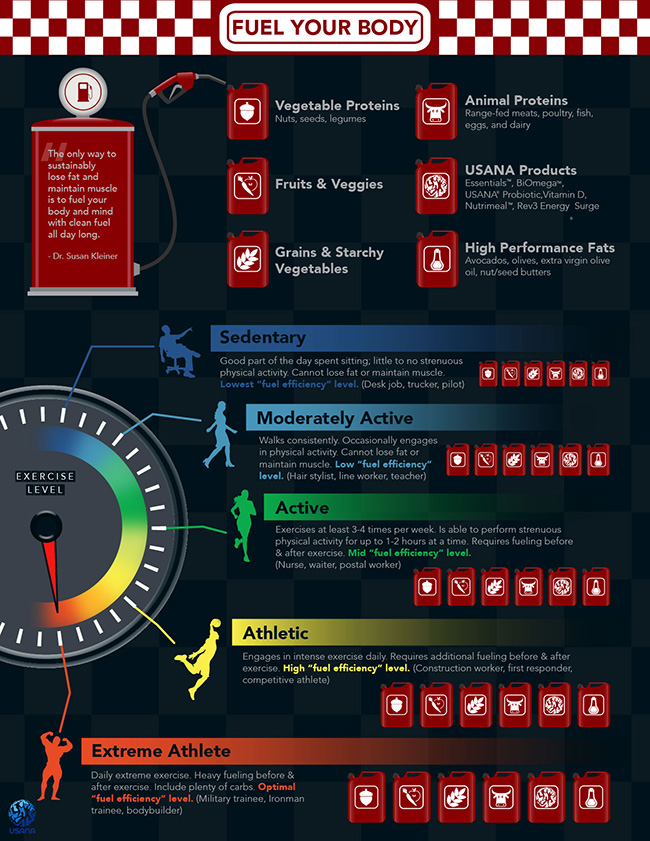 Share this Image On Your Site
Learn more by visiting whatsupusana.com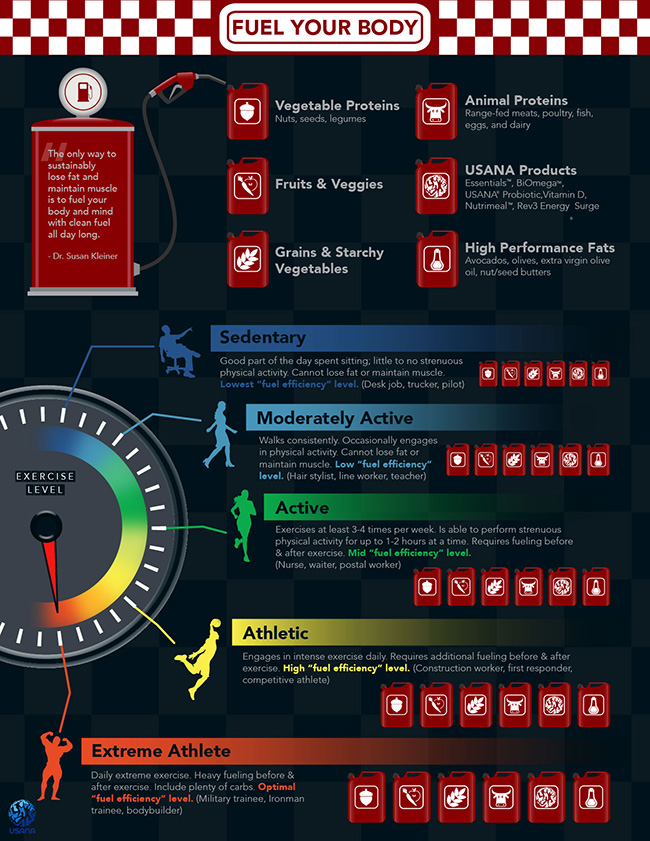 Susan Kleiner, Ph.D., RD, FACN, CNS, FISSN, and one of USANA's scientific consultants, has been studying weight loss, muscle gain, and sports performance for most of her illustrious career. She is a founder and fellow of the International Society of Sports Nutrition and a fellow of the American College of Nutrition. She is a member of the American College of Sports Medicine and The National Strength and Conditioning Association. Dr. Kleiner has consulted with professional teams and team members, including the Seattle Seahawks, Mariners, Storm, Thunderbirds and Supersonics, the Cleveland Browns and Cavaliers, the Miami Heat, Olympians and elite athletes in countless sports. She is also author of seven books, including POWER EATING®, The Good Mood Diet®, and The POWERFOOD Nutrition Plan. While she's not passionately promoting healthy nutrition and fitness, Dr. Kleiner stays in a good mood by spending time in the great outdoors of the Pacific Northwest with her husband and daughters. She loves skiing, playing piano and drums, dancing, cooking, hiking, traveling, and cozying up with a good book and hot cocoa in the evening to let the intensity of the day slide away.
We're proud to bring you the freshest content on the web! Follow USANA on Twitter, like our USANA Facebook page and enjoy the latest videos on the official USANA YouTube channel.

Learn what USANA is doing to make the world a better place.
The future of personalized health and nutrition is now available with USANA's True Health Assessment.
https://whatsupusana.com/wp-content/uploads/2014/09/Fuel-Feat-Img-01.jpg
900
1600
Misty Dangel
http://whatsupusana.com/wp-content/uploads/2019/11/USANA_Logo_Black.png
Misty Dangel
2014-09-08 08:00:51
2016-04-19 10:18:58
The Science Behind Weight Loss