Water Cooler Wellness: Maintain a Healthy Holiday Weight
In case anyone has forgotten, I'd like to remind our What's Up, USANA readers that the purpose of Water Cooler Wellness is to highlight the efforts that the USANA Home Office makes in maintaining overall health. This corporate movement is spearheaded by our USANA Wellness department, and it's my job to share these tips with all of you. Because who doesn't need a little help with healthy habits every now and then?
Take a looksy at this recent blog post written by USANA Wellness Coordinator, Lauren Reichman. Right now, the company is participating in our annual "Maintain, Don't Gain" competition. So Lauren came up with some awesome ways to avoid ending the holidays looking a little more Santa-like. (You know, because of the belly thing…)
Be an Example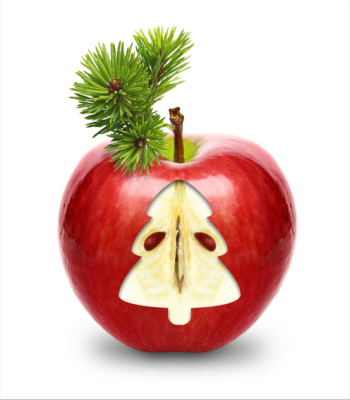 Bring a healthier food dish to your holiday party. By bringing a healthier side dish to the party you are encouraging others to make healthier food choices, and it's always nice to have a healthy alternative to fattening treats and snacks.
Slow Down
During holiday parties, we tend to try everything and go back for second helpings. This holiday season, slow down when eating food. Socialize with friends and family for at least five minutes before you take a second portion. That way, your food will have some time to digest, and you might realize you are content with how much you have eaten.
Don't Starve Yourself
Make sure you eat a small amount during the day before going to a holiday meal or party. Then you won't go to the party starving and over eat.
Relax your Body and Mind
Do some deep breathing or stretching before you head out to any holiday gathering or party. Your mind and body will be calm and calming yourself will help you be more in control of your appetite.
Limit Alcohol
Alcohol is high in calories. Try to drink sparingly, and make sure to drink plenty of water in between cocktails at a holiday get together.
Create New Traditions
Food is an integral part of many of our holiday traditions. This year, create new traditions that are not centered around food. Create traditions that encourage physical activity, such as ice skating, building a snowman with your kids, or having a snowball fight.
Choose Wisely
Choose to make only a few of your favorite holiday treats. This way, you don't have as many unhealthy options tempting you throughout the season.
Don't Beat Yourself Up
Enjoy yourself at a holiday get-together, but make sure to get back on track the next day. Always return to a consistent exercise routine and good eating habits.
Make Exercise Quick
With all we have going on during the holiday season, juggling the work/life balance can be hard. Don't feel like you need to spend hours in the gym. A quick 20-minute workout can be a great pick-me-up and an easy way to offset the holiday calories.
Drink Water
Make sure to get at least 60 ounces of water per day. This will help you maintain your weight during the holidays and keep you fuller to avoid over eating.
Have any tips for us that we missed? Share them in the comments!
We're proud to bring you the freshest content on the web! Follow USANA on Twitter, like our USANA Facebook page and enjoy the latest videos on the official USANA YouTube channel.

Learn what USANA is doing to make the world a better place.
The future of personalized health and nutrition is now available with USANA's True Health Assessment.
https://whatsupusana.com/wp-content/uploads/2014/01/Water-Cooler-Slider.jpg
900
1600
Nick Peterson
http://whatsupusana.com/wp-content/uploads/2019/11/USANA_Logo_Black.png
Nick Peterson
2014-12-16 08:00:43
2014-12-08 13:50:31
Water Cooler Wellness: Maintain a Healthy Holiday Weight