How to Run a Business with Kids at Home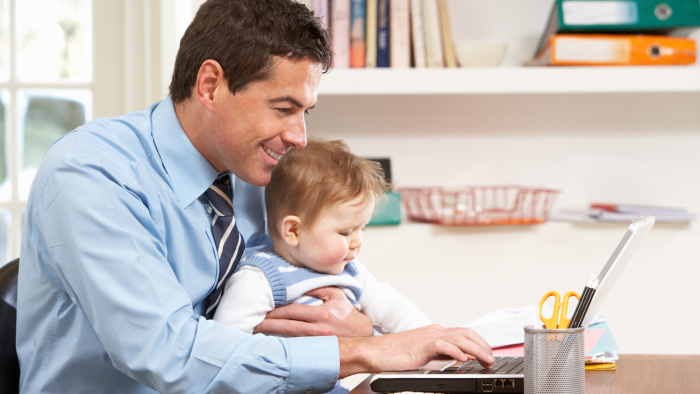 Picture this: you're meeting with a potential teammate, and it's going great. You're flipping through the Health & Freedom Newspaper, about to introduce the USANA opportunity, when a screaming child slides across the floor and rams into your table — completely diverting your attention. Sound familiar?
Running your own business can be tough work — especially if you have little ones around. But don't despair; there are plenty of ways to get your kids involved or to work around them so you can have the best of both worlds.
Here are a few tips from other parents with businesses that will help you balance your work and family life:
1. Make a Babysitting Budget
Set aside a portion of each of your USANA paychecks for babysitting. That way, you will have a guaranteed budget for someone to watch your children, and you can make the most of your working time.
2. Set Ground Rules
In order to run a business out of your house, you need to set a few ground rules. Let your children know how to act when you are on the phone or when there are potential teammates around. Show them how to answer the phone or the door and ask them not to play with your business supplies.
3. Get Them Involved
Get your children involved in your business. Let the younger kids help put together fliers and packets. You can even bring older kids along to meetings and presentations. They can help by demonstrating their love for USANA and our products. Let them be a USANA ambassador, or bring along a few books and quiet toys to keep them entertained.
*This is a great way to show other parents that it's doable to run your own business with a family!
4. Take Advantage of Social Media
If you are a stay-at-home parent, be sure to make the most of social media. Contact your teammates through text message, email, or Facebook. You can also schedule online webinars for other stay-at-home parents, and tune in to all of the USANA conference calls and training videos to stay in the know.
5. Plan Around Your Kids' Schedules
Make the most of your kids' downtime. Make calls or appointments during naptime. Schedule a meeting while your child is at school, music lessons, soccer practice, or on a play date.
6. Trade Off with Other Parents
If there are other parents on your team, coordinate your schedules and take turns watching the kids during meetings and presentations. For example, if you have three teammates working together, plan your presentations so you can switch off babysitting and presenting.
7. Schedule In Work Hours
It's easy to get caught up with all of the things on your to-do list, or little things around the house. So it's important to schedule in work time and stick to it. When your work slot comes around, don't dawdle — organize your files, make calls, schedule appointments and be sure to take full advantage of the time.
8. Schedule In Time for Your Kids
Sure you have lots of things to do to run your own business, but don't let it take up all your time. Block out a part of your calendar every day to spend special time with your kids. Treat these appointments seriously, and don't miss them.
9. Work on the Go
Make your business portable. Pack up your files or laptop and do some work while you are waiting during practices, play dates, or rehearsals. Squeeze in some work at the park or playground. You'll be amazed how much the extra minutes add up.
10. Make Time for Yourself
Between running a home and a business, it's easy to get frazzled. Be sure to take a little "you" time. Go for a run, read a book, whip up your favorite snack, take a bubble bath or turn on some soothing music and enjoy some time out. When you're feeling like you're stretched too thin, relax and rejuvenate before you get back to work.
Having a family and running a successful business is completely doable — it just takes a little extra effort and planning. Take some time to go over your schedule, and make a plan to fit everything in.
Do you have any tips to share about building a business while parenting? Please leave a comment below.
We're proud to bring you the freshest content on the web! Follow USANA on Twitter, like our USANA Facebook page and enjoy the latest videos on the official USANA YouTube channel.

Learn what USANA is doing to make the world a better place.
The future of personalized health and nutrition is now available with USANA's True Health Assessment.
https://whatsupusana.com/wp-content/uploads/2014/12/Working-With-Kids-Featured.jpg
394
700
Katie Roundy
http://whatsupusana.com/wp-content/uploads/2019/11/USANA_Logo_Black.png
Katie Roundy
2014-12-01 08:00:26
2014-12-01 08:03:03
How to Run a Business with Kids at Home