7 Fun Things to Do with Your Kids This Fall
I absolutely love this time of year.
The crunch of leaves, the gorgeous colors everywhere and so many fun things to do as a family!
Now is the perfect time to get your loved ones together and plan some family-friendly activities. Why? It will not only affect your mood, but also your well-being.
Dr. Mike Dow, author of The Brain Fog Fix says:
"Real-life, flesh-and-blood relationships are extremely important both for our emotional health and for our brain. Feeling connected to others can even help you preserve intelligence over time."
Who can't use a little more brain power?
So, maybe you should give these tips a try or create your own traditions. You might even get smarter as a result!
1. Go to a Pumpkin Patch
My kids love this tradition. We go to our nearby pumpkin patch and the kids pick their own pumpkin right off the vine. If your city doesn't have one, you can still go pick out pumpkins together at the local grocery store.
2. Trunk or Treat
If you don't want your little goblins going out into dark neighborhoods, take them to a 'trunk or treat' during the day and with people you know. Many rest homes and church communities hold these each year.
3. Carve or Paint Pumpkins
As you can see, my little guy really hones in on his painting skills around this time of year. Not only does carving or painting pumpkins give your family a reason to be together, but you can focus on your artistic side, too.
Chow down on some delicious roasted pumpkin seeds while you're at it.
4. Go Exploring
There is so much to see and do this time of year. If you have mountains nearby, go take a drive and see all the beautiful trees changing color.
Don't live near the mountains? Head to your city park instead!
5. Rake (Jump in) Leaves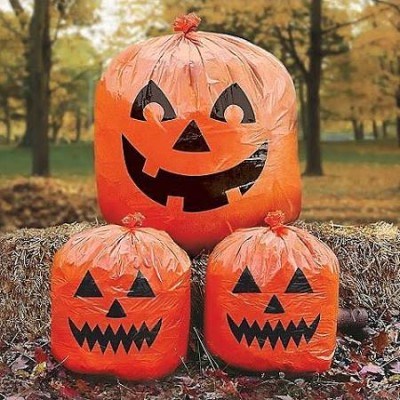 What a great excuse to get your kids to do yard work! Plus, you'll get a little more one-on-one time with those you love.
You can also put all of those pesky leaves into some cute garbage bags and display them during the season.
6. Make Soup
Mmmm…nothing is better than the smell of soup on the stove.
Make a delicious chowder and have your kids help cut vegetables. They'll feel more included and you'll have the chopping done in no time.
I like to put my soup in a bread bowl or a festive, pumpkin bread bowl.
7. Dress Up
We love dressing up for Halloween at my house. However, I'm not sure how much longer my kids will let me to join in on the fun (so embarrassing, right?)!
As you can see, these costumes were put together with stuff we already had around the house. And we still looked great, don't you think?
What family traditions bring your families closer during the fall? I'd love to hear, so share them in the comments below.
Have a happy and safe Halloween!
We're proud to bring you the freshest content on the web! Follow USANA on Twitter, like our USANA Facebook page and enjoy the latest videos on the official USANA YouTube channel.

Learn what USANA is doing to make the world a better place.
The future of personalized health and nutrition is now available with USANA's True Health Assessment.
https://whatsupusana.com/wp-content/uploads/2015/10/IMG_8265-e14448433038301.jpg
327
582
Misty Dangel
http://whatsupusana.com/wp-content/uploads/2019/11/USANA_Logo_Black.png
Misty Dangel
2015-10-22 04:00:10
2015-11-30 08:50:43
7 Fun Things to Do with Your Kids This Fall