Smile with Sensé Natural Whitening Toothpaste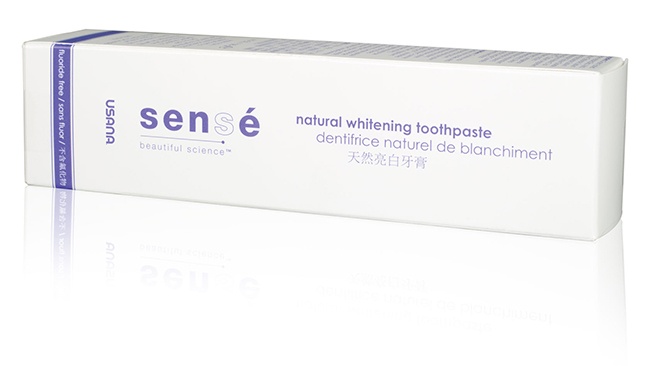 I have a confession.
I really don't like going to the dentist.
I don't know if it's the whirling equipment, weird smells, the painful injections, or not being able to have a conversation while dental assistants and dentists poke and prod my mouth. Without fail, my least favorite date circled on the calendar is always my dental appointment.
If I had to be really honest about going to the dentist, the cause of all my anxiety is a fear of being judged for having bad oral care. At the youngest age, we're taught to brush our teeth first thing in the morning and right before bed. But teeth are not made from diamonds—they do eventually wear down, crack, or decay. And I think we'd all agree the two scariest words in the English language are root canal.
Since I'd rather handle a basket of rattlesnakes than get a disproving look from my dentist, I make sure to take the best care of my teeth by brushing daily with our Sensé Natural Whitening Toothpaste. It's the only toothpaste I trust to give me a winning smile and the confidence I need when I go in for my annual checkup.
Formulated with vitamins and antioxidants, Natural Whitening Toothpaste is unlike other toothpastes. There aren't any artificial colors, flavors, or sweeteners in our scientifically developed toothpaste. We only use natural mint oils for a great taste and natural aggregates to help remove plaque to clean teeth and remove food particles.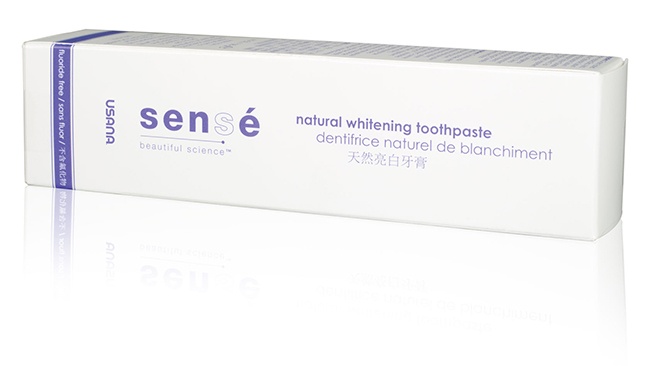 A clean mouth starts with protecting your enamel (this is the mineral that covers your teeth). When plaque attaches itself to the enamel, it can erode the protective coating. By brushing your teeth twice a day as well as flossing and using a non-alcohol based mouthwash, you can give your teeth the best opportunity to retain their enamel.
Best of all, we've formulated our Sensé Natural Whitening Toothpaste with hydrate silicate which helps to gently remove stains from your teeth without bleach or hard abrasives. In addition, every tube of our toothpaste has Vitamin E from vegetables oils to help moisturize your gums. It's the natural way to keep your teeth bright and looking great.
And because nobody wants phony-baloney additives in their toothpaste, Natural Whitening Toothpaste is formulated without any fluoride, harsh chemicals, or artificial sweeteners. It's the kind of product you'd expect from USANA and our amazing scientists.
Because I am a coffee drinker, Sensé Natural Whitening Toothpaste is a surefire winner for fighting the bacteria that causes bad breath. The natural mint creates a great flavor that makes my mouth feel clean for most of the day. I've never used another toothpaste that can cut the acidic flavor of my morning joe better than our Natural Whitening Toothpaste.
I feel great about Natural Whitening Toothpaste because I can feel it working every time I brush my teeth. It's how I start every morning and the only way I finish the day. It's become such an important part of my daily routine, I make sure to keep an extra tube at the office when I want to freshen up after lunch.
Now remember, nothing can substitute regular checkups with your dentist to insure proper oral care. My advice for protecting your teeth's enamel and getting the oral hygiene you need starts with using Natural Whitening Toothpaste everyday.
Tell us in the comment section how Sensé Natural Whitening Toothpaste fits into your life.
We're proud to bring you the freshest content on the web! Follow USANA on Twitter, like our USANA Facebook page and enjoy the latest videos on the official USANA YouTube channel.

Learn what USANA is doing to make the world a better place.
The future of personalized health and nutrition is now available with USANA's True Health Assessment.
https://whatsupusana.com/wp-content/uploads/2016/05/Toothpaste-Box.jpg
366
650
Ben Raskin
http://whatsupusana.com/wp-content/uploads/2019/11/USANA_Logo_Black.png
Ben Raskin
2016-05-17 04:00:15
2017-09-28 10:34:40
Smile with Sensé Natural Whitening Toothpaste