Jacob VanderVelde: Competing for Health with his Ohana in Mind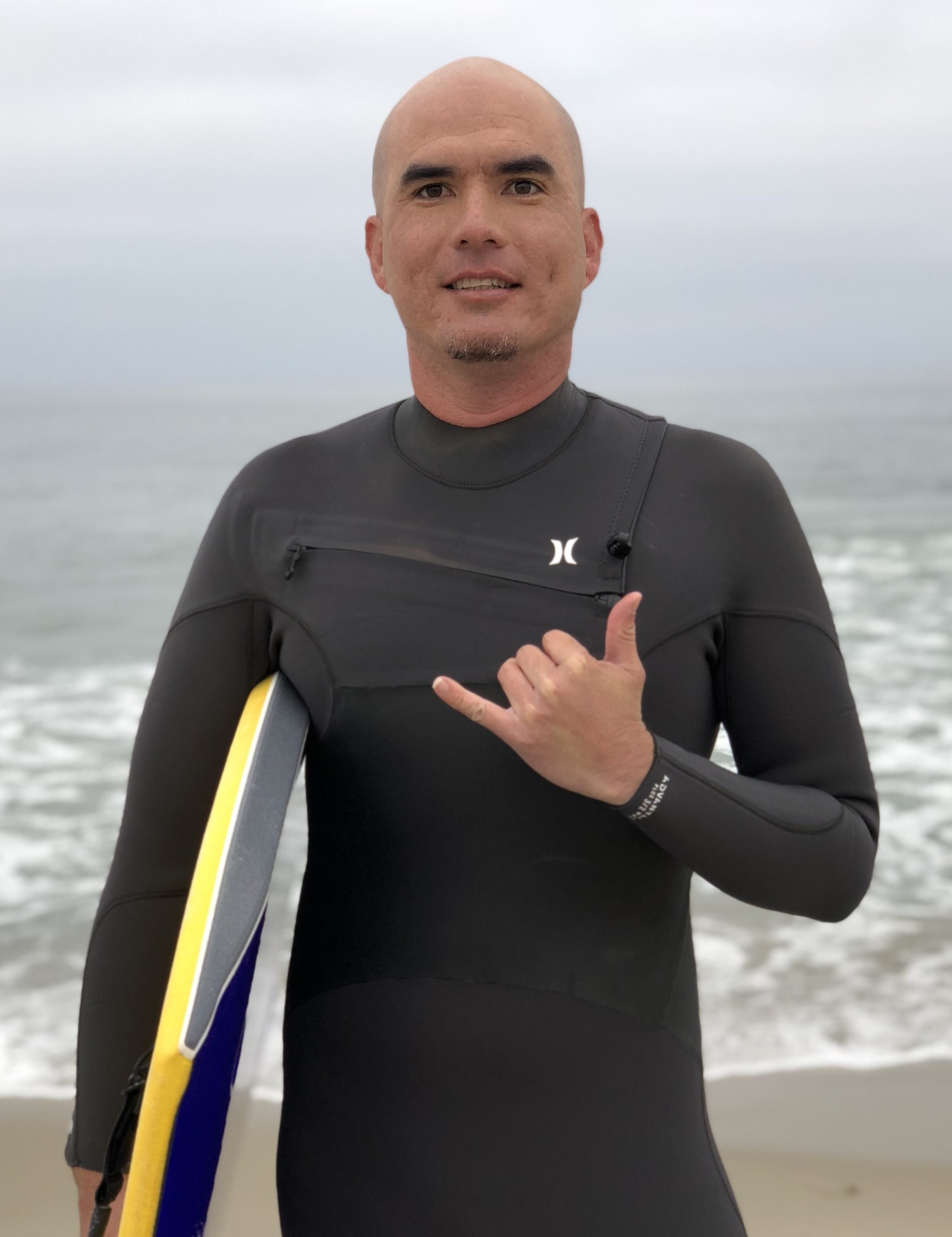 There's something peacefully chaotic about the ocean. The way the swells rise up with a majestic force and the crystal blue waves turn foamy white as they paint ripples across the sand. For USANA Athlete Jacob VanderVelde, the ocean is life.
There were plenty of storms on Jacob's journey to becoming a 38-year-old professional body boarder, dedicated husband, and loving father. Boarding helped him rise up out of a spiraling depression in the dark times following his beloved mother's death. It was a sport he focused on, put his heart into, and it's been there for him ever since.
He broke into the boarding scene, at 26 and was recognized by plenty of potential partners because of his breathtaking bodyboarding photos and adventurous wave videos on social media. After years of being a sponsored boarder and learning how to brand himself, he finally made it as a titled professional at 26 by being known as a pipe charger. His risk-taking attitude and independent drive have kept him at the top of bodyboarding for twelve years now, and he continues to look towards successful horizons.
With his family and bodyboarding community supporting him, his nutrition and supplementation on point, and his drive and dedication hyper-focused, he's riding wave after wave and loving it.
The Power of the Ocean
"The ocean has given me the best memories," he says. "It's a good cleanser for your soul. Whatever happened that week, it can all be washed away by the ocean every time you have a good surfing session. It brings positive energy."
The ocean is powerful and unexpected, making bodyboarding a sport with plenty of risks.  Jacob's mental preparation takes just as much strength and focus as his physical training. Before he hits any wave, he meditates.
Jacob's had several close calls out in the water and there were times he thought he wouldn't make it. But, his body kicks in when his mind is full of anxiety and fear. "It's like superpowers," he recalls. "Your body will do whatever it takes. It doesn't just shut down, it will fight until the last moment."
There's also a mindset in the boarding community where he lives that keeps him mentally capable. "Being around good people, surfing with good people keeps my mind open and positive. Whatever can make the world better, I'm into it. That's just how we are in Hawai'i. We embrace every culture." Jacob exudes respect for anyone he encounters with a genuine, uplifting attitude for life.
An Ohana Like No Other
Culture is a large part of what keeps Jacob motivated. The importance of community is huge. There's an ohana—the Hawaiian word for family—like no other in the bodyboarding community. He has close connections with people across the world and knows there'll be a place for him to crash while he's traveling from shore to shore. Knowing his ohana is on the waves with him motivates him to go big and push himself.
Jacob tries to teach the up-and-coming generation of body boarders the business side of boarding. A lot has changed in the sport, and a boarder can't rely on just their skill anymore to get sponsored or become a professional. He helps younger boarders understand the importance of learning how to brand themselves and discover what they can do for the organizations they want to reach out to for sponsorship. Whether it's tips on how to get visibility to the board they ride, or doing marketing features on YouTube, all these methods take effort and authenticity. "It's totally different than waiting for a magazine to come out like it used to be," he says.
Train for the Wave of Your Life
"This career is a lifestyle," Jacob says wholeheartedly. To stay in peak performance, he prioritizes fueling his body with the nutrients it needs. He avoids alcohol, eats organic meats and plenty of greens, and he takes time to let his body rest and recover. After bodyboarding for six hours, he loads up on bananas and coconut water, followed by stretching, and a nice nap.
"I feel like I can last a lot longer in the water since I've started taking USANA supplements. I used to feel like I burned through all my energy after two hours, and now I can board for closer to six hours straight.*"
Jacob loves knowing his supplements are safe. He takes his HealthPak™ every day, and most mornings he'll whip up a Dutch Chocolate Nutrimeal™ shake for breakfast. He also supplements with Gingko™ PS to help keep his mental sharpness and quick reaction time wave after wave.* Taking Procosa® has also helped Jacob know that his joints and bones are getting the support they need to be pounded by powerful waves.*
When he's not bodyboarding on Hawaiian shores, Jacob keeps his body active with weight training. As he's gotten older, he's transitioned from intense cardio workouts to weight lifting and stretching. He recently started spar boxing and loves the fun variety it brings to his weekly workouts. By focusing on keeping his body active, he is able to get more out of every day whether he's in the water shooting a new video for Instagram, or spending the day out with his family.
USANA Is Here for Your Ohana
"Being a USANA Athlete means so much to me," Jacob beams with enthusiasm.
Learn more about Jacob's story and why he chooses to supplement his lifestyle with the USANA HealthPak™ here.
You don't have to be a professional athlete to get holistically healthy. By focusing daily on how you fuel your body, and how you keep your muscles strong and body active, you'll be able to take on whatever waves come your way. Let Jacob's story inspire you keep pushing, even through each of life's storms.
Find your ocean and go catch some waves!
7 Facts About Jacob
Why he trusts USANA: I trust USANA because nutrition is life and what you put into your body matters. I've tried other supplements in the past, but nothing has fueled my body the way USANA's do.
His go-to USANA product: I start every morning with a Nutrimeal™ shake and my HealthPak™.
When he's not at the at the beach: I am a huge sports fan and like to play other sports for fun. My favorites are MMA, football, basketball, and volleyball.
His biggest motivation: My wife Charee and my kids help me thrive to succeed.
If he wasn't a body boarder: Maybe basketball. I used to play growing up at a high-level, so I most likely would've pursued that dream.
The artists he listens to most: Tupac, Wu-Tang Clan, Dr. Dre, Linkin Park, and Metallica.
His favorite social media channel: Instagram and Vero are great. Follow me: @jacobvandervelde
*The mentioned athletes are either distributors or dedicated USANA product users who have received compensation and/or complimentary USANA products for their partnership with USANA.

*These statements have not been evaluated by the Food and Drug Administration. These products are not intended to diagnose, treat, cure, or prevent any disease.
https://whatsupusana.com/wp-content/uploads/2018/07/DSC_5722.jpg
2496
3743
Shauntel Peterson
http://whatsupusana.com/wp-content/uploads/2019/11/USANA_Logo_Black.png
Shauntel Peterson
2018-07-16 16:09:02
2018-08-29 11:06:48
Jacob VanderVelde: Competing for Health with his Ohana in Mind