Alex Ferreira: Mind Over Matter Results in Silver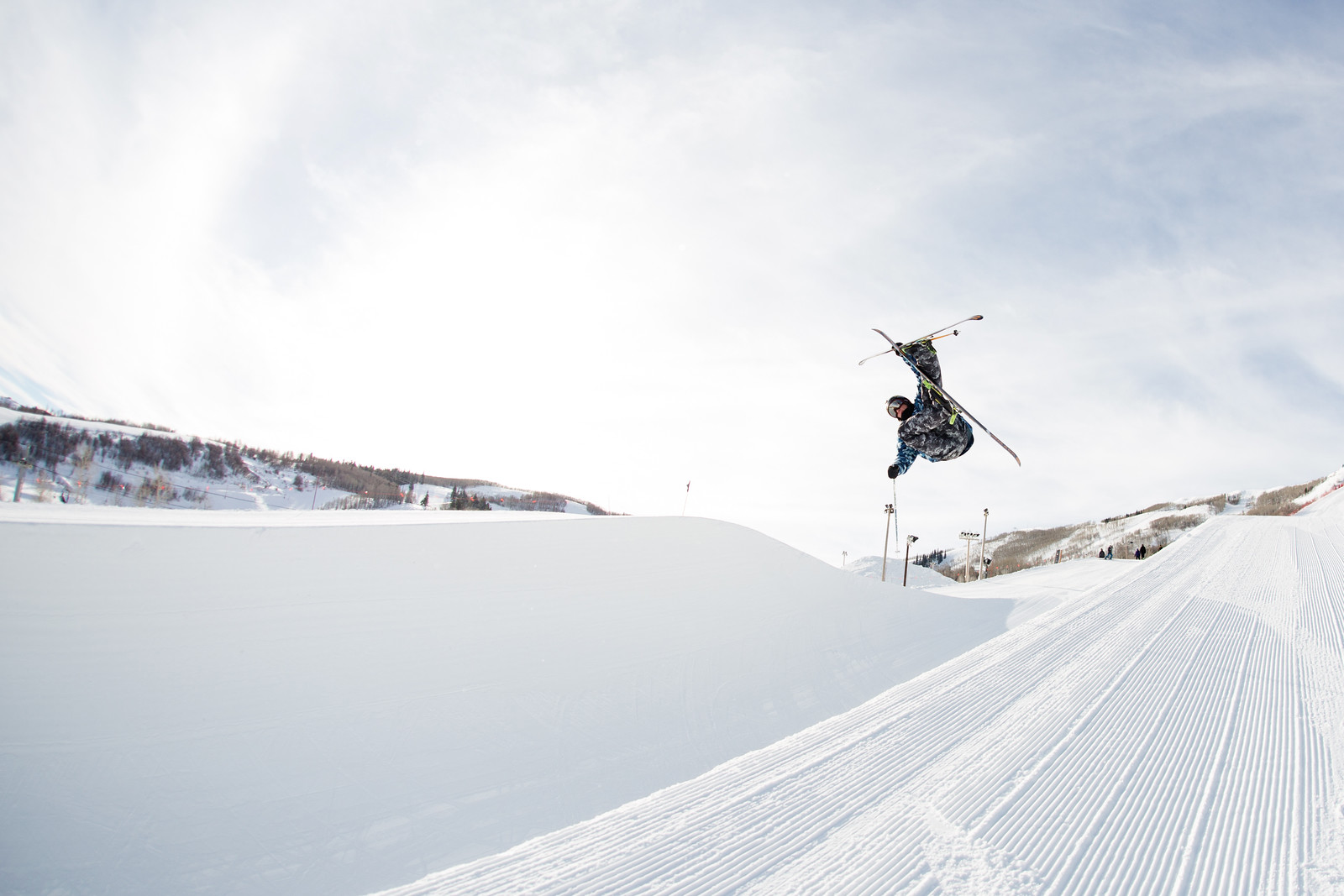 Love all, trust few and paddle your own canoe.
That's the motto U.S. Freeskier Alex Ferreira lives by and can often be found saying. It's a simple way to look at life. And a mindset that has allowed him to live his best life and wise beyond his years.
At the age of 23, the down-to-earth athlete already displays more class and professionalism then some seasoned veterans. It's just who he is—despite having a silver medal around his neck. His tenacious work ethic and positive attitude have made him one of the finest freestyle halfpipe competitors on the circuit, and he's as humble as they come. Sure, he's faced a couple of hiccups along the way, but that hasn't stopped Alex from appreciating his unique life.
Free Spirit
Born and raised in Aspen, Colorado, Alex was destined to ski. It was in his blood. By the age of 3 he could be found on the slopes with his family each weekend. By 5 he was competing in moguls. But the bumpy terrain quickly became a thing of the past once he discovered the art of park riding.
"I think I was 8 when I hit the halfpipe for the first time," the skier recalls. "I just remember hiking up the side of the halfpipe with my best friend Torin Yater-Wallace and his mom, who was filming us, and he told me to do a cork 900, which I had never done before, and next thing I know I landed on my feet. I was hooked after that and started competing in halfpipe when I was 13."
Ten years later, the free-spirited kid from Colorado has since collected four X Games medals—an event he considers to be the Super Bowl of his sport—Dew Tour gold, multiple World Cup podium finishes and most recently, Olympic silver.
An impressive resume for anyone in the field.
Self-Reflection
But it was only a couple of years ago that Alex thought about hanging up his skis on a professional level. He had barely missed the 2014 Olympic team, which was followed by less than desirable results and a handful of injuries. He was no longer enjoying the weightlessness of flying, but instead felt only the pressures to perform.
"I was pretty lost. I was pretty down about skiing after that," says Alex. "I went on a six-week ski trip tour over in Europe. I met a lot of people and just traveled to like seven different countries and stayed with friends. That trip brought the love for skiing back to me and it definitely made me want to compete harder. As an athlete, you always want to go out on your own terms. You want to be remembered for a fantastic legacy in your sport, and I realized I wasn't ready."
With this self-reflection came a more professional version of Alex and a renewed mindset that helped bring him to another level of skiing that following season.
"I won my first World Cup podium in Tignes, France last spring and it really kick-started my career," says Alex. "That event was more than just a win. It was the start of where I am now. It helped me realize that I'm a true competitor that knows I can beat everybody. In that moment, I knew I was more than ready to compete and be a champion and hope that others will take me more professional as well."
Since then, the freeskier has gone on to have his most successful season as a professional yet, which was proven when he secured his spot on the 2018 Olympic team in January.
"It means the world to me to make the Olympic team this cycle, because I put so much time and effort into it. After being off last time, I told myself that I wasn't going to leave anything off the table and it paid off in so many ways."
Coming Full Circle
With four days left of the Games, it was finally time to lay it all on the line. Three runs stood between him and the podium. Nothing more, nothing less. And just like any other event, it was time to trust his instincts and go big.
"I treated the Olympics as any other event. I didn't want to put any more pressure on it than there already was because, obviously, everyone was talking about the Olympics. The Olympics this, the Olympics that. And it is a big deal, because it's on the world's biggest stage, but I just went out and did what I love."
With two spectacular runs already behind him, Alex was already in medal contention. But he didn't want to leave anything to chance. On his final run, he landed five double corks with impressive amplitude throughout to earn his best score of the day, a 96.40 and a medal. His teammate and defending gold medalist David Wise was the only athlete to outscore him at any point during the final round.
"To have competed in the Olympics is a completely euphoric and honorable feeling, and to have come away with a medal was just the cherry on top of an amazing experience. I'm just so happy to have been a part of it all," says Alex.
So, what's next for the silver medalist?
"Wherever the wind takes me," he says. "I'm taking some time in Europe to relax and take in everything that's happened since the Games, but as long as I'm having a good time and have a smile on my face, that's all that matters."
At the end of the day, Alex just wants to enjoy his art and paddle his own canoe. 
Be sure to catch Alex on the April 4 episode of The Dr. Oz Show as he takes Dr. Oz through his daily routine and why he chooses to take the USANA HealthPak™!
7 Facts About Alex
Why he trusts USANA: Recovery is one of the most important things being a professional athlete because you need to be fresh, more than one day in a row. One day might be hard and you might crash, but the next day you have finals and need to be ready to rock and roll. With USANA's supplements, it really helps me stay on top of my game. I trust USANA because they make the most quality products and the safest products. And I know that whether I use them or the average Joe uses them, that I am safe and that I have quality behind me.
His favorite go-to USANA product: I'm a huge fan and believer in Booster C 600™. It helps maintain a healthy immune system when traveling and tastes great!
What he loves most about his sport: I love freeskiing because it allows you to do whatever you want to do, when you want to do it. I enjoy the weightlessness of it and the feeling of flying through the air. You can really express your artwork through how you look on skis. How pristine you want to be, and how beautiful you want it to be. It's the art of what I do and I love it. 
Where you'll find him when he's not on skis: During the summer, I like to mountain and road bike, but I love the trampoline and the ping pong table more than anything. As well as the pickleball court.
His advice when it comes to feeling your best: Getting eight full, solid hours of sleep a night. It's a super simple goal and you feel energized during the day when you feel rested. There's nothing better you can do. And take your vitamins!
His five favorite artists: Bruce Springsteen, Van Halen, Mick Jenkins, Metallica and Guns N' Roses.
Favorite social media channel: Instagram. Follow me @alex_ferreira3
*The mentioned athletes are either distributors or dedicated USANA product users who have received compensation and/or complimentary USANA products for their partnership with USANA. 

*These statements have not been evaluated by the Food and Drug Administration. This product is not intended to diagnose, treat, cure, or prevent any disease.
https://whatsupusana.com/wp-content/uploads/2018/03/BG5B6689-X3.jpg
1067
1600
Allie Henderson
http://whatsupusana.com/wp-content/uploads/2019/11/USANA_Logo_Black.png
Allie Henderson
2018-03-27 01:33:46
2018-03-27 13:34:45
Alex Ferreira: Mind Over Matter Results in Silver