Catching Up with Canada's Superstar, Genie Bouchard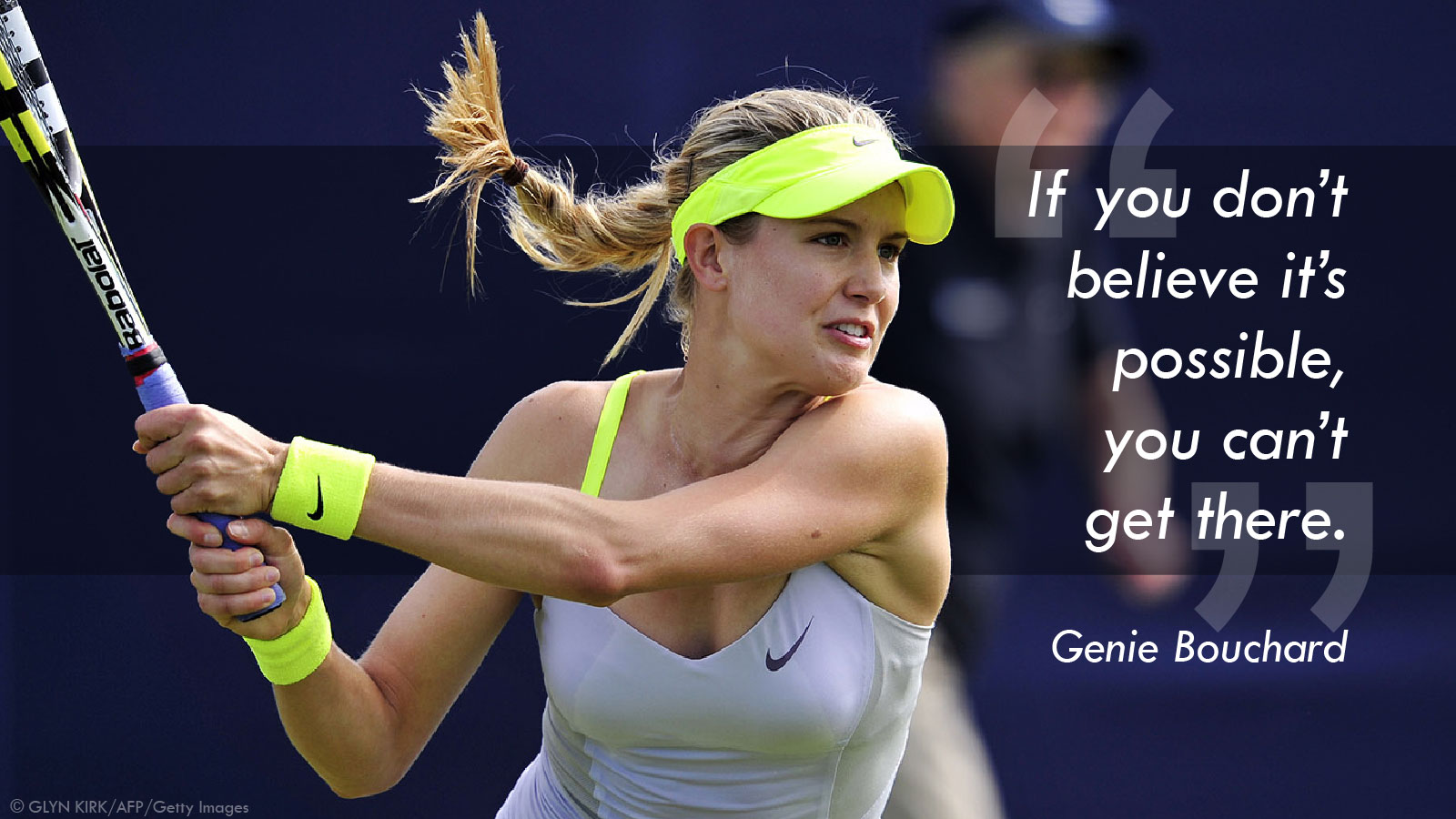 Genie Bouchard is currently ranked No. 6 in the world and at the age of 20, has already managed to make history this season by becoming the highest-ranked Canadian ever and the first Canadian player – man or woman – to advance to a Grand Slam final at Wimbledon.
But her year isn't over yet.
Having secured her first WTA title of her career earlier this summer at Nürnberg, Bouchard also made a final round appearance at one the WTA's latest tournaments in Wuhan, China, where she faced Wimbledon-successor Petra Kvitova. And now, she's on her way to Singapore for the WTA finals!
I was lucky enough to talk to Genie right after she advanced to the finals in Wuhan and ask her some questions.
You've had an extremely successful season this year, especially at the Grand Slam events. What did you do differently this year? Was it a mental or physical switch? I didn't really do anything differently, I've just been working hard my whole life and training hard in the off-season. Just trying to improve every single day.
You also won your first WTA title this year. How does it feel to have a title under your belt? It was one of my goals this year so I'm so happy to have achieved that! It was surprising too because it was on a red clay court and usually I play better on a hard court so it really made me believe that I can play on all surfaces.
Do you have any pre-match rituals? Before each match, I do 30 minutes of practice hits, eat and rest, then 20 minutes before the match I do a physical warm up to get moving and work up a sweat. It's really important for me to be moving and warm before I start.
How important is your health when it comes to your success? Very important. I think that's part of why I had issues at the US Open. I didn't fuel enough before or during – it's really important to get enough carbs before a match and get enough electrolytes during a game.
Do you have a favorite country or tournament you look forward to playing at each year? I've loved Australia since the juniors. I love the weather and also the people are so laid back, but also really big fans of tennis so it's fun to play there.
In your mind, what does it take to become a professional athlete? You have to dream really big. If you don't believe it's possible, you can't get there. Then you have to work really hard!
As a professional athlete what is the biggest obstacle you've had to overcome? Repetition. I spend four hours on the court plus two hours in the gym every day, which can become boring. It's important to mix it up during long training breaks. But I truly love the game so being on the court makes it worth it.
How do you set yourself apart from the other women you compete against? I try not to compare myself to the other players and just focus on me and what I'm doing. I'm a very mentally strong player and I don't get down on myself in the middle of a match if I'm losing. I just focus on each single point whether I'm ahead or behind. That's my greatest strength.
Who has been the biggest influence on your career? When I was younger I really looked up to Steffi Graf and Maria Sharapova when I was little older. I've always looked up to great champions.
Do you have any goals in mind for next season? Yes. I want to focus on ending this season strong. Getting some good rest and then get back to work. I'm so lucky to be able to do what I love as my job and I just want to continue to do that.
What is your favorite USANA product? The protein snacks! They taste like cookies, so it's great to be able to have 'dessert' but still get all the protein and they're good for you. My favorite flavor is Choco Chip!
You're always on the road. What are some essential travel items? I always have my neck pillow with me for the plane. Also, I love my kindle. There's no way I could carry and pack enough books, but it's great to be able to have thousands of books on one little device. And, of course, my cell phone. Those are the three things I always bring with me.
Fashion is a big deal to you and you were at NYFW this year. Do you have a favorite designer? I love Chanel for all things, but Valentino specifically for bags. I also really love Rag & Bone for clothes. They make great casual clothes and that's generally my style.
Want more? Check out Genie's go-to exercises!
[youtube]https://www.youtube.com/watch?v=sNbiEu-BMj4&feature=youtu.be[/youtube]
If you are unable to view the above video, please visit our YouTube channel.
*The mentioned athlete is either a distributor or dedicated user who has received compensation for his/her partnership and/or complimentary USANA products.
We're proud to bring you the freshest content on the web! Follow USANA on Twitter, like our USANA Facebook page and enjoy the latest videos on the official USANA YouTube channel.

Learn what USANA is doing to make the world a better place.
The future of personalized health and nutrition is now available with USANA's True Health Assessment.
https://whatsupusana.com/wp-content/uploads/2014/10/Genie-feat-image-01.jpg
900
1600
Sarah Flinn
http://whatsupusana.com/wp-content/uploads/2019/11/USANA_Logo_Black.png
Sarah Flinn
2014-10-08 08:00:57
2014-10-08 08:14:34
Catching Up with Canada's Superstar, Genie Bouchard