Brittany Bowe: Turning the Unexpected into Bronze
Imagine picking up a sport you'd never tried before and then competing in that same sport three years later on the Olympic stage. For most, that would be a far-fetched idea. But for U.S. speedskater Brittany Bowe, it was a reality. And today she's a bronze medalist.
While she's a natural on the ice, Brittany's success comes from more than just proper nutrition, strict conditioning and discipline. It comes from having and keeping a positive mindset and knowing that only she can hold herself back from achieving her dreams. Even when life throws the unexpected at you.
Fisher-Price Beginnings
Brittany first started skating when she was 8 years old after attending a local skate rink for a friend's birthday party. Despite racing around on a pair of Fisher-Price skates, she captured the attention of former Pan American and World Team coach Renee Hildebrand who happened to coach the local inline skating team in Ocala, Florida.
"She happened to see me skating and invited me to a practice to try this sport I didn't even know existed—inline skating," says the 30-year-old athlete. "I was hooked after that."
After dominating the inline scene for years, Bowe temporarily hung up her skates to focus on a college basketball career at Florida Atlantic University—where she'd become the school's eighth all-time leading scorer. She then considered taking her skills overseas before watching friends and former competitors from the inline world compete in the 2010 Vancouver Games in speedskating. It was in those moments that Brittany instead decided to try her hand in a sport she had zero experience in.
"There is a long and notable list of inline skaters that have made the transition to speedskating that have been very successful, and I knew I could do it too," says Brittany. "I always continue to push myself past what I think my limit is and I have proved to myself time and time again that I have no limit. It's just mind over matter to what I think is possible."
A few months after graduation, she hung up her jersey and made the move to Salt Lake City —home of the Utah Olympic Oval and U.S. Speedskating. A year later, she was named to the U.S. National Racing Program and has since become one of the best long track skaters in the world.
Mind Over Matter
In seven short years, the now two-time Olympian has since captured more than 40 World Cup medals, two overall World Sprint Champion titles and most recently a historic Olympic bronze medal. And while her recent performance in PyeongChang brought her four top five finishes and a new piece of hardware, it was only months ago she questioned the future of her career.
"It's been a huge uphill battle to get here," the medalist says. "What I thought was going to be a couple of weeks [of recovery] turned into a couple of months turned into a year, so I was just trying to regain that confidence."
Recovering from a concussion she obtained 18-months ago, she dealt with lingering related issues that forced her to miss most of the 2016-17 season, putting her second Olympic appearance at jeopardy. But in typical Brittany fashion—and extra motivation from a less than desirable performance at the 2014 Games—the competitor in her knew her time on ice wasn't over. Especially not on terms that weren't her own.
"Becoming an Olympian was a dream come true, but my performance at the 2014 Games was a huge disappointment and the struggles and setbacks I've faced this past year-and-a-half have been extremely frustrating," says the World Champion. "Since Sochi though I've learned that how you face your struggles and overcome adversity shapes you into the person you are. You can't lose sight of what you want. You have to continue to give your best effort and remember that there's always going to be someone else chasing the same dream as you. You have to work harder than them."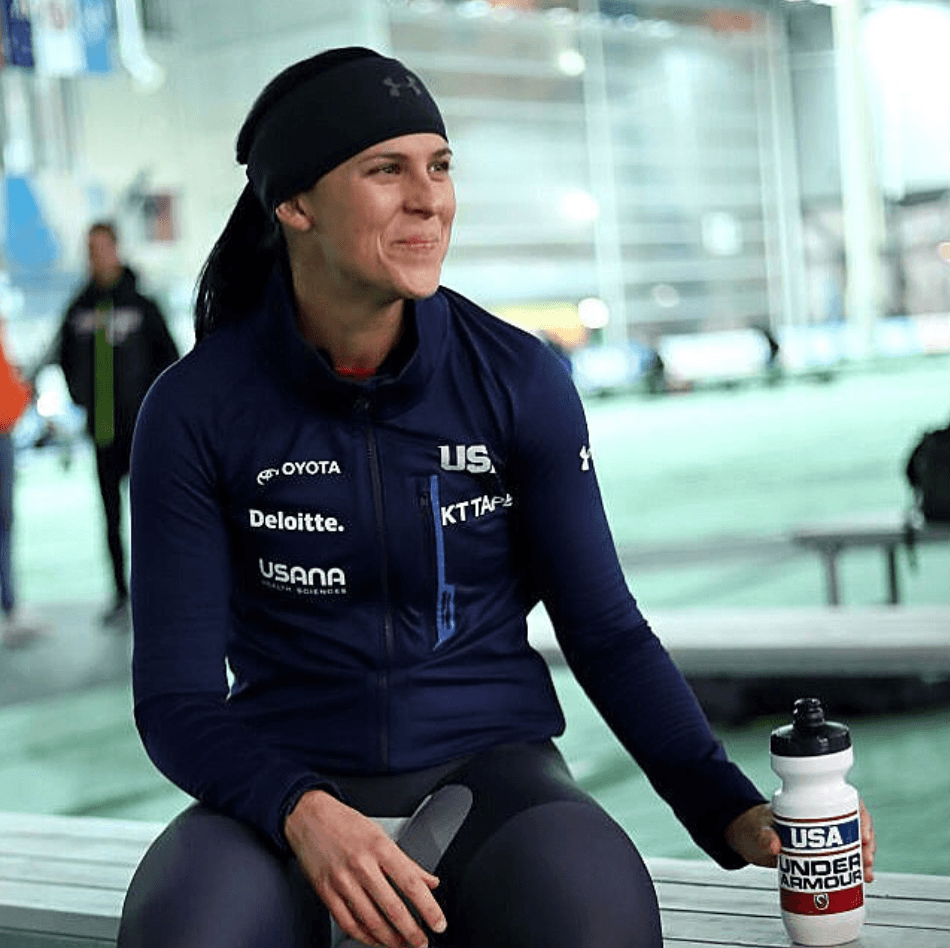 In January, Brittany's persistence paid off when she was named to her second Olympic team proving once again that she wasn't going to let this setback get the best of her. Weeks later, she would go on to give exceptional performances on the world stage that let everyone else know the same thing. In her final event—the team pursuit— she would solidify the message after helping earn the United States first Olympic speedskating medal for the American women since 2002.
"I really wanted to medal for myself. I really wanted to medal for everyone who's helped me along the way—especially this last year-and-a-half—getting me back to that start line. It means the world to me," says Brittany.
So, what's next for the comeback athlete of 2018? More of the same, because she's got nothing to lose.
"I definitely plan on going another four years. I can't be done here, that's for sure."
Vote!! Brittany's performance in PyeongChang earned her a nomination for Female Olympic Athlete of the Games, presented by DICK'S Sporting Goods, at the Team USA Awards presented by Dow, Best of Games. Fan voting goes until March 16.
7 Facts About Brittany
Why she chooses USANA to help fuel her: As a world-class athlete, I want to be surrounded by world class support and USANA does exactly that. The integrity that goes into the development and testing of their products gives me confidence that I am able to use their products with ease. It's important to fuel my body with top of the line nutrition, and being a part of the USANA family, I have access to give my body exactly what it needs.
Her go-to USANA products: I really like the Chocolate Whey Nutrimeal™. It's an essential part of my day, and I have it every morning with breakfast, with banana and a teaspoon of peanut butter.
She's a bit superstitious: I have a very set routine on competition day that begins about three hours before the start of my race. One thing that some people may find funny is that I always put my right skate on before my left.
Her disciplines: The 500m, 1000m and 1500m distances.
Where you'll find her in the off-season: I enjoying getting back on my inline skates to train and racing to stay in shape. Or anywhere with a beach.
Her favorite artists: This is one of the hardest questions I'm asked! My taste in music ranges from electronic to country, rap to rock. However, when I'm training or preparing for a race, I'm most likely listening to Seven Lions, Adventure Club, Bassnectar or Above & Beyond.
Favorite social media channel: Instagram! Follow her @brittanybowe.
*The mentioned athletes are either distributors or dedicated users who have received compensation for their partnership and/or complimentary USANA products.
*These statements have not been evaluated by the Food and Drug Administration. The products mentioned are not intended to diagnose, treat, cure, or prevent any disease.
We're proud to bring you the freshest content on the web! Follow USANA on Twitter, like our USANA Facebook page and enjoy the latest videos on the official USANA YouTube channel.

Learn what USANA is doing to make the world a better place.
The future of personalized health and nutrition is now available with USANA's True Health Assessment.
https://whatsupusana.com/wp-content/uploads/2016/04/Bowe-quote_featured.jpg
900
1600
Allie Henderson
http://whatsupusana.com/wp-content/uploads/2019/11/USANA_Logo_Black.png
Allie Henderson
2018-03-11 04:00:13
2018-03-11 16:59:05
Brittany Bowe: Turning the Unexpected into Bronze