USANA Athletes: Summer Standouts
International Convention is only five weeks away, and some of the biggest names of Team USANA — think along the lines of world champions, Grand Slam winners and Olympic medalists — will be making their way to Salt Lake City. While I can't reveal exactly who will be hitting the Main Stage, I can say that if you aren't there, you'll be bummed. So if you haven't purchased your tickets yet, get to it!
To hold you over until then, get caught up on what some of our USANA athletes have been up to…
World Cup Star
Unless you've been living on a deserted island with your make-believe volleyball friend, it's likely you know that the U.S. Women's National Team won its third World Cup title July 5.
However, if you have in fact been living the Cast Away life, you should know that USANA Brand Ambassador Carli Lloyd played out of her mind — she sank three goals in the first 16 minutes of play — to lead Team USA to an emphatic 5-2 victory over Japan.
In what is being considered the greatest individual performance in a World Cup final ever, Carli shattered records and has essentially taken over every media outlet. Seriously, the girl is everywhere. Even United States President Barack Obama wants to know what Carli's been eating!
Fun Facts
She scored the fastest goal in a WC final — her opening goal in the 3rd minute.
First woman to achieve a hat trick in a WC final.
Only American to score in four straight WWC matches — finishing the tournament with six goals.
Recipient of the adidas Golden Ball and Silver Boot awards.
Final was the most-watched soccer match in U.S. television history drawing in 25.4 million viewers.
[youtube]https://www.youtube.com/watch?v=6vOzbtp22UQ[/youtube]
Coach Deng
Two-time NBA All-Star Luol Deng is headed to Johannesburg, South Africa to play in the NBA Africa Game 2015, the league's first game in the country. The South Sudan native will captain Team Africa against Team World in the sold-out game that will be played in support of several South African charities.
The game will air live in the U.S. on ESPN at 9:00 a.m. ET and in Africa on SuperSport at 3:00 p.m. CAT. 
Hockey Baby Name Game
In case you missed her announcement earlier this spring, two-time Olympic gold medalist Meaghan Mikkelson is expecting her first child, a boy, this September. To add to the excitement, she and her husband have turned to Twitter to help name their unborn son!
Meaghan kicked off the #NameMyBaby Challenge last month, which is now in the voting stages in a bracket style tournament. To help her out, be sure to follow her account @mikkelson12 and follow these simple rules! You know you want to.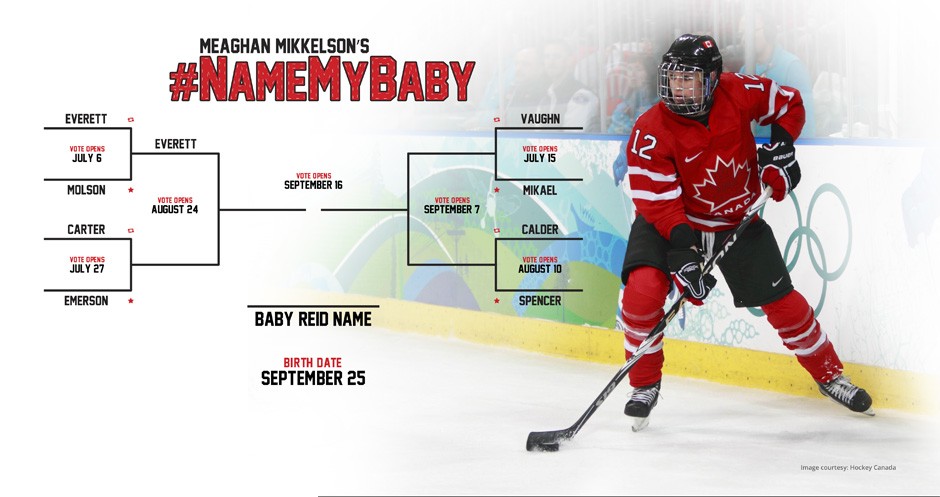 She also wants to encourage women to lead healthier and more active pregnancies, and has been sharing helpful tips on everything from staying fit, traveling with your bump and picking out the right maternity wear on her blog, Hockey Mom, so give that a look too!
WTA Quick Hits
As the players of the Women's Tennis Association are prepping for the U.S. Open, here's a quick recap of what our ambassadors have accomplished in recent months:
Madison Keys made it to the quarterfinal round of Wimbledon — her second Grand Slam QF of the season — and jumped up the rankings to No. 18.
Despite falling to Garbiñe Muguruza (6-4, 6-4) in the fourth round of the Grand Slam, Caroline Wozniacki also improved in the rankings, jumping one spot to No. 4
Monica Puig recently competed in the 2015 Pan American Games where she made it to the semifinal round before falling to Mexico's Victoria Rodriguez.
5-Time Champion
WBO Welterweight Tim Bradley (32-1-1, 12 KO's) beat Jessie Vargas (26-1, 9 KO's) late last month in a unanimous decision, to capture his 5th world champion title. If you missed the fight, check out the highlights below.
[youtube]https://www.youtube.com/watch?v=JQDGeYu0ljc[/youtube]
Follow Us!
Be sure to follow USANA Athletes on Facebook, and @TeamUSANA on Twitter and Instagram for the latest information about your elite USANA athletes.


*The mentioned athletes are either distributors or dedicated users who have received compensation for their partnership and/or complimentary USANA products.
We're proud to bring you the freshest content on the web! Follow USANA on Twitter, like our USANA Facebook page and enjoy the latest videos on the official USANA YouTube channel.

Learn what USANA is doing to make the world a better place.
The future of personalized health and nutrition is now available with USANA's True Health Assessment.
https://whatsupusana.com/wp-content/uploads/2015/07/Screen-shot-2015-07-17-at-9.29.23-AM.png
602
1070
Allie Henderson
http://whatsupusana.com/wp-content/uploads/2019/11/USANA_Logo_Black.png
Allie Henderson
2015-07-20 04:00:49
2015-09-29 09:39:17
USANA Athletes: Summer Standouts