USANA @ 20: Doug and Nancey Hekking
Dr. Wentz and Dave Wentz — father and son.
Nancey Hekking and Doug Hekking — mother and son.
While everyone associated with USANA should know the Wentz name, the Hekkings are lesser-known parent-child co-workers who have been employed by USANA since its founding. Their loyalty and hard work have greatly contributed to the Home Office and the company as a whole.
Nancey's tenure with USANA dates back prior to 1992. She started with Gull Laboratories in 1984 doing media prep, then transferred to the microbiology lab when the company's focus shifted to nutritionals. You can now find her analyzing in the chemistry lab.
Doug, who was drafted by the Toronto Blue Jays in 1989 (but never played professionally due to a shoulder injury), started with USANA in February 1992 and has held several positions throughout the company. He was appointed to controller in 1996, vice president of finance in 2005, executive director of special projects in 2007, and chief financial officer in 2011.
Celebrating You
During Doug's two decades at USANA, he's had three children — well, his wife did, he helped — and earned an associate of applied science degree, a bachelor's degree from the University of Utah, and a master's degree in business administration from Brigham Young University.
"This is a fantastic company, and I work with some incredible people," Doug says.
Now in a prominent management position, Doug would prefer to be behind the scenes ensuring USANA continues to run smoothly. Although Doug works more with USANA employees than Associates, he has a unique perspective because he's worked in almost every department at the Home Office.
"I don't ever dread coming to work," he says. "And that says a lot about a company."
Nancey is proud to work for USANA. Though she was hesitant about the change when Dr. Wentz sold Gull Laboratories — because the lab was doing so well, she says — she knew Dr. Wentz wouldn't steer her wrong.
"The best part about this company is its integrity," Nancey says. "Our company is so far ahead of the competition in every way!"
According to…
"Doug is not only arguably the smartest man I know, he is also humble and an extremely tolerant and compassionate individual who has impressed me as a caring father, husband, and friend. He is open-minded and possesses a level of integrity that I believe serves USANA well. Nancey is what I think of when I hear the term 'salt of the earth.' She is a very real person who is proud of who she is and does her best to help others see the good in themselves."
— James Bramble, USANA's Chief Legal Officer
You Might Not Know…
You might not know that Doug got his start with USANA in quality control in the manufacturing department. He's also worked in almost every area within the company. Nancey, on the other hand, is quite the opposite of her son. She has spent nearly 30 years working in a laboratory setting. "I'm like a tree," she says. "If I stay in one place long enough, I'll grow roots."
It Happened in '94…
In 1994, USANA began its own publication, USANA Magazine, exclusively for Associates. Published six times a year by USANA's creative services department, the magazine tells Associate stories, lists advancements, advertises products, and offers pertinent information to Associates. Since 2010, the magazine has won seven awards.
——————–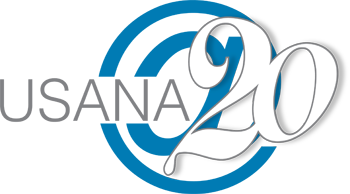 About the Series: We're celebrating USANA's 20th anniversary with USANA @ 20, a series featuring difference-makers — not only individuals, but departments, products, and more — who have had a significant impact on USANA and are poised to propel us into the future. We hope you enjoy learning more about just a few of the reasons USANA is, and will continue to be, a world-class company. To learn more about this series and to read previous installments, please visit USANA @ 20.
https://whatsupusana.com/wp-content/uploads/2012/04/Doug-Nancey-Hekking-Banner.jpg
320
720
Missy Bird
http://whatsupusana.com/wp-content/uploads/2019/11/USANA_Logo_Black.png
Missy Bird
2012-04-16 07:43:52
2012-05-05 09:38:49
USANA @ 20: Doug and Nancey Hekking