USANA @ 20: Sterling Ottesen
This year's International Convention is a special one to say the least. The faces of thousands of USANA Associates will fill the convention center as they gather to celebrate USANA's 20-year presence in the network-marketing industry. Each Associate has a personal and unique USANA story to celebrate, but very few of those stories share as much history as does Diamond Director Sterling Ottesen's.
Trust me — when it comes to Associates who've been with USANA from the beginning, Sterling takes the cake. Not only is Sterling an integral part of the USANA family, but he is one of the early influencers of USANA's business strategies as well.
We all know Dr. Wentz' vision pushed him to develop the quality supplements USANA produces today. But did you know Sterling is the one who introduced Dr. Wentz to the idea of creating a network-marketing company?
I know it's hard to believe, but 20 years ago, people weren't lining up to try Dr. Wentz' nutritionals. Even though he had developed pharmaceutical-quality supplements unlike any other at the time, he wasn't sure of the best way to introduce the new products into the U.S. market.
This is where Sterling comes in!
After touring Dr. Wentz' facilities and witnessing his extraordinary work with cellular research, Sterling — along with his business partners — educated him on the benefits network marketing would provide for not only his company, but his customers as well.
Fast forward 20 years, and you have thousands upon thousands of USANA Associates successfully building direct-selling businesses on a daily basis.
Celebrating You
Today, Sterling is still a major influence in USANA. Even after 20 years of work, his business model remains a perfect example for many Associates. The growth he's experienced over the years has yet to diminish, as he is consistently reaching new milestones and higher USANA rankings. Sterling and his wife Mary were even members of 2011's Growth 25.
Some might think such a high level of achievement would be served with a side of arrogance or entitlement, but with Sterling, nothing could be further from the truth. He's continually disproving the old saying "nice guys finish last" in two ways: first, by being one of the nicest guys around (seriously though), and second, by never, EVER finishing last!
According to…
"Sterling means so much to our company because of what he represents. Associates can look to him and see the possibilities. He shows others that you can truly make this business your life and experience growth — even after two decades with USANA."
— Lori Truman, USANA Executive Director of U.S. Field Development
You Might Not Know…
Though USANA Associates are currently present throughout the world and working in 18 different countries, Sterling and his family live less than 40 minutes south of USANA's Home Office in West Valley City, Utah.
Talk about a short road trip for Convention! (Jealous?)
It Happened in '93…
It's always 1992 that gets all the glory for being USANA's rookie year, but 1993 was an equally important year in terms of launching the company. It was the year Dr. Wentz was finally able to spin off USANA as an independent firm. Before this, USANA Inc. was considered a subsidiary of Dr. Wentz' Gull Laboratories.
——————–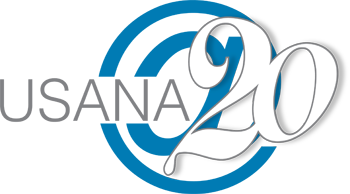 About the Series: We're celebrating USANA's 20th anniversary with USANA @ 20, a series featuring difference-makers — not only individuals, but departments, products, and more — who have had a significant impact on USANA and are poised to propel us into the future. We hope you enjoy learning more about just a few of the reasons USANA is, and will continue to be, a world-class company. To learn more about this series and to read previous installments, please visit USANA @ 20.
http://whatsupusana.com/wp-content/uploads/2019/11/USANA_Logo_Black.png
0
0
Nick Peterson
http://whatsupusana.com/wp-content/uploads/2019/11/USANA_Logo_Black.png
Nick Peterson
2012-04-09 07:47:52
2012-04-14 07:04:08
USANA @ 20: Sterling Ottesen