Your Guide to the New What's Up, USANA?
In case you haven't noticed — and it's practically impossible that you haven't — What's Up, USANA? has a sleek new look!
We have so much great content to share with you, and we think this new design will help you, our readers, find everything we have to offer. Below are just some of the new things you'll find.
Navigation
An easy-to-navigate menu bar features categories we think you'll be interested in.
Drop-down menus take you to related content such as our contact information, accolades and blogger bios under the "About Us" tab; current contests; and product information.
Homepage Slider
The first thing you probably noticed on our new design is the slider function. It features 10 recent posts we think are important under the "Featured" tab and WUU's 10 most popular posts (data collected from the time of the redesign) under the "Popular" tab.
The stories rotate automatically or you can scan through them manually by scrolling through the thumbnail stories to the right. Click on the small photo and it becomes the featured image. From there, click on the large photo or the title below to read the whole story.
Another cool feature — If a video pops into the slider, you can watch it right then and there. Just click on the play button and enjoy.
Featured Categories
Scroll down and you'll find a box with five different featured categories. We'll be changing these around as different events or subjects become important to you and USANA.
USANA Videos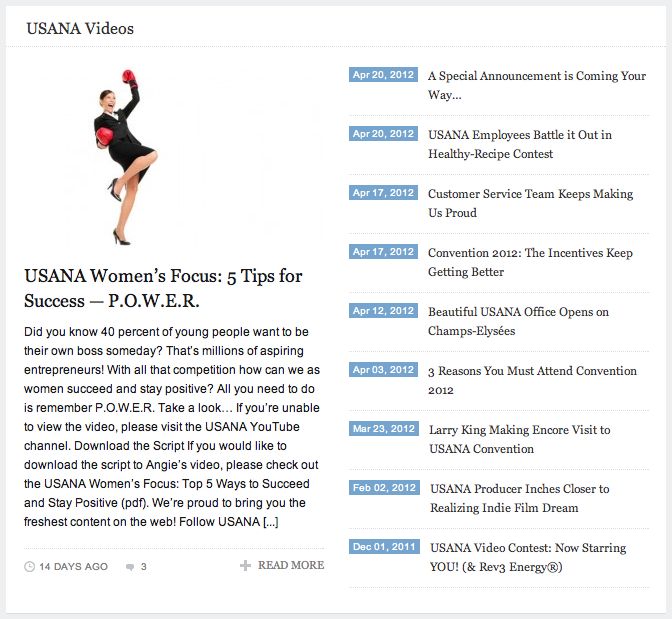 This is where you can find the latest videos, and their accompanying stories, featured on WUU. Click on the story link and you'll see the post and video in their entireties.
News from Management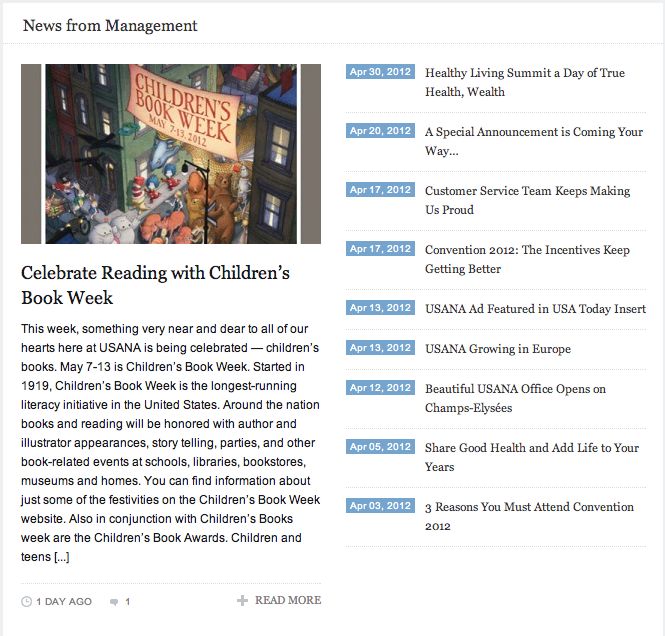 We understand you don't always have time to make it to two blogs, so some of the key announcements/initiatives from the Corporate Blog will also be posted here (but make sure to keep visiting the Corporate Blog for its own unique content).
Four Column Highlight
This is where we'll be sharing some of our favorite series — right now it's USANA @ 20.
Right Sidebar
Finding past posts has gotten even easier with a comprehensive search function.
Social media buttons link you to USANA's Facebook, Twitter, LinkedIn, Flikr, YouTube and Pinterest pages. You can also subscribe to the WUU feed or sign up to have an email sent to you each time a new post goes live.
Here you'll also find a list of the most recent WUU posts and a selection of USANA videos that are worth watching.
Footer

Aren't quite sure what you're looking for? The "Categories" and "Archives" dropdown menus located in the footer can help you narrow your search.
Our recent Flikr photos are easily accessed from here, as are other great USANA sites.
Individual Posts
At the top left you'll notice the author's name — click on it, and you'll access everything they've ever written for WUU.
Below the day and time you'll see a tag icon and a bunch of words. Those tags help us organize information. Click on any of them to take you to related content
 Sharing posts is also a lot easier. Located at the end of each post are three icons — Facebook, Twitter and Google+.
What Do You Think?
As always, we love to hear what you think. Write your thoughts in the space provided and we'll make sure they appear on the post.
We hope you'll take some time and explore our new site. We'd love to know what you think about our new design, and what you'd like to see in the future as far as posts and site functionality.
We're proud to bring you the freshest content on the Web! Follow USANA on Twitter, like our USANA Facebook page and enjoy the latest videos on the official USANA YouTube channel.
https://whatsupusana.com/wp-content/uploads/2012/05/WUU2.jpg
720
1280
Jessica Whiting
http://whatsupusana.com/wp-content/uploads/2019/11/USANA_Logo_Black.png
Jessica Whiting
2012-05-09 14:12:24
2017-02-23 06:47:16
Your Guide to the New What's Up, USANA?