USANA @ 20: A Series Celebrating USANA's Greatness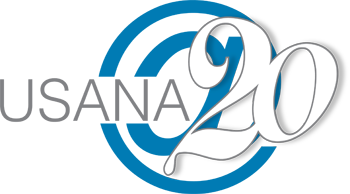 Where were you and what were you doing 20 years ago?
1992. It seems so long ago.
Perhaps you weren't born yet, or at least too young to remember the Summer Games in Barcelona (looking at you, NEX!)
But for those of us who do remember the early '90s, we were watching Home Improvement, Northern Exposure, and Murder, She Wrote (or our parents were), and if we weren't desperately clinging to the '80s we were listening to Nirvana, Pearl Jam, and Hammer (sans the MC).
And, according to this handy guide…
Gas cost $1.05 a gallon
Euro Disney opened in France
Bill Clinton was elected the 42nd U.S. president
Microsoft released Windows 3.1
Miley Cyrus was born
What a year, right?
Also that year, a soon-to-be revolutionary nutrition company formed in a small office in Salt Lake City, Utah.
20 Years of Changing Lives
USANA Health Sciences, Inc., founded by Dr. Myron Wentz, began changing lives in 1992. It aimed to help realize the founder's dream of a world free from pain and suffering.
From its outset USANA's mission has been to develop and provide the highest quality, science-based health products, distributed internationally through network marketing, creating a rewarding financial opportunity for our independent Associates, shareholders, and employees.
"We now know that optimal nutrition is key to long-term good health. Unfortunately, the high level of nutrition that is necessary to maintain good health is difficult to receive from the typical modern diet. And, the nutritional supplement industry was filled with incomplete, unbalanced products. This discovery led me to found USANA Health Sciences in 1992 in order to develop advanced nutritional formulations and manufacture premier nutritional supplements. Today, I believe that with the USANA Health Sciences products, people can live healthier lives, and I'm excited about sharing this good news with others."

— Dr. Myron Wentz
USANA @ 20: The Series
Over the next several weeks, What's Up, USANA? will feature the difference-makers — not only individuals, but departments, products, and more — who have had a significant impact on USANA and are poised to propel us into the future.
Beginning April 2 and continuing each Monday through August 13 — the week USANA celebrates its 20th anniversary at the 2012 International Convention — we will bring you a new story of excellence, inspiration, and success.
We've divided the stories into four categories, each recognizing an important era in USANA history:
We hope you enjoy learning more about just a few of the reasons USANA is, and will continue to be, a world-class company.
How About You?
We invite you to share your memories of USANA by either commenting on this blog post or e-mailing us at [email protected]. Who knows? Your comments could be part of a feature kicking off USANA's next 20 years.
Be in the know! Follow USANA on Twitter and like our USANA Facebook page for the latest news and notes.
https://whatsupusana.com/wp-content/uploads/2012/04/USANA-at-20-Logo-350x200.png
194
350
Tim Haran
http://whatsupusana.com/wp-content/uploads/2019/11/USANA_Logo_Black.png
Tim Haran
2012-03-26 08:18:07
2017-09-11 08:58:46
USANA @ 20: A Series Celebrating USANA's Greatness