USANA @ 20: Conchita Vargas Lugo and Eduardo Barreto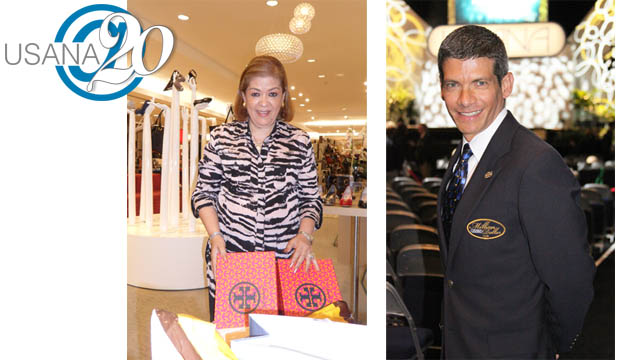 Conchita Vargas Lugo and Eduardo Barreto are linked not only by their passion to promote change in the lives of people around them, but also by their shared country of México.
Conchita and Eduardo joined USANA separately in 2004, but both of them were looking for ways to change their lives physically, emotionally, and financially.
Impressively, Conchita was the first Mexican to earn membership in USANA's prestigious Million Dollar Club, and today she holds the title of 3-Star Diamond Director.
"Seeing the flag of my country in the USA was something I can't get out of my mind," she said, referring to her Million Dollar Club day at the Home Office. "It was amazing because I have always said that my fight is for México."
Eduardo's determination to advance to 2-Star Diamond Director is fiercer than ever. Contributing to the three-part seminar format—business technical training, accolades, and speaker's history — is just one of the ways Eduardo has impacted the México market.
"I joined USANA because I was searching for a serious and ethical network marketing company that was also a leader in its field," Eduardo says.
Though not part of the same Associate team, they have each shown great leadership and determination to help build the México market.
Celebrating You
Conchita and Eduardo believe it's essential to recognize individual achievements, though Conchita is quick to note that she avoids congratulating individuals who do not deserve it; she believes praise must be earned.
"Striking a balance between character and charm has been very difficult and complicated for me," Conchita says. She sees herself as a person with high self-control and a determination to always do the right thing in life and in leadership.
Eduardo stays focused on his business and leadership skills, while building unity within his team through promoting a feeling of togetherness.
"I give them responsibilities," Eduardo says. "I invest time in getting to know them and their families, and I promote the value of health through exercising."
According To…
"Conchita and Eduardo's efforts have been crucial in shaping the history of success of USANA México, not only since the company opened its doors in March of 2004, but in this year, which will undoubtedly be the best year ever in the history of the company in México. Their dedication, hard work, and leadership have been an example to the ever-increasing field of leaders in the country sharing the USANA vision."
— Carlo Ledezma, USANA General Manager of México
You Might Not Know…
Conchita has four pillars in her organization: honor, respect, obedience, and discipline. She admits that she's not a popular leader, but she is consistent. "The basis in my life is to do the right thing and to implement those values in other people, because I am certain that if we bring them back to humanity, we will be in a much better world," Conchita says.
Eduardo has received countless testimonials over the years, and he holds on to every single one of them as a reminder of why he chose this industry. "The hope that life can change for hundreds of people throughout the country, and the endless possibilities that allow us to keep growing…that is what I love about this business," Eduardo says.
It Happened in '98…
USANA surpassed the $100 million mark in annual sales in 1998. Today, USANA is a half-a-billion dollar company.
——————–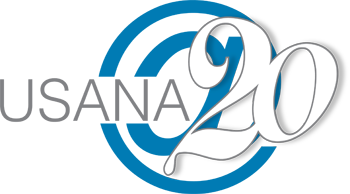 About the Series: We're celebrating USANA's 20th anniversary with USANA @ 20, a series featuring difference-makers — not only individuals, but departments, products, and more — who have had a significant impact on USANA and are poised to propel us into the future. We hope you enjoy learning more about just a few of the reasons USANA is, and will continue to be, a world-class company. To learn more about this series and to read previous installments, please visit USANA @ 20.
https://whatsupusana.com/wp-content/uploads/2012/05/Conchita-Eduardo-Banner1.jpg
360
640
Mallory Moger
http://whatsupusana.com/wp-content/uploads/2019/11/USANA_Logo_Black.png
Mallory Moger
2012-05-14 07:15:43
2012-05-24 11:19:59
USANA @ 20: Conchita Vargas Lugo and Eduardo Barreto