USANA @ 20: Hubert Krause & Seta Der Artinian
Back in 1995, Hubert Krause and Seta Der Artinian were on a mission to find a sensible company involved with nutritional supplements. It wasn't until they stumbled upon a Health & Freedom newspaper in the lobby of the Hilton hotel in Pompano Beach, Florida, that they discovered USANA.
"I have a fond memory of seeing Dr. Wentz' picture right on the cover of the Health & Freedom newspaper," Seta says. "I knew, if we were going to be marketing health-related products, we would become 'messengers of better health.' Therefore, we needed a company with world-class scientists, led by the greatest of them all — Dr. Wentz."
The couple decided they needed more information and called USANA directly. Once they were able to speak directly with Dr. Wentz, Hubert and Seta were excited to learn that USANA had yet to open a market in their home province of Quebec.
After their conversation, Hubert and Seta flew to Salt Lake City to check out USANA's operations and management teams. They were so impressed, they signed up on the spot. Nothing was going to stop them from sharing Dr. Wentz' vision with the people of Quebec, even if they didn't have a single sales tool available in French — the official language in Quebec.
To say they were successful in their quest to launch the market in Quebec is really putting it lightly. These two have earned their fair share of awards and accolades. Let's take a look:
4-Star Diamond Directors
Pioneers of the Quebec market
2001 Dr. Wentz Vision Award recipients
Million Dollar Club members
Fortune 100 members
Fortune 25 members (six consecutive years)
Part of the founding members of the Independent Distributors Council
Celebrating You
Hubert and Seta know a thing or two about keeping a team motivated. Hubert created a very visual "achievement-levels chart," which they displayed at their first team meeting, and which is still used today. The bilingual chart (English and French) covers all the advancement levels and explains what's needed to reach each one. Hubert and Seta know that this visual representation keeps their team focused on what lies ahead, rather than what's already happened.
According to…
"It's interesting to watch how Associates' commitment levels and passions are always changing over time. With Hubert and Seta, their commitment to USANA and passion for health and wellness has only increased over the years, and they've built an incredible team of Associates in our Quebec market along the way."
—Jeremy Lunt, USANA's Director of Canadian Field Development
You Might Not Know…
When Hubert and Seta started with USANA, French tools weren't yet created for prospecting in this untapped, French-speaking market. But did this stop their determination? No way! Hubert went ahead and wrote his own guide for new, French-speaking Associates in Quebec called "Getting Started Right with USANA." The guide is a 90-day action plan with a daily "Performance Control" to keep new Associates on track. (Pretty impressive, right?)
USANA was so impressed with the work these two put into the manual that it was included in the starter kits for every French-speaking Associate for two years. The 90-day action plan is still used by many Associates today.
It Happened in '97…
In 1997 — after five years in the network marketing industry — USANA was the first company voted "Distributor's Choice" for Best Company in Network Marketing Today and The MLM Insider magazine. Since then, this award has been handed out on 11 additional occasions with USANA nabbing the trophy every single time!
——————–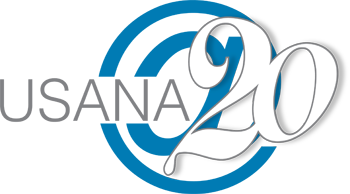 About the Series: We're celebrating USANA's 20th anniversary with USANA @ 20, a series featuring difference-makers — not only individuals, but departments, products, and more — who have had a significant impact on USANA and are poised to propel us into the future. We hope you enjoy learning more about just a few of the reasons USANA is, and will continue to be, a world-class company. To learn more about this series and to read previous installments, please visit USANA @ 20.
https://whatsupusana.com/wp-content/uploads/2012/04/image1.jpg
1232
1840
Nick Peterson
http://whatsupusana.com/wp-content/uploads/2019/11/USANA_Logo_Black.png
Nick Peterson
2012-05-07 08:13:07
2012-05-24 11:20:07
USANA @ 20: Hubert Krause & Seta Der Artinian