USANA Test Kitchen: Easy Baked Peaches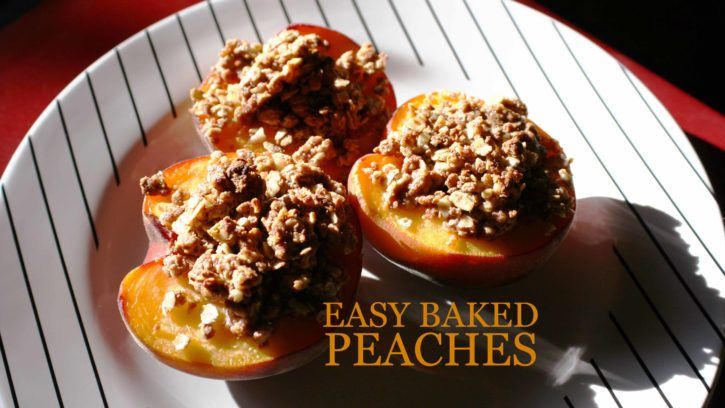 Whenever I eat peaches, I hum the 1996 song "Peaches" by the Presidents of the United States. "Millions of peaches, peaches for me. Millions of peaches, peaches for free." Great, now it will be stuck in my head the rest of the day.
While it may be nearing the end of the season, there are still a few weeks left of peak peach perfection. I've been eating about a raw peach a day and recently had a slice of homemade peach pie. This recipe for Easy Baked Peaches falls somewhere in between in terms of healthiness.
One of the best parts of peach pie is the crust, but it isn't very healthy. You can forgo the crust and still have a flavorful dessert by making an oat crumble topping. I substituted USANA MySmart™ Shake Whey Shake Base for the flour and you can use coconut oil instead of butter—I would have, but my coconut oil was expired.
Before you're inundated with the fall flavors of pumpkin spice and apple, keep summer going a little longer with this delicious—and healthy—baked peach dessert.
Easy Baked Peaches (makes 4 servings)
Ingredients:
4 peaches
1/2 cup oats
1 scoop USANA MySmart™ Shake Whey Shake Base
2 tsp. cinnamon
1 Tbsp. light agave nectar
1 Tbsp. cold butter (or coconut oil)
Directions:
Preheat oven to 350 degrees and spray a square baking dish with cooking spray.
Halve and pit the peaches and arrange them, cut side up, in the baking dish.
Mix together the oats, whey shake base, cinnamon, and agave nectar. Cut in the butter using two forks or a pastry blender until crumbly.
Spoon the mixture onto each peach half.
Bake for 15–20 minutes.
Top baked peaches with slow-churned vanilla ice cream or whipped cream.
Nutrition information (per serving)
138 calories
4.5 g fat
23 g carbs
3.8 g fiber
16.6 g sugar
4.4 g protein
We're proud to bring you the freshest content on the web! Follow USANA on Twitter, like our USANA Facebook page and enjoy the latest videos on the official USANA YouTube channel.

Learn what USANA is doing to make the world a better place.
The future of personalized health and nutrition is now available with USANA's True Health Assessment.
https://whatsupusana.com/wp-content/uploads/2016/08/Peaches_Blog_Post_16x9_72ppi-1.jpg
675
1200
Missy Bird
http://whatsupusana.com/wp-content/uploads/2019/11/USANA_Logo_Black.png
Missy Bird
2016-09-08 04:00:58
2016-09-23 13:56:05
USANA Test Kitchen: Easy Baked Peaches