When Dr. Myron Wentz founded USANA in the summer of 1992, he wasn't alone. Among the key players was his son, Dave, who helped with developing the company "look," establishing product formulas, and preparing USANA for its debut as a formal organization.
Dave, who has a bachelor's degree in bioengineering from the University of California, San Diego, made USANA his home and worked his way to the top, serving as vice president of strategic development, senior vice president, executive vice president, and president.
Now CEO, Dave fondly looks back on his 20 years at USANA as a time of great progression for the company and for himself. "I've experienced a tremendous amount of personal growth during my time with USANA," Dave says. "I've come up against challenges I never thought I'd be able to overcome, but thanks to support from my father, an amazing management team, and incredible Associates from around the world, I've been able to face these challenges and grow as a person. This has given me faith in myself, which helps me realize that whatever the future holds, I can handle it and handle it well."
Celebrating You
USANA's success hinges on the hard work of Associates, Dave says. Associates are the ones who are out making positive differences in the lives of others, and because of that, they are USANA. "I am lucky to count many USANA Associates as friends, and, more importantly, family."
All Associates are important, no matter what pin level they have achieved. And while going on the Fortune 25 and Growth 25 trips with leaders is always a great experience, Dave also equally enjoys attending the USANA Cross-Regional Conferences and getting one-on-one time with veteran Associates and new Associates alike.
"I love hearing their stories, because every person is different," Dave says. "Some share with me how they overcame a challenge in their life with the help of USANA. Others tell me about how their health has improved because of our products, and still others simply explain to me how, with the help of USANA, they are able to live a life they never thought possible. These are the moments I always look forward to, and they are also the ones that mean the most to me as the CEO of USANA."
Some CEOs might see that one-on-one time as a challenge, but it's never been an issue for Dave. "I love the family environment we've created at USANA, and I feel fortunate whenever I get a chance to share a moment with our amazing Associates."
[youtube]http://youtu.be/QsDaJbD4OTA[/youtube]
If you're unable to view the above video, please visit the USANA YouTube channel.
According to …
"He has always, in work and play, had an uncompromising sense of honesty and integrity, and he insists on doing what's fair and just in dealing with people. I am continually impressed with his dedication to honoring any commitments he makes."
—Dr. Myron Wentz, USANA Founder and Dave's father
You Might Not Know …
Looking at Dave in his sharp business suit, you might never guess that he's an adrenaline junkie at heart. If it makes your heart pound and it sends adrenaline to the tips of your fingertips, he wants to be involved.
"From heli-skiing (where you take an helicopter to the top of a mountain for the freshest powder) and taking in the steepest slopes to jumping out of airplanes and reaching unbelievable speeds, I love the rush of excitement," Dave says. "I also plan on being on the Richard Branson Virgin Atlantic trip into space."
It Happened in '02 …
In 2002, USANA celebrated a milestone — a decade of great service. In those 10 years, the company produced $800 million in sales and opened 10 new markets. The year also marked the beginning of USANA's partnership with Children's Hunger Fund, the awarding of U.S. patents for Olivol® — Olive Fruit Extract — and the opening of the Taiwan market.
——————–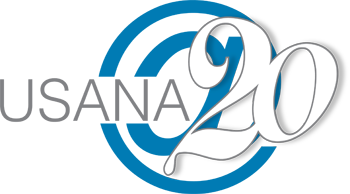 About the Series: We're celebrating USANA's 20th anniversary with USANA @ 20, a series featuring difference-makers — not only individuals, but departments, products, and more — who have had a significant impact on USANA and are poised to propel us into the future. We hope you enjoy learning more about just a few of the reasons USANA is, and will continue to be, a world-class company. To learn more about this series and to read previous installments, please visit USANA @ 20.
https://whatsupusana.com/wp-content/uploads/2012/06/DaveWentz-Featured.jpg
360
640
Jessica Whiting
http://whatsupusana.com/wp-content/uploads/2019/11/USANA_Logo_Black.png
Jessica Whiting
2012-06-11 08:30:28
2012-06-10 09:59:35
USANA @ 20: Dave Wentz