USANA12: My 7 Memorable Moments. What Are Yours?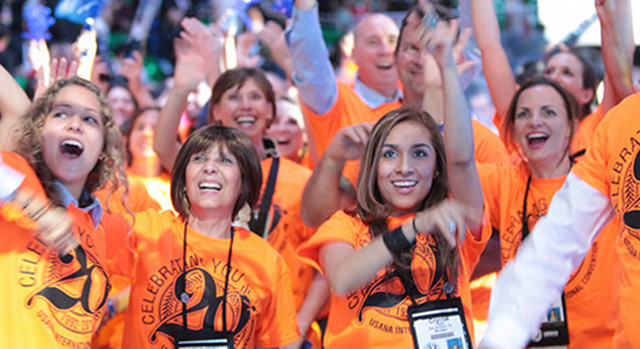 We did it, USANA.
Each year following our annual International Convention we wonder: "How will we ever top this?" And this year, I think it's a legitimate question.
From the all-star lineup of world-class speakers to the constant stream of Associate leaders sharing their inspirational and motivational stories to the new product announcements to the sales tools upgrades to the first-of-its-kind massive stage production, it truly felt like an event 20 years in the making.
The 2012 USANA International Convention included countless memorable moments. As I look back on my just-completed fifth International Convention, I wanted to count down my Top 7 moments.
But first, a video…
[youtube]F3In1bw48Q0[/youtube]
If you're unable to view the video, please visit the USANA YouTube channel
Counting Down 7 Memorable Moments From #USANA12
7. The Free iPads: I'm pretty sure when Dave Wentz dropped this gem of an announcement, the roar from inside EnergySolutions Arena could be heard across the street at the Salt Palace. In an instant, the thousands of distributorships — each of which would soon receive a free iPad — made their way across the street and into the Salt Palace to snag their gift. USANA said it would give away $1 million in prizes at this Convention. No kidding.
————
6. The Generosity: The USANA True Health Foundation on Saturday received a check for $270,000 to help in its mission to provide the most critical human necessities to those who are suffering or in need. Thank you to everyone who participated in the USANA Champions for Change 5K, purchased items such as bobbleheads to benefit the Foundation or simply donated your money or time to help this incredible organization.
————
5. The New Look: It is, in a word, spectacular! The fresh new corporate look is stunning and it will serve USANA well for years to come. It's not merely a new logo or new packaging — it's a new identity, a new voice, a new way of thinking. USANA is no longer "Nutritionals You Can Trust"; it is "Your Health. Your Life. Your Way." Plus, the production value during the reveal was a sight to behold.
————
4. The Inspirational Stories: Each speaker who took the stage provided the audience with words of motivation, education or inspiration. But one moment stood out above all else. When Sharlie Kaltenbach slowly walked out onto the stage and began sharing her powerful story of hope and determination, the crowd collectively inched toward the edge of their seats. The emotion-filled speech offered a more than fitting end to a remarkable event.
————
3. The Athletes: My favorite segment each year involves many of the USANA-sponsored athletes — Team USANA — who share their stories and reasons for trusting their health to USANA. I love writing about them throughout the year but to see the numerous gold medalists and world champions on one stage is an experience unlike any other. The crowd agreed, giving the athletes a rousing ovation that made the arena feel more like a title fight than a corporate conference.
————
2. The Social Media: No surprise here, right? Tweets were a-flyin' and Facebook posts were a-poppin' everywhere you looked. Social media trainings were held on not one but two stages, and the social media team spent four days helping thousands of Associates learn more about using these powerful tools at the always-popular Social Media Booth. We'll crunch the numbers in the next few days, but suffice it to say: The 2012 USANA International Convention was the most social one yet. If you're still not following, what are you waiting for?
————
1. The People: I communicate with dozens of good friends over social media each day, and I truly look forward to the annual convention to connect with these wonderful people in real life. A few highlights for me: Meeting Mark Holmes, who drove 2,000 miles from Mobile, Ala., for the event (and who brought me a delicious gift that I can't wait to try); reconnecting with Nick and Stacia Kelly, two incredible human beings who are passionate about good health, especially for children; experiencing the off-the-charts enthusiasm from teams such as NEX and ERA — and looking forward to the photos and videos I'm sure we'll be seeing from NEX Studios in the coming days. And it's always a pleasure visiting with Robin Thomas, one of our longtime social media fans. There are so many others who are so supportive of what we do. Thank you, and I can't wait to see you next year!
How About You?
But those are just my Top 7. I'm sure you have 7 (or 70) of your own. Please let us know what they are by sharing in the comments!
We're proud to bring you the freshest content on the web! Follow USANA on Twitter, like our USANA Facebook page and enjoy the latest videos on the official USANA YouTube channel.

Learn what USANA is doing to make the world a better place.
Discover what USANA products can do to boost your health today by taking this brief online Health Assessment.
Tim Haran on Google+
https://whatsupusana.com/wp-content/uploads/2012/08/People-Featured.jpg
349
640
Tim Haran
http://whatsupusana.com/wp-content/uploads/2019/11/USANA_Logo_Black.png
Tim Haran
2012-08-19 17:53:48
2017-09-11 08:50:22
USANA12: My 7 Memorable Moments. What Are Yours?