USANA Inside Beauty: Vitamin C—The Secret to Young Skin
Vitamin C plays a crucial role in many of our body's functions — including Anti Aging! This clinically-proven ingredient is the ultimate multi-tasker.
It's known as a potent antioxidant and a key player in the fight against visible aging. But not all Vitamin C formulations are created equal. If the Vitamin C is not stable, it can actually promote oxidation, causing damage.
All Sensé products contain Vitamin C in the form of our exclusive PROTEO-C™ Vitamin C complex. PROTEO-C is an incredibly stable form of Topical Nutrition. If used daily, skin will become healthier and look more radiant.
Protection From Environment
Lifestyle and environmental factors can really take a toll on our complexion. As the body's largest organ, our skin needs potent antioxidants to fight off free radicals. Stress, sun, and pollution can all damage collagen and accelerate the signs of aging.
Vitamin C has long been known to be highly effective in protecting our skin from environmental stress, resulting in visibly healthier skin.
Even Tone and Discoloration
Skin discoloration happens when pigment becomes unevenly distributed throughout your skin, resulting in redness and dark spots. Vitamin C is known as a natural source for skin lightening. When used consistently over time, it can help fade the appearance of hyperpigmentation. Vitamin C also help with the natural exfoliation process so dull, dry skin cells spend less time sitting at the top of your skin. This helps skin appear more radiant and youthful.
Stimulate Collagen for Younger-Looking Skin
As mentioned above, Vitamin C helps boost the skin's natural exfoliation process. Known for stimulating collagen, a key structural protein of the skin, Vitamin C can dramatically improve the appearance of fine lines and wrinkles while also increasing elasticity, which helps the skin remain firm. Overall, you get a great Anti Aging effect.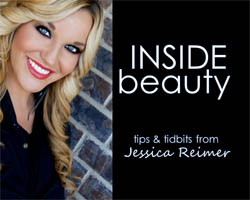 Well there's the scoop!
Wishing you all beauty and health.
Jessica Reimer is a Senior Marketing Manager at USANA Health Sciences. If you have any stories, comments, or questions that you would like to see addressed in this feature, please send them to [email protected].
To learn more about Sensé skin-care products, please visit www.beautifulscience.com and like us on Facebook! Previous Inside Beauty posts can be found here. Some USANA products are available only in select markets.

*These statements have not been evaluated by the Food and Drug Administration. This product is not intended to diagnose, treat, cure, or prevent any disease.

We're proud to bring you the freshest content on the web! Follow USANA on Twitter, like our USANA Facebook page and enjoy the latest videos on the official USANA YouTube channel.


Learn what USANA is doing to make the world a better place.
https://whatsupusana.com/wp-content/uploads/2012/06/Inside-Beauty-Blog-22nd-Edition-Cover-Image-Featured.jpg
361
640
Jessica Reimer
http://whatsupusana.com/wp-content/uploads/2019/11/USANA_Logo_Black.png
Jessica Reimer
2012-06-26 07:54:25
2012-06-25 17:07:27
USANA Inside Beauty: Vitamin C—The Secret to Young Skin