USANA Inside Beauty: Start the New Year Off Right with Sensé
Happy New Year What's Up USANA? readers! I'm so excited to share another year of Inside Beauty with all of you. Look forward to more tips, tricks, and ideas on how to look and feel better.
Since it's the beginning of a brand new year, I thought we'd start it off right by looking at ways we can maximize the efficacy of our beauty regimen. We all want the most for our money and our beauty products are no exception.
To get the best results with your Sensé products follow these simple steps. Sometimes it only takes a little extra effort to yield beautiful results.
Exfoliate
Your skin has many layers and the outermost is called the stratum corneum that is made up of dead, flat skin cells that shed about every two weeks. Think of this layer as a barrier that you have to remove to deeply penetrate the skin. The best way to do this is by gently exfoliating two to three times a week.
Sensé Rice Bran Polisher is a unique USANA formula that contains papaya enzymes to gently break down dead skin cell bonds and rice bran beadlets to whisk the dead skin cells away.
This amazingly effortless product is hands down my favorite in the entire line. It's the best exfoliator I've used to date and is so gentle on the skin. Add it to your weekly routine today!
Apply to Damp Skin
The best time to apply your skin care products is right after you cleanse, while your skin is still damp (not soaking wet).
Damp skin is more absorbent and you won't have to use as much product. Think of your damp skin as a sponge, soaking in the topical nutrients found in all Sensé products.
Use Warm Water
Rinsing with warm (not scolding hot) water dilates your blood vessels and pores. By cleansing your face with warm water, you allow more dirt and oil to be removed while also prepping the skin for maximum absorption.
Bonus: Active ingredients are more likely to better penetrate at a cellular level when your skin temperature is warm.
Go In Order
I like to apply products based on the density. Start with the lightest or thinnest treatment (like a serum) and then follow with the heavier creams and lotions.
This allows for better penetration of ingredients like Sensé's DRS Technology™, a marine-source complex that boosts the skin's natural renewal cycle.
For instance, after cleansing and toning in the morning, apply the Perfecting Essence. This acid-free formula is great for sensitive skin and its light molecular weight makes it ideal for penetrating the skin.
Not only will your skin visibly become brighter and more evenly toned, but you'll also feel and see a difference in texture. Follow with Eye Nourisher around the delicate eye area and finish with Daytime Protective Emulsion over your entire face and neck to help guard and fortify your skin from visible sun damage.
Change Your Lifestyle
The last, but certainly not least way to make your beauty products more effective is to take care of your body from the inside out.
Adhering to a consistent supplement program with USANA Essentials and Optimizers will provide your body and cells with the nutrients they need to have you looking and feeling great.
The Omega-3 fatty acids found in BiOmega™ are crucial for maintaining healthy, supple skin. Also, Lutein, found in Visionex DS®, may play a vital role in fortifying your skin through its antioxidant properties.
These two top-selling products are found in the USANA® MyHealthPak Beauty Edition alongside other key nutrients for healthy looking skin.
Also, make sure you are eating plenty of antioxidant-rich fruits and vegetables and drinking lots of water. A well balanced diet and proper hydration are necessary factors in fighting the appearance of aging.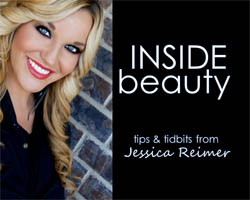 Well there's the scoop!
Wishing you all beauty and health.
Jessica Reimer is the Sensé marketing manager at USANA Health Sciences. If you have any stories, comments, or questions that you would like to see addressed in this feature, please send them to [email protected].
To learn more about Sensé skin-care products, please visit www.beautifulscience.com and like us on Facebook! Previous Inside Beauty posts can be found here.
http://whatsupusana.com/wp-content/uploads/2019/11/USANA_Logo_Black.png
0
0
Jessica Reimer
http://whatsupusana.com/wp-content/uploads/2019/11/USANA_Logo_Black.png
Jessica Reimer
2012-01-26 07:14:32
2012-02-22 11:08:49
USANA Inside Beauty: Start the New Year Off Right with Sensé