Inside Beauty: Look Hot — Even in the Heat!
Let's face it. In 100°F weather it's not always easy to keep your cool. But with a few simple and oh-so-fabulous products, we'll have you looking scorching hot!
1.  Fake it
Tans look gorgeous, but nobody wants to end up looking like a worn, leather hand bag. That's why it's important to limit your time in the sun.
To fake it, try a simple solution. Enter St.Tropez Self Tanning Bronzing Mousse. This paraben-free formula will take you from fair to golden in just a few hours. Plus, their innovative Aromaguard™ fragrance technology practically eliminates that yucky sunless tan odor. Bronze on sistah!
2. Lather up
Speaking of tanning, if you are going to be in the sun, be sure to generously apply Sensé Daytime Protective Emulsion with broad spectrum SPF 15 to your face and neck. It's critical to protect against both UVA and UVB rays.
Think of UVB rays as "the burning rays — B for burning." These affect mostly the top layers of your skin. The UVA rays go deeper and can potentially be more dangerous. Using a broad spectrum sunscreen will help protect against both.
3. Shine on
Lipstick can bleed and look a little messy in high temperatures. To avoid a major meltdown, try a long wearing gloss instead. I love Buxom® Full-On™ Lip Polish in Debbie — a fun, coral color that's perfect for summer.
When you're in weather so hot you sweat, cakey powder blush can start to clump on your face.
Try a pro technique by opting for a cheek stain rather than traditional powder blush. Try a water-based product like Tarte Cheek Stain also loaded with Tarte T5 Super Fruit Complex™ — a proprietary blend of five superfruits: goji, açaí, maracuja, acerola, and pomegranate.
5. Get a wedge in
Now that you're tan, blushed, and your lips are shiny and plump, go ahead and slip on a pair of summer's hottest shoe — the wedge. I love Tom's coral version available at Nordstrom. They are super cute and the perfect height. Pair them with a flowy sundress and you can go from day to night.
Summer is by far my favorite season, but tackling the heat while maintaining some grace can get tricky. Pull it all together with these simple tips and enjoy the best time of the year!
Well there's the scoop!
Wishing you all beauty and health.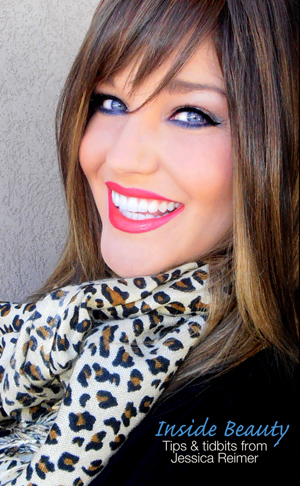 Jessica Reimer is a senior marketing manager at USANA Health Sciences. If you have any stories, comments, or questions that you would like to see addressed in this feature, please send them to [email protected].
To learn more about Sensé skin-care products, please visit www.beautifulscience.com and like us on Facebook! Previous Inside Beauty posts can be found here. Some USANA products are available only in select markets.
We're proud to bring you the freshest content on the web! Follow USANA on Twitter, like our USANA Facebook page and enjoy the latest videos on the official USANA YouTube channel.

Learn what USANA is doing to make the world a better place.
The future of personalized health and nutrition is now available with USANA's True Health Assessment.
https://whatsupusana.com/wp-content/uploads/2013/07/bolero-spray-tans.jpg
360
640
Jessica Reimer
http://whatsupusana.com/wp-content/uploads/2019/11/USANA_Logo_Black.png
Jessica Reimer
2013-07-15 07:55:46
2013-07-15 08:24:54
Inside Beauty: Look Hot — Even in the Heat!