USANA Athletes: Mike Lee, Kim Clijsters, Nolan Kasper & More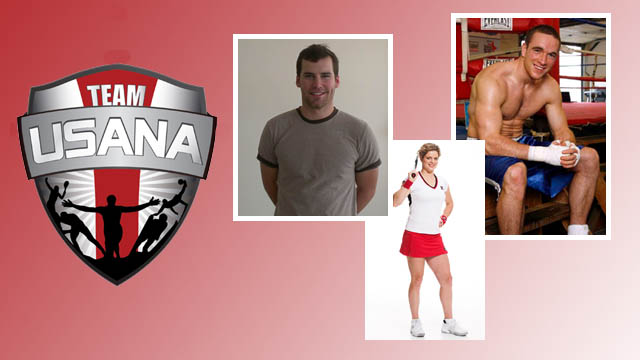 So much is happening with Team USANA right now, let's get right to it…
Unbeatable Mike Lee
USANA's own Mike Lee won a unanimous decision over Paul Harness as part of the undercard of the WBC Middleweight title fight between Julio Cesar Chavez Jr. and Sergio Martinez.
Each of the three judges scored the bout 40-36. With the win, Lee improved to 11-0 with 6 knockouts, and is a rising prospect in the light heavyweight division.
Congrats on the win, Mike!
Tennis Stars Shine at U.S. Open
Did anyone catch the U.S. Open? I hope a lot of you got to watch it. There were some really good matches and our Brand Ambassadors represented very well.
It was a bittersweet tournament for us here at USANA. We will miss watching Kim Clijsters play. For those of you who don't know, Kim has officially retired and plans to spend more time with her family (here's an interview she did with What's Up, USANA? soon after her final match).
We congratulate her on her career and thank her for all she has done for USANA.
Here are some notable U.S. Open results featuring our Brand Ambassadors:
Sam Stosur, the defending women's singles champ, lost in the quarterfinals (side note: Her quarterfinal match was an intense. If you can find a clip of it online check it out. It was a thriller)
Aleksandra Wozniak and Kim Clijsters advanced to the second round
Zheng Jie advanced to the third round
Liezel Huber and partner Lisa Raymond, the defending women's doubles champs, advanced to the third round in doubles
World Cup Skier Nolan Kasper Visits the Home Office
Earlier this month, Carson, Tim, and I had the opportunity to have slalom skier and USANA Brand Ambassador Nolan Kasper here at USANA Corporate.
If you ever get the chance to meet Nolan, do not pass it up. He is a nice, down-to-earth guy who will most likely impress you just by talking to him for 5 minutes.
We had him come in to show him our beautiful USANA building and do some social media, which you can see below.
[youtube]tdG29T5iGcY[/youtube]
If you're unable to view the video, please visit the USANA YouTube channel
He was very impressed with the building and how we make our products. He is looking forward to the new season after having two hip surgeries in the last year.
Thanks for coming by, Nolan. Good luck this season!
Additionally…
Mitchell "Baby Face" Smith is making noise in the UK boxing world. He beat Pavels Senkovs on Sept. 14.
NFL linebacker Andy Studebaker got the Week 1 start for the Kansas City Chiefs and has recorded three tackles in the first two games.
We have some exciting new sponsorships in the works. We will be announcing them in the next blog. Have a great day!
*The mentioned athletes are either distributors or dedicated users who have received compensation for their partnership and/or complimentary USANA products.
We're proud to bring you the freshest content on the web! Follow USANA on Twitter, like our USANA Facebook page and enjoy the latest videos on the official USANA YouTube channel.

Learn what USANA is doing to make the world a better place.
Discover what USANA products can do to boost your health today by taking this brief online Health Assessment.
https://whatsupusana.com/wp-content/uploads/2012/09/USANAAthletes-Sept12-Featured.jpg
360
640
Dan Bennett
http://whatsupusana.com/wp-content/uploads/2019/11/USANA_Logo_Black.png
Dan Bennett
2012-09-20 11:05:27
2012-09-19 20:43:57
USANA Athletes: Mike Lee, Kim Clijsters, Nolan Kasper & More