Dyann Lyon & Wild Bill Jones Experiencing ROI at its Finest
Dyann Lyon and Wild Bill Jones — yes, Wild Bill is his legal name — are the perfect example of "before" and "after."
Before Wild met Dyann he had a number of careers. In 1961, Wild joined the Royal Canadian Navy. He had a 13-year adventure serving his country and then moved on to something — a lot of somethings — new. Wild drove truck and ran a trucking operation. He bought a small business. He sold cars. He was an automotive dealer and industrial dealer. He worked as an automotive parts distributor. He spent 13 years as a sales manager for a startup bus and ambulance manufacturing company. And he started a leasing company, which he owned for seven years.
Then Wild met Dyann. …
Dyann spent 22 years working in real estate. She left her career after her first husband, Lee, died suddenly of a heart attack right after his 50th birthday. Dyann was fortunate to be able to take some time off and thought that she would take the time to pursue her artistic side.
Then Dyann met Wild. …
Love at first sight
When Dyann returned to the world of dating following Lee's death, she didn't want to date anyone she knew. So she turned to the Internet. She had only two pictures of herself on her computer — a professional real estate shot and one sporting a Halloween costume. She decided for online dating she would go incognito.
Wild was also looking for love, and when he saw the photo of Dyann in which she was wearing a hot pink wig, rhinestone-studded sunglasses and a feather boa, he knew he had hit the jackpot.
"I immediately knew that she was 'the one' I had been looking for all of my life but was beginning to wonder if I would ever find her," Wild says of the encounter.
The experience was much the same for Dyann. "It makes me laugh thinking of our very first connection," she told What's Up, USANA? "At long last we had finally met our match!"
Welcome to the family
Dyann first heard about USANA in 2001 and promptly brushed it aside. It took at least a year of follow-ups from Associate Keri McKee before Dyann even looked at the opportunity.
"At the time it was presented to me, I was dating Wild and saw USANA as an opportunity for him to have better health," Dyann says. "It never occurred to me at the time that I would also end up having much better health."
On Oct. 22, 2002, Wild and Dyann signed up as Associates. They were not married and they lived in two different countries — Langley, B.C. and Tacoma, Wash. — but they bought the biggest starter kits available at the time based on what they had heard about the products.
The couple got to know each other and learned about USANA while commuting the 168 miles between their two front doors. In September 2003, a year and a half after the two met, Dyann and Wild embarked on a four-week, 5,000-mile road trip that included their very first USANA Convention.
On the way to Convention, the couple passed through Reno and decided to get married. The 11th USANA International Convention became the first leg of their honeymoon. "It was very exciting, and we fell in love with USANA at that Convention and have attended every Convention since!" Dyann says.
Building a new life
Joining USANA required a shift of thinking for Dyann and Wild, first as individuals and then as a married couple.
"It truly has been a journey and a growth process," Wild explains. "It has changed the focus from 'their' life, working for someone else, to 'my' life, working for myself. It is a very simple business, but I must admit that I have not found it that easy. Then again, if it was easy, everybody would be doing it, right?"
Dyann was first attracted to USANA by the quality of products. She recognized the possibilities it offered, too, but was still nervous going in. She liked the idea of creating her own schedule and having time freedom. "That appealed to me but I wasn't sure what that might actually look and feel like and how to go about creating time freedom inside a USANA business."
Ten years later, Dyann and Wild are enjoying the benefits that come from selling USANA. The Silver Directors are sharing those benefits with others through the Healthy Edge, a program that builds on the healthy lifestyle USANA encourages and promotes. Healthy Edge focuses on low-glycemic eating and a healthy lifestyle and helps people with the beliefs that may be holding them back from achieving success with their weight and their health.
Paying it forward
The USANA lifestyle has allowed Dyann and Wild to pursue other interests while still earning an income. For them, that means community service and volunteering.
"We do what we can," Wild says. "It is important because being involved is another way of investing in your community, making it a better place to be, having a sense of pride in where you live and showing what is possible to someone who may also be interested but not knowing where to start. Pride can be taught or pride can also be caught. I call it being involved and giving back to your community."
Though the couple is humble about their service, their work has not gone unnoticed. In 2008, USANA honored Dyann and Wild with the Children's Champion Award for raising more than $43,000 for Children's Hunger Fund.
There are a number of other causes dear to Dyann's heart, including educating women about the warning signs of heart disease. She is the founding Go Red For Women ambassador in the Tacoma/Pierce County area, and in 2010, she was named the Go Red for Women Ambassador of the Year.
This past August, Dyann was also honored with Business Examiner's Women of Influence Award. And earlier this month, she was given the Woman of the Year award by South Puget Sound Business and Professional Women.
Wild is also active in the local community, serving as a Lakewood Chamber of Commerce ambassador. It's a way of being involved in the community and helping people understand what the chamber is about, Wild says. "I love connecting people and helping where I can."
He's been honored multiple times for his work, earning the 2010-11 Rising Star Award and Can Do Award, as well as the 2011-12 Rising Star Award and Ambassador Of The Year Award.
Return on investment
Dyann and Wild are as happy — if not happier — now as they were when they started their adventure together.
Dyann is fun, funny, creative, curious, willing, adventuresome, supportive and giving, Wild says. "She is a tireless worker yet spontaneous and my biggest fan and cheerleader."
Wild is an amazing listener with a kind heart, Dyann says. He's willing to learn and grow and try new things, and he's fun and smart in ways that are unique to him.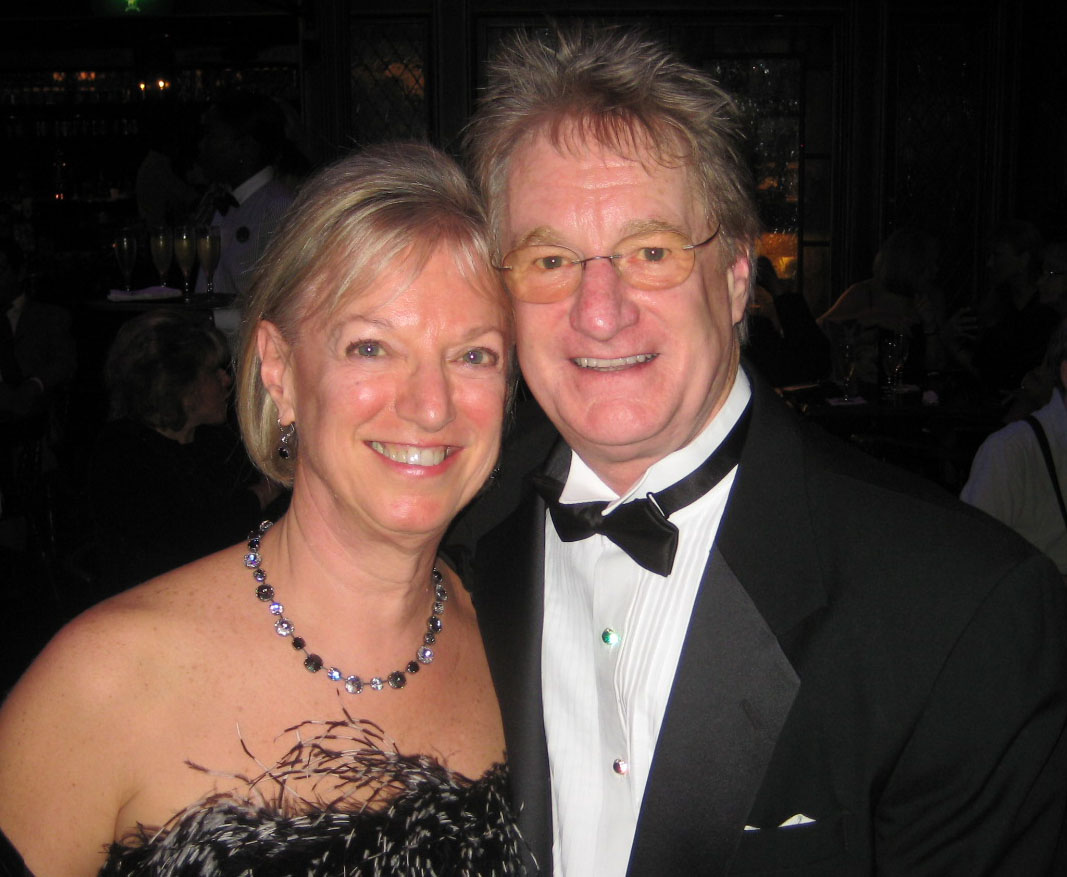 The couple's relationship is nearly effortless, Dyann says. "It is easy for us to be, for each other, what the other needs. We never argue, although we don't always agree. We can talk through things and see each other's points of view. I love how Wild is able to share his thoughts and feelings so easily as well as his willingness to listen to mine. We are extremely fortunate to have found each other and I am grateful for what we have together."
Dyann and Wild love being together nearly every hour of the day. Their ability to get along so well is what made building a business together feel so natural.
"Our relationship is the number one thing to both of us, so we are kind with each other and treat each other respectfully," Dyann says.
"IF… and I mean truly mean IF you have a best friend that you can spend as much time together as we do … AND … IF you can remain best friends and always have the others best interests at heart … It is less than half the work and more than twice as much fun," Wild says. "This is ROI at its finest … Return On Investment … also … Running On Inspiration."
Welcome to the United States of America, Mr. Wild Bill Jones

Where do you get a name like Wild Bill Jones? From the Royal Canadian Navy and the U.S. government of course.

In 1961, William Jones joined the Royal Canadian Navy. His sense of freedom and daring quickly earned him the nickname Wild Bill. Wild actually believe he was "10 feet tall and bullet proof."

After meeting the love of his life, Dyann Lyon, Wild moved to the United States on a Green Card. A number of years later, Wild decided that he needed to be more involved in the community, wanting the privilege of voting and having a say. That meant becoming a naturalized citizen.

When filling out the paperwork to become a U.S. citizen, William was asked if there was anything he'd like to change — like his name — before things were made official. He thought it was a great idea, and on April 9, 2009, Wild was sworn in as a naturalized citizen of the United States.

[wp-imageflow2]
Celebrating Your Story is a What's Up, USANA? series spotlighting various Associates who are doing extraordinary things. If you know someone who should be featured, please email us at [email protected] with "Celebrating Your Story" in the subject line.
We're proud to bring you the freshest content on the web! Follow USANA on Twitter, like our USANA Facebook page and enjoy the latest videos on the official USANA YouTube channel.

Learn what USANA is doing to make the world a better place.
https://whatsupusana.com/wp-content/uploads/2012/11/DyannWildSlider.jpg
720
1280
Jessica Whiting
http://whatsupusana.com/wp-content/uploads/2019/11/USANA_Logo_Black.png
Jessica Whiting
2012-11-14 07:40:10
2017-02-22 11:14:03
Dyann Lyon & Wild Bill Jones Experiencing ROI at its Finest