Celebrating Your Story: Lifting the Limits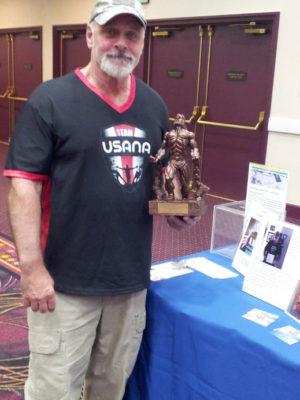 At the age of 68, Dan Swift is doing more than some people half his age. "Wednesday is my lightest day of training and Sunday is when I hit it the hardest," he explains. A competitive powerlifter since the age of 35, Dan Swift is still competing in a sport that motivates him to push his limits.
Powerful Sport. Powerful Nutrition.
The sport of powerlifting involves three attempts at max weight on three types of lifts—squat, bench, and deadlift. Your final score is a combination of the highest weight on each lift. While Dan competes solely at bench press, it is because of his determination that he has found success.
As a 12-time world record holder, Dan is also meticulous about his nutrition, and that's why he trusts USANA and is a proud Preferred Customer. "As a competitor and someone who is mindful of my health, I do everything I can to eat clean, and that is why I chose USANA," he explains. "USANA's products help me stay balanced."*
Trusted By Athletes
Beyond the products, Dan trusts USANA because of their commitment to athletes. "There are a lot of supplement companies out there, and everyone claims to be the best," he says. "But there aren't many companies that have USANA's history. More than
1,000 athletes trust their health to USANA, and that shows me this is the best on the marketplace."
Competing With Himself
As Dan continues to focus on his sport, he won't just be focused on competing with others. Although winning is the end goal, Dan's true goals are to challenge himself. "I love the sport. It's challenging and it pushes me to be my best, and I enjoy competing with myself," he says. "My goal is to better myself, and I find I can do that with powerlifting."
"My desire is to always better myself."
*These statements have not been evaluated by the Food and Drug Administration.This product is not intended to diagnose, treat, cure, or prevent any disease.
We're proud to bring you the freshest content on the web! Follow USANA on Twitter, like our USANA Facebook page and enjoy the latest videos on the official USANA YouTube channel.

Learn what USANA is doing to make the world a better place.
The future of personalized health and nutrition is now available with USANA's True Health Assessment.
https://whatsupusana.com/wp-content/uploads/2016/06/Dan-Swift-CYS_featured.jpg
900
1600
Suzanne Houghton
http://whatsupusana.com/wp-content/uploads/2019/11/USANA_Logo_Black.png
Suzanne Houghton
2016-06-27 04:00:18
2017-02-22 11:13:37
Celebrating Your Story: Lifting the Limits