Black Bean, Corn & Quinoa Salad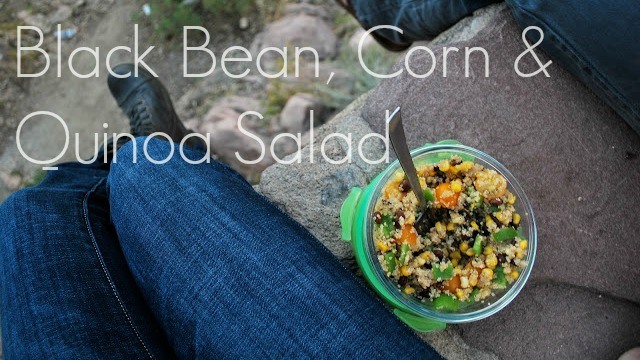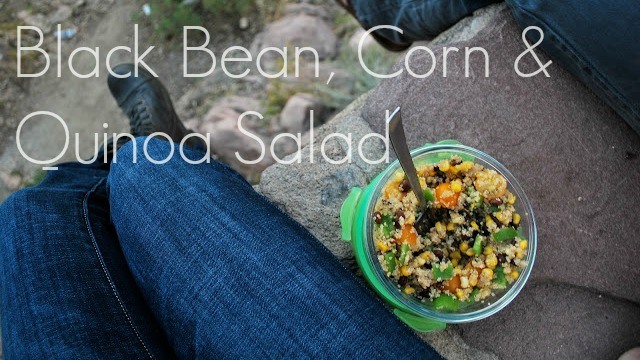 One of the most common responses I get when I ask people why they don't like to cook is that they just don't know how. They know the basics and can scramble eggs or boil water, but they don't know what things will taste good together. They don't know how to turn a smattering of fresh ingredients into a meal. Basically, if there's no recipe, it's not going to happen.
Personally, I like to use recipes more as a suggestion. Chances are, I will not have every ingredient on hand and when it's already 5:30 and I want to eat in an hour, I can't really make it to the store and prepare dinner in time.
That's why salads are such a great option. You don't have to worry as much about what ingredients compliment each other. Stick with fresh, local, in-season produce and let the natural flavors speak for themselves. When you cook with fruits and vegetables at their peak, you'll start to find that they really don't need a lot of seasoning or spices.
So yes, this is a recipe for a black bean, corn, and quinoa salad, but it's really just a starting point. Add in fresh vegetables or substitute out the ingredients that you don't like as much.
If you're someone who "doesn't cook," salads in the summertime are a great place to start. In the comments, tell us how you adapted this recipe to your tastes!
Black Bean, Corn & Quinoa Salad
1 c. quinoa, cooked
1 can black beans
1 can whole corn
1 green pepper, chopped
1 c. cherry tomatoes, halved
juice from 1 orange
1/4 c. olive oil
Salt & Pepper
In a large mixing bowl, combine veggies, beans, and cooled quinoa.
Mix together orange juice and olive oil. Pour over salad and stir to combine. Add salt and pepper to taste.
We're proud to bring you the freshest content on the web! Follow USANA on Twitter, like our USANA Facebook page and enjoy the latest videos on the official USANA YouTube channel.

Learn what USANA is doing to make the world a better place.
The future of personalized health and nutrition is now available with USANA's True Health Assessment.
https://whatsupusana.com/wp-content/uploads/2016/06/quinoa-salad-featured-1.jpg
360
640
Sarah Flinn
http://whatsupusana.com/wp-content/uploads/2019/11/USANA_Logo_Black.png
Sarah Flinn
2016-06-17 04:00:07
2016-06-13 14:31:42
Black Bean, Corn & Quinoa Salad