Athlete Turned Entrepreneur: Silver Medalist Jason Parker
Hyperbolic as it may sound, there might not have been a Team USANA without Jason Parker.
Jason, a speedskater who won a silver medal in the 2006 Winter Games in Torino, Italy, is about to celebrate 15 years of personally taking USANA's top-rated nutritional supplements (and is quick to add he's never missed a single day).
After having a great personal experience with the products in 1998, he approached executives at USANA and explained the need for his teammates to have these amazing products as well. He encouraged the company to become the official supplement supplier of Speed Skating Canada.
The national team signed on, and now Team USANA has grown to feature more than 600 elite athletes from several sports, many of whom have brought home world championships and Olympic medals.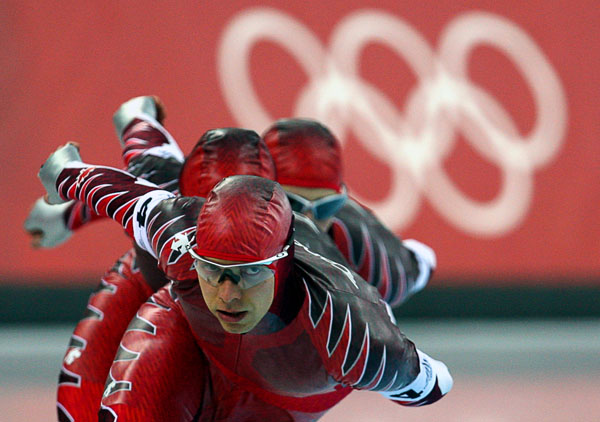 An Early Start for Jason Parker
But let's step back a bit and look at an 11-year-old Jason, the one who traveled 16 weekends a year to compete against Canada's premiere young speedskaters. Even more, he routinely laced up his skates to race 16 times each weekend.
The physicality of competing and the stress of travel would take a toll on anyone, let alone someone so young.
Throughout his early career Jason couldn't escape catching practically every bug that went around. At the recommendation of his doctor, he tried countless vitamins and supplements for the next 10 years, even consulting his buddy who worked in a health food store.
"Nothing ever really made much of a difference," Jason tells What's Up, USANA?
After missing both the 1994 and 1998 Olympics he realized he needed to make a change and he started reading everything he could find on sports nutrition. It wasn't until Jason's research took him to Optimum Sports Nutrition, a book by Dr. Michael Colgan, that he found USANA.
Well, technically he found Dr. Myron Wentz, founder of Gull Laboratories and then USANA Health Sciences.
"One paragraph in one book was the real turning point for me and truly changed my life," Jason remembers. "In 1992 (Colgan) wrote about a Dr. Myron Wentz from Gull Laboratories and talked about the research Dr. Wentz was doing on the human cell."
Jason, who at the time was studying Kinesiology at University, majoring in exercise physiology, was skeptical because he'd tried so many different products before. But the fact that Dr. Wentz could keep human cells alive for so long in a lab intrigued the athlete.
He decided in April 1998 to give USANA a try and soon began feeling a difference, primarily in his post-workout recovery and energy levels.*
"For the first time in my life, I felt like I was finally back in charge of my own health," Jason says.
Achieving Success
Jason continued competing on a world stage and began posting impressive results in World Cup races, winning multiple World Cup and World Championship medals and placing in the top 10 in the world more than 40 times.
But his most memorable experience came after 20 years of competitive skating, when he achieved his lifelong dream: Earning a silver medal in the Team Pursuit at the 2006 Winter Games.
"I honestly believe in my heart that I never would have won that medal if it weren't for USANA," Jason says. "I don't think I ever would have been able to get on track with my health and would have retired long before from frustration and injury."
While Jason's memories of standing on the Torino podium will never fade, he's retired his skates and now finds himself becoming ever more familiar with a new type of podium as a speaker.
"USANA gives us the opportunity to make a huge difference in the world. We're able to take the people we care about along on the journey. Realistically, who do we want to share our successes with? It's the people who are closest to us."

— Jason Parker
Since retiring, Jason has devoted himself to teaching others about the importance of optimal nutrition, supplementation and dreaming again. He regularly travels throughout North America speaking on behalf of USANA and helping others learn what he's known for 15 years.
"The main thing I really stand for is all about helping people lead healthier lives," says Jason, who's now a father to 2-year-old Shelby, a full-on USANA baby. "Fatherhood's given me a whole new perspective on life. I'm focused on pursuing USANA at a higher level to provide a legacy for her and our family that I can be proud of."
Living the Dream
Through his various speaking engagements, he shares personal stories demonstrating the value of perseverance and encourages those he meets to never give up on their dreams.
After all, if he'd given up after his first speedskating race — the one in which he fell four times and finished dead last — or the three Olympics he missed and had to watch his friends and teammates in, he never would have reached his sport's pinnacle.
"If I hadn't stuck with it and instead listened to the dream-stealers who didn't believe in me, my life would be very different," Jason says. "With USANA there are so many parallels. We're going to have times when we fall down or have challenges. What matters most isn't how many times we fall, but that we keep getting up."
Indeed, Jason isn't about to give up on giving back to the company who gave him so much.
"I look at challenges as the universe's way of testing us to see how badly we really want something, and success is often found just beyond them. What matters most is that we persist without exception and I'm consistently persistent," he says.
Follow Jason Parker
Be sure to connect with Jason on his various social media sites as he is constantly releasing valuable information and is well worth following. You can also get his "11 Lesson's to Living a World-Class Life" video series for free on his website. Check them out:
Photos courtesy of Jason Parker
*These statements have not been evaluated by the Food and Drug Administration. This product is not intended to diagnose, treat, cure, or prevent any disease.

We're proud to bring you the freshest content on the web! Follow USANA on Twitter, like our USANA Facebook page and enjoy the latest videos on the official USANA YouTube channel.

Learn what USANA is doing to make the world a better place.
The future of personalized health and nutrition is now available with USANA's True Health Assessment.
View Tim Haran's profile
https://whatsupusana.com/wp-content/uploads/2013/02/Jason-Parker-Family-USANA-Blog.jpg
372
640
Tim Haran
http://whatsupusana.com/wp-content/uploads/2019/11/USANA_Logo_Black.png
Tim Haran
2013-02-01 07:51:04
2017-09-11 08:45:18
Athlete Turned Entrepreneur: Silver Medalist Jason Parker