Success is Result of Hard Work, Dedication and Tenacity
"In her five-inch heels, white suit and rolling her brand-name luggage, she makes her way quickly through a walkway toward the convention center where she's scheduled to speak. Soon after she arrives, they wire the microphone on her and give her the signal she's next. 
"She walks at a leisurely pace to the side of the stage, gently and with ease as if speaking in front of a thousand people is as comfortable as blinking an eye. The voiceover introduces her, the crowd roars with applause, and she steps up on stage to welcome the crowd to the Montreal XRC.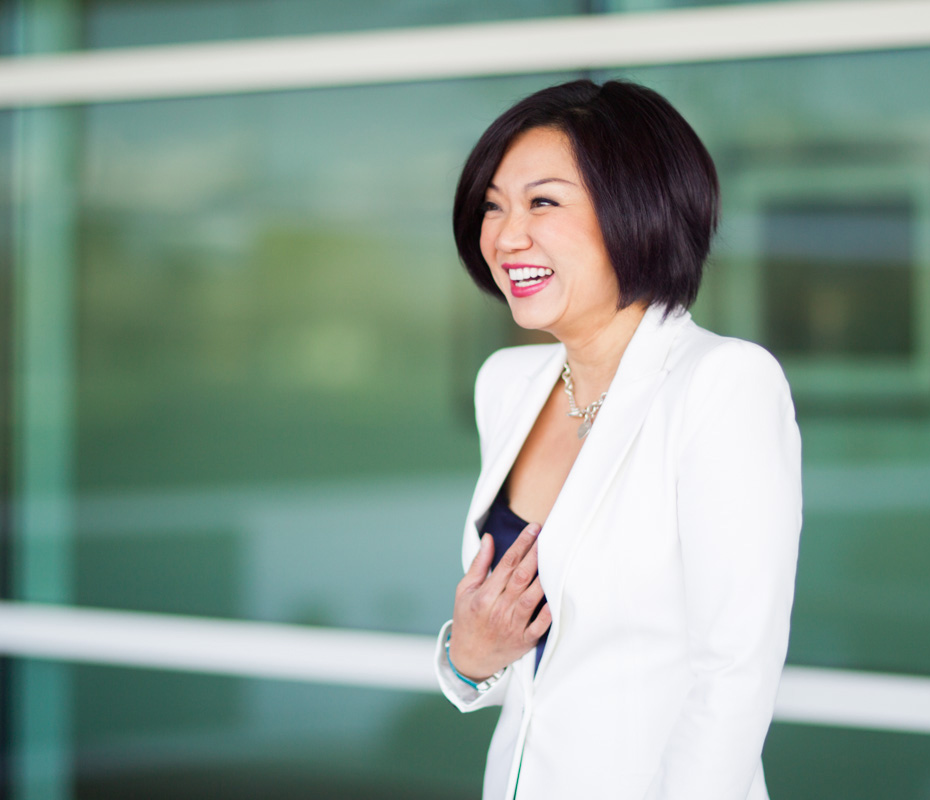 "She delivers a message that resonates with the audience, and soon enough, they stand and applaud her as she exits the stage. Soon after, she puts on an aqua blue sequin dress and matching hair extensions to host a game show on stage. 'I'm now my alter ego, Belynda Boo,' she jokes to the audience. 
"In truth, this woman wears many hats — vice president, game show host, world traveler, mother of two and much more. With each hat she wears, she jumps through obstacles with her hard work and determination. This woman is Belynda Lee, USANA's vice president of Canada and the North American Asian market."
Wow, if that is the impression I give out to people, I am totally in awe. I am 100 percent myself in everything that I do, and I love what I do. How can I not when I work with entrepreneurs all over the world?
While many people think I mentored them, the honest truth is I am actually their student. While I am teaching and mentoring, I'm also learning from these individuals. Successful people know that success is much easier to say than do. Success does not come easy — it is the result of a lot of hard work and dedication and most importantly — TENACITY.
Many people ask me where I get my tenacity from. Well, to be honest I didn't know I had any. I learned what that word means a few years ago when my boss said to me, "I have one word for you, Belynda Lee, and that is tenacity."
Then he walked away. I looked up that word later and told myself, "OK, it is a compliment — that's good."
Hard Work and Determination
Looking back in my life, I have been a struggling single mom for many years. I remembered being so poor that my daily "cuisine" at home was the same thing every night.
Secondhand stores, where I looked for cheap unisex clothing that can be passed down from my son to my daughter, were my regular weekend shopping locations. And the highlight of my day and my biggest win for the weekend would be a box of frozen chicken legs at $5.99.
Life was tough. For those single parents out there, you can probably relate to what I am saying. Putting food on the table was hard enough and playing the mom and dad role at the same time made it harder. At times, I feel I have multiple personalities. Oh wait, maybe this is where I picked up the ability to wear many hats!
'Don't Give Up'
Where does my tenacity come from? It was from my son, Benjamin. There is always someone or something that trigger your hot "T" button and Benjamin was it for me. He has given me the why for my desire to be successful. Even at a very young age, he believed in and supported me — he may not know this but he gave me the strength to overcome obstacles.
Removing the "im" from "impossible" and making it possible. It may come across pretty lame, and you probably seen this quote somewhere — but there is a difference between saying it and actually putting it into action.
I was charged with this energy called "DGU" (Don't Give Up) that had me working a job-and-a-half while putting myself through graduate school and raising two beautiful children single-handedly. But I also believe that I was blessed with the opportunity to train myself to be stronger and tougher when it comes to dealing with life.
Life is a funny thing, you can't live without, it has a ton of excitement, and at times it can give the high that you could never expect. And yet, if you try to control it, it can backfire on you because it is so unpredictable.
I feel that tenacity is embedded in every woman; just look at some of the truly successful women around the world: Oprah Winfrey, self-made TV show host; Aung San Suu Kyi, Myanmar pro-democracy leader; and many more.
It is not luck that brought them there, and if it is, I would like to know where I can get some. It is pure tenacity and courage. Tenacity to give them the extra ounce of energy to go on another day. Courage so big to help them defeat their long-term enemies called obstacles.
Recognizing Successful Women
I started the USANA Women in Business events to recognize successful women throughout Canada, women who have "made it." These women empower others who are still on the journey to becoming the next successful woman we talk about.
We have so much to celebrate for — our strength, our determination, our "multitasking" abilities and our very good friend called "tenacity."
With that said, I salute all the hardworking women out there who put on the aprons, uniforms or heels each day to conquer the world for the ones they love.
*A version of this blog post originally appeared on Belynda Lee's Blog: Thoughts, Dreams, and Opinions…
We're proud to bring you the freshest content on the web! Follow USANA on Twitter, like our USANA Facebook page and enjoy the latest videos on the official USANA YouTube channel.

Learn what USANA is doing to make the world a better place.
The future of personalized health and nutrition is now available with USANA's True Health Assessment.
https://whatsupusana.com/wp-content/uploads/2013/05/Belynda-Lee-Slider.jpg
720
1280
Belynda Lee
http://whatsupusana.com/wp-content/uploads/2019/11/USANA_Logo_Black.png
Belynda Lee
2013-05-15 07:35:28
2013-05-15 07:36:44
Success is Result of Hard Work, Dedication and Tenacity