USANA Rebrand Goes Global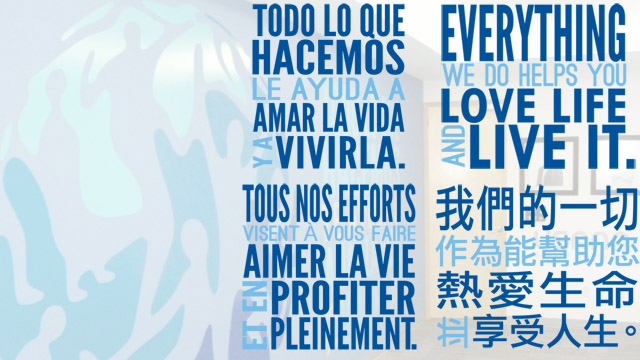 As part of its 20 year anniversary celebration last August, USANA rolled out a fresh new look for the company and announced a rebranding effort centered around the idea of representing USANA as a global nutritionals company intent on remaining the industry leader for years to come.
This undertaking included a makeover to all of the company's packaging, web properties, its tag line, logo and more.  This effort extended from the home office in Salt Lake City to its offices and markets around the globe — from Mexico to Malaysia and all points in between, great care has been taken to make sure that USANA's new brand is displayed prominently in products, offices, marketing materials and more throughout the globe.
This massive responsibility required a coordinated effort from every team throughout USANA's global markets. Employees at satellite offices in Europe, Southeast Asia, Latin America and Australia were the key to making this comprehensive transition. Although the implementation presented a number of logistical challenges, each market I had a chance to speak with communicated encouraging news of its effect on Associates, the public's perception of USANA and the general feeling about the USANA brand in their respective markets.
In Malaysia, Sabrina Khoo shared with me what the rebrand has meant to their market:
"USANA CEO Dave Wentz visited Malaysia and led the launch of the rebrand to our Associates. I could see that this imparted a certain confidence to them that USANA has been around for 20 years and is intent on being around for many years to come. The rebrand gives USANA Malaysia a new look, not only in terms of the brand, but also the physical design of our office. I believe that provides our Associates the assurance that USANA is here to stay and growing – this is the 6th year that USANA is operating in Malaysia."
This sentiment was echoed throughout the many conversations I had with marketing managers in various international offices. Joyce Cortez, assistant network development manager in the Philippines had this to say about the rebrand efforts in the Philippines:
"For the Philippine market, rebranding sends the message that "we are here to stay". As local network marketing and other multinational companies come and go, this new look for the next 20 years has given our Associates an assurance that USANA Philippines and USANA globally is a stable company and true to its vision of health for everyone."
Although the outcome has been overwhelmingly positive and it portends a bright future for USANA as an international entity, the task of rebranding was not without its challenges. However, as we've come to learn over the years, USANA's international teams were up to the task.
While the folks in Mexico were able to take advantage of good timing as they moved to a new office and rebranded their new space with the updated logos and colors, they also faced the challenge shared by many markets throughout the world — the details.
"All of our tools had to be rebranded and printed with the new logo," says Carlos Zozaya, director of marketing and communication in Mexico. "This included everything from paper and envelopes to promotional items. We had to meet the challenge of making updates to all of our materials and immediately stop using things with the old brand."
With those challenges met, Zozaya shared what is, perhaps, the most important facet of the global rebrand and what this work has all been about — creating a feeling of inclusion for our Associates while maintaining the freedom to personalize each of their experiences as they tailor their business and health choices while working with USANA.
"All of our Associates loved it. They said that it was a great decision and feel more being part of the brand with the new logo.  They said that it is clean and fresh and that reflects perfectly well what USANA is about."
We're proud to bring you the freshest content on the web! Follow USANA on Twitter, like our USANA Facebook page and enjoy the latest videos on the official USANA YouTube channel.

Learn what USANA is doing to make the world a better place.
The future of personalized health and nutrition is now available with USANA's True Health Assessment.
https://whatsupusana.com/wp-content/uploads/2013/05/Brand-Promise-Featured.jpg
360
640
USANA Health Sciences
http://whatsupusana.com/wp-content/uploads/2019/11/USANA_Logo_Black.png
USANA Health Sciences
2013-05-23 08:00:24
2017-02-23 08:41:18
USANA Rebrand Goes Global