USANA World News: Let's Head (Far) East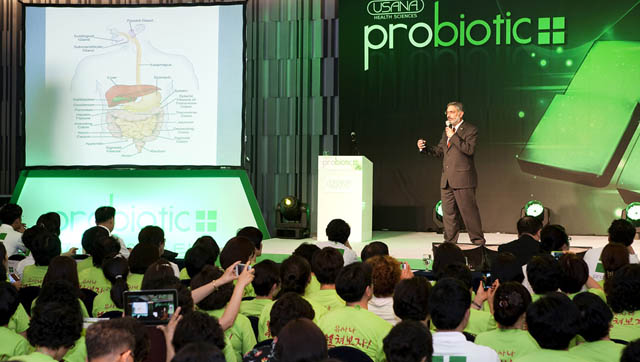 As we celebrate 20 years of success at the epicenter of all things USANA here in Utah, I want to spotlight the Far East for a few moments and recognize some of the great things happening on the other side of the world.
Our fabulous team and Associates in Asia have been generating a lot of buzz and are receiving attention for some incredible events, product launches and amazing accolades. Once you've read through the update, check out the slideshow at the end of this post.
USANA China
BabyCare Cares for the Environment
In May, BabyCare Ltd. (USANA's wholly-owned subsidiary in China) contributed to the USANA Green movement by donating 100 bicycles to the Beijing Language and Culture University. This is part of the "Health-Low Carbon-I Action" movement, a multi-national government initiative with origins in the Beijing Committee for Liaison with Hong Kong, Macao, Taiwan and Overseas Chinese. The purpose of this project is to encourage a low-carbon life in these high-density population areas.
At the activity, Yang Liji, Vice President of BabyCare, shared the message that the company is and always will be keen on promoting public health and is a champion of active lifestyles and environmental causes.
Branch Opening
The Shenzhen branch opened earlier this year (February 2012). This is BabyCare's 22nd branch in China and will provide customers in the area with the best service possible along with fantastic products. Hundreds of customers attended the ribbon-cutting ceremony to mark the occasion.
Getting Social
BabyCare has officially thrown their hat into the world of social media by launching their public profile on SINA Weibo. This web site is a micro-blogging social portal (a sort of Twitter-Facebook hybrid). If you're inclined to follow and can read the language, you can catch their updates at http://e.weibo.com/2694485230/profile.
USANA Korea
Product Launch
The end of June brought with it some special visitors and the release of a new product in Korea. USANA® Probiotic is now available in the market, and its release was greeted by more than 500 passionate Associates and prospects at a product launch seminar.
Attendees were treated to a special training with Dr. John Cuomo and Sherman Ying. Also in attendance were three of Korea's finest athletes — members of the speed skating and short track speed skating teams that are also part of Team USANA as sponsored athletes. These amazing competitors shared their stories to the delight of the crowd.
USANA Hong Kong
"The Best Nutritional Supplement"
USANA is used to winning awards, so it came as no surprise when we learned that our dynamic team in Hong Kong was starting to stake its claim to awards in their corner of the world.
USANA Hong Kong received "The Best Nutritional Supplement" designation in "The 12th CAPITAL Outstanding Enterprise Awards" organized by the CAPITAL magazine. This award recognized USANA's for providing the best nutritional supplements with scientific foundation and superior quality.
The glamorous award ceremony was held at The Island Shangri-La Hong Kong. Guests included Asia Pacific President Deborah Woo, 11-star Diamond Director Rita Hui, 7-star Diamond Director Alan & Queen To, 3-star Diamond Director Maureen Chu & Raymond Lo and 1-star Diamond Director Laura Leung. These leaders were able to gather and share the joy and honor of the award.
[wp-imageflow2]
We're proud to bring you the freshest content on the web! Follow USANA on Twitter, like our USANA Facebook page and enjoy the latest videos on the official USANA YouTube channel.

Learn what USANA is doing to make the world a better place.
Discover what USANA products can do to boost your health today by taking this brief online Health Assessment.
https://whatsupusana.com/wp-content/uploads/2012/08/USANAProbiotic_Korea.jpg
362
640
USANA Health Sciences
http://whatsupusana.com/wp-content/uploads/2019/11/USANA_Logo_Black.png
USANA Health Sciences
2012-08-01 07:58:20
2017-02-23 08:41:20
USANA World News: Let's Head (Far) East